Lanka's Olympic Boxer's recollections of The Greatest
View(s):

Pugilist, Rtd.DIG Sumith Liyanage, a member of the Ceylon Boxing Team to the 1960 Rome Olympics, remembers the legendary Muhammad Ali, then known as Cassius Marcellous Clay Jr, winning the Light Heavyweight Gold medal at the same Olympics.  The glare of the spotlights focusing on a gladiators ring, 20′ X 20′ square, a canvas covered board for a floor that would be kissed many times by the vanquished pugilists. A brash, vociferous, 18-year-old, oozing self confidence from every pore, steps into the ring. Nobody has heard of this Light Heavyweight before. Nine minutes later, Zbigniew Pietryzkowski of Poland, medal winner at the 1956 Melbourne Olympics, three times European Champion, concedes defeat.

From that small square of light the brash young man had stepped into the International limelight to shake it and transform it as never before.
Cassius Marcellous Clay Jr, later to become Mohammad Ali, had stepped into the realms of the Immortals.  Few across the World would have had the privilege of witnessing this momentous occasion "in the flesh", and most certainly among Sri Lankans, but one, Sumith Liyanage.  "Just seeing Ali box itself was a learning experience. The way he moves, the accuracy and power of his punches. Ali was shrewd, he "psyches" his opponents even before he gets into the Ring– Ali had won 90% of the fight even before the first punch was thrown.

People said Ali was just a loudmouth, some said he was mad, but there was a "method" in him that few recognised at that stage" says Sumith, many times Ceylon's National Champion in Boxing and a versatile national sportsman par excellence.  "His style and technique instantly attracted me– here is guy who will go places, I thought– who would one day be World Champion. I had followed and witnessed all his fights up to the Gold medal at the Rome Olympics – but little did I realise then, what a Champion he would become to all and everyone in the World."  "I was great fan of former Champion Floyd Patterson, the first man ever to win back the World Heavyweight title, then from Ingemar Johansson "the Hammer of Thor".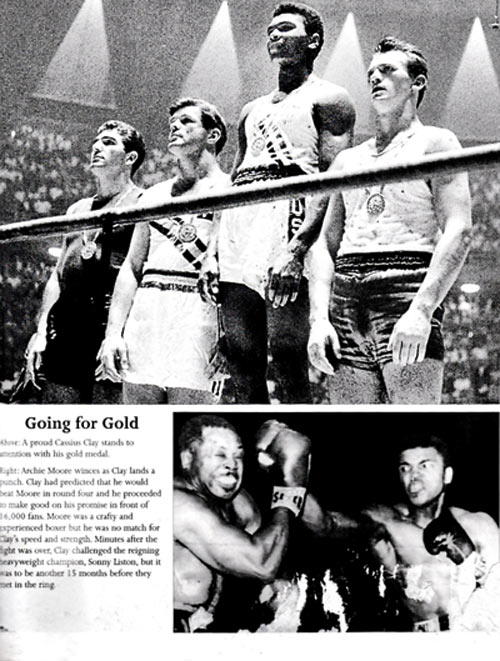 I even modeled my boxing style after Patterson, some saw many similarities between us, right down to our dusky hues, and some in the Media branded me the "Black Panther".  "I was extremely privileged to be among the very few Boxers of the World to fight in the same Ring as the great Muhammad Ali, then known as Cassius Clay. Fortunately for me, not at the same time, for, as my friends say, Cassius would have forged ahead to become the Mohammad Ali we know so well, but I would have become just "clay"."  "As for me, I had drawn a very tough fight in the Featherweight class, in Jerscy Adamski of Poland, then European Champion, a championship he had won three times in a row. I had to throw my very best if I were to beat him.
I had him on the ropes and floored him in the very first round with a vicious right cross. Adamski got up at the count of eight to use his experience and a fair share of luck to very narrowly outpoint me. Adamski proceeded to the finals where he lost to an Italian."  Champion Boxer, Expert Rifle and Pistol Shooter, Fine Equestrian, Race Car Driver, Law Officer of unblemished character, Sumith Liyanage himself would be a role model for any youngster, in Sport or in any other sphere, but like his Idol the great Muhammad Ali, the humility of the man stands out.
"Muhammad Ali showed us what humility is, to never waver from your convictions or give into wrong, to have the will to face and overcome challenges, and be a most Humane Human. I saw all these qualities in him as he stood at the 1996 Atlanta Olympic Games, holding the Olympic Flame with shaking hands and walking with faltering step to light the Flame for the World, for the Spirit of generations to soar high with the Olympic Ideal." "He was simply the Greatest," says Sri Lanka's oldest living Olympian, Sumith Liyanage, with his exemplary service to Sport in Sri Lanka stretching over seven decades.