Chamil and Yasika Champion Slicers
By Lakshman Ranasinghe
View(s):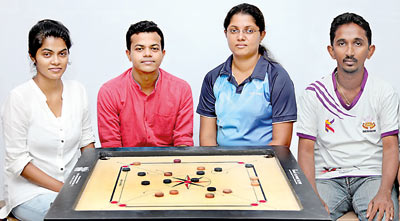 Chamil Cooray and Yashika Rahubadda dominated the 17th President's Cup Carrom tournament concluded at the Carrom Federation Headquarters over last weekend in winning the Men's and Women's double crowns. The tournament was organised and conducted by the Carrom Federation of Sri Lanka.  Cooray and Rahubadda won the Men's and Women's Singles titles and went on to dominate their superiority in high class slice work to emerge winners in the Men's and Women's Doubles respectively. Chamil Cooray was partnered by Brindly Wickremasinghe while Rahubadda combined with Chalani Lakmali Liyanage to win the Doubles events.
In the Men's finals Chamil Cooray was given a tough time by World champion Nishantha Fernando. As both players match each other a rare exhibition of top class carrom was witnessed and in the end it was Chamil Cooray went through to score a fighting 2-1 victory. Yashika Rahubadda too didn't have an easy passage to clinched the Women's Single championship as the experienced Joseph Roshita went down fighting to a 1-2 defeat. Rahubadda had to pull every trick out of the bag to unsettle Rositha, but Rositha playing a cool and a calculated game came back strongly to win the second game to take the game to the wire.
It became a memorable tournament for Men's champion Chamil Dharshana Cooray apart winning the double crown went to dominate to performed two White Slams. Prameda Mendis (2 White Slams), Nuwan Chaturanga (1 White Slam) and Dushantha Nadeeshan (1 White Slam), Mohamed Shaheed (2 Black Slams) and K.K. Prakash (1 Black Slam) were the other slicers who showed their skills.
Men's Doubles
Final: Chamil Cooray/Brindley Wickremasinghe beat Charith Madusanka/M. Sheriffdin 2-0 (25/7, 25/8)
3rd Place: Nishantha Fernando/Lahiru Eshan beat Ajith Chandrasoma/Tharanga Kelum 2-0 (25/0, 25/8)
Women's Doubles
Final: Chalani Lakmali Liyanage/Yashika Rahubadda beat Joseph Roshita/Joseph Dilka 2-0 (25/23, 25/10)
3rd Place: Tharushi Himahansika/Sadini Nirasha beat Maduka Dilshani/Shashika Sandamali 2-1 (15/25, 25/9, 25/21)
Men's Singles
Final: Chamil Cooray beat Nishantha Fernando 2-1 (25/23, 24/25, 25/5)
3rd and 4th Places: Mohommad Shaheed beat Prameda Mendis 2-1 (24/25, 25/12, 25/0)
5th and 6th Places: M. Sheriffdin beat Prabath Yatawara 2-0 (25/10, 25/23)
7th and 8th Places: K.G.S.T. Prasad w/o Dimal Senaratne
Women's Singles
Final: Yashika Rahubadda beat Joseph Rosita 2-1 (25/7, 11/25, 25/23)
3rd and 4th Places: Chalani Lakmali Liyanage beat Arosha Wickremasinghe 2-0 (25/10, 25/11)
5th and 6th Places: Maduwanthi Gunadasa beat Detuni Nomaya 2-1 (20/6, 11/25, 19/15)
7th and 8th Places: Maduka Dilshani beat Madusha Vithana 2-0 (21/10, 25/9)