Army win FA Cup with 3-1 win over Renown
By Susil Premalal
View(s):
Sri Lanka Army beat Renown 3-1 in the final of the Cargills Food City FA final at the Sugathadasa Stadium yesterday. This is the fourth time that Sri Lanka Army has bagged the FA Cup. Army gained their first win in 1960 defeating Ratnam. The second was in 2011 overcoming Don Bosco. In 2013 Army beat Kalutara Blue Star and this is the fourth time that the Soldiers had annexed the coveted trophy.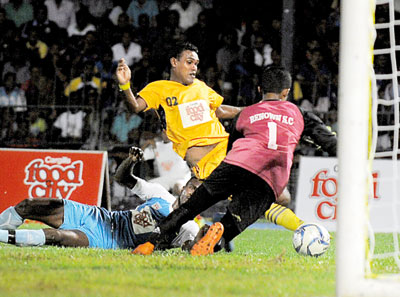 Losers Renown has won the FA Cup on six earlier occasions. There was a tough fight in the first half between Army and Renown and the scores were deadlocked at 1-1 at the breather. In the 15th minute M.C.M. Rifnaz scored for Renown and in the 45th minute Dhanuskara Wijesiri scored the equaliser for the Army. Renown players alleged that the goal scored by Army was a foul as a result Renown's Francis Agbetti, a foreign player received the Red Card.
In the second half Renown played with only 10 players and in the 60th minute and 90th minute M.N. M. Izzadeen banged in two goals to give Army a 3-1 win. The Most Valuable Player of the contest was Dhanuska Wijesiri of the Army and Best Goalkeeper was Kumara Sirisena of the Army.
After the game the losing skipper M.C.M. Rifnas and coach M. Amanullah told the Sunday Times that this was a planned game in order to give victory to the Sri Lanka Army. They alleged that the first goal was foul but it was awarded as a goal by the referee as a result one of our best players was Red Carded.
The winning team captain Madushan de Silva said that it was a fitting and Army's victory was well deserved.
After the game the team referees were escorted out of the grounds under Police protection.