AASL and Schools clash over Relay Carnival
By Susil Premalal
View(s):
A tug-of-war is taking place between the Education Ministry and the Athletic Association of Sri Lanka (AASL) on a age group issue to be implemented for the 2016 Schools Relay Carnival scheduled to be held on the third week of June at the Mahinda Rajapaksa Sports Complex.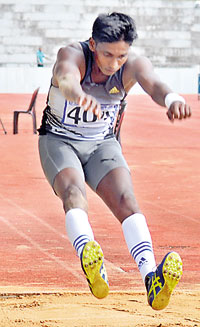 As the AASL combinded with the Sri Lanka Schools Athletic Association had scheduled the schools relay carnival to be worked off on June 23, 24 and 25 for Boys and Girls Under 16, 18, 20 and Open Men's and Women's events. The Education Ministry on a proposal had informed the AASL to stage the relay carnival on Under 13, 15, 17, 19 and 21 age categories. The open events for Men and Women were scrapped.
In the meantime the AASL in return had informed the Education Ministry that they had drawn up plans already to hold the relay carnival on the earlier planned age groups. Minister of Education Akila Viraj Kariyawasam through Dayasiri Jayasekera, the Minister of Sports had directed the President of the AASL Sugath Thillkaratne to hold the relay carnival agreeing to the age groups proposed by the Education Ministry. The AASL President without giving a reason had postponed the carnival but holding the reservation of the Rajapaksa Sports Complex.
After a lapse of 16 years finally the Education Ministry in collaboration with Sri Lanka Schools Athletic Association had drawn up plans to stage the SL Schools Relay Cranival on June 22, 23 and 24 at the Bogambara Stadium, Kandy. Conducted under the age groups of Under 13, 15, 17 19 and 21 with the confirmation of 3250 athletes from 350 schools. Awards will be made in 20 championship events for champions and runners-up. As the carnival to be stage on new age groups the AASL meet records will not be considered.
The Sunday Times when inquired from the Education Ministry's Special Consultant Sports, Sunil Jayaweera he said that on many occasions he had discussion with AASL but the AASL President was not in favour of the age group proposed by the ministry. He further went on to say that they have decided to stage the carnival in Kandy with the Ministry's expense.
When the President of the AASL was contacted he refrained from answering the phone. Sunimal Rupasinghe, Secretary AASL when contacted said the relay carnival which was to be staged in Diyagama from June 22 to 24 had been postponed and will staged in September under AASL age categories.
For the benefit of sports in Sri Lanka the Ministry of Sports and Education Ministry had joined hands but this sort of differences is sure to effect school children and their future as they are the flag bearers in future.