Little guardians of their very own hill
'ROAR' by the Wildlife and Nature Protection Society aims at making schoolchildren in the area of a World Heritage Site little researchers and scientists in restoring a rainforest. Kumudini Hettiarachchi reports
View(s):
As rain and sunshine played hide-and-seek last Sunday and mild to heavy showers won the day, whooping with joy, knots of schoolchildren clambered up Diyakotha Kanda in the Kalutara district on the border of the Sinharaja Rainforest, a Biosphere Reserve and World Heritage Site.
This is their very own kanda (hill) and on World Environment Day many were the people who had travelled to their tiny village of Dikhena all the way from Colombo to tell them that a helping hand would be extended to turn them into small researchers and scientists, in a project to be implemented here.
It is 'ROAR' – 'Reforestation Of A Rainforest' — that the Wildlife and Nature Protection Society (WNPS) will set in motion to ultimately make the villages around Diyakotha Kanda the protectors and guardians as well as beneficiaries of what is in their backyard. The main sponsor of the project is the Rotary Club of Colombo West, while the co-sponsors are Bureau Veritas and Textured Jersey Lanka Plc.
For, chattily — after the schoolchildren are told to come down the hill immediately as with the rains, the rocks scattered up the incline could tumble down — they are quick to relate how Diyakotha Kanda was mantled with rainforest similar to Sinharaja, not so long ago.
However, the rape and ravage by fire of Diyakotha Kanda have stripped it of its rich rainforest cover and the children shudder at the recollection of how the flames not only devastated the trees and plants but also left a beautiful python, several porcupines, hares and numerous other creepy-crawlies very burnt and very dead.
Earlier, a mix of girls and boys, from five schools in the area gathered at the Dikhena Kanishta Vidyalaya not only to greet the 'visitors' from Colombo but also to serve them with large mugs of steaming kola-kenda to be drunk with bites off pieces of melt-in-the-mouth kithul hakuru(jaggery).
The visitors had woken up early morning, hit the Matara Expressway, exited at Dodangoda and wended their way through the still-stirring towns of Matugama, Agalawatte and Badureliya, taking the right turn to Hadigalla.
The sleepy village of Dikhena is about 15km down a winding, off-the-beaten track, flanked by lushly-green foliage, with streams bubbling along. A rare bus plies on it, while teachers and students were seen straggling along for the function on World Environment Day.
The guests from WNPS, Rotary Club of Colombo West, Bureau Veritas and Textured Jersey Lanka Plc., have come a-visiting to assure not only the schoolchildren but also their teachers and parents that they will help restore Diyakotha Kanda to what it was before. This would be while making the children partners in this project to revive the rainforest that had draped this hill before human intervention destroyed the fauna and flora and made way only for kekilla to take root in the nutrient-sans soil.
Back in 2009, although a restoration attempt had been made by the WNPS and one school by planting 500 plants at Diyakotha Kanda, due to people setting fire to this forest patch, the project had fallen by the wayside. Amateur enthusiasm, inadequate funds for capacity-building and absence of supervised scientific analysis too had contributed to its downfall.
It is with renewed vigour that the WNPS and five schools in the area are now set on making the five-acre (two-hectare) plot of which they have been made the guardians, by the Forest Department, a successful reforestation project.
The vision to be soon turned into reality with the launch of ROAR last Sunday is re-activating the WNPS Schools' Nature Clubs in the area, educating, training and capacity-building of the children, teachers and parents and fostering the continued stewardship of the restored forest as a 'template' for replication across the country utilizing Nature Clubs. Then not only locally but also internationally Diyakotha Kanda will draw researchers to study this 'living laboratory'.
The WNPS hopes to make villages, through successive generations of schoolchildren, the guardians of the forests in their areas. The schools which are initially involved in the ROAR project are Dikhena Kanishta Vidyalaya; Badureliya Model Vidyalaya; Ingurudaluwa Kanishta Vidyalaya; Hedigalla Colony Maha Vidyalaya; and Gurulubedda Kanishta Vidyalaya.
Explaining that Diyakotha Kanda is a symbol of a rainforest, WNPS President Prof. Lakdas Fernando gently points out to the children how they have had a "pharmacy" in their backyard and also a vital oxygen-producing machine. In other parts of the world, people have to carry a bottle of water in one hand and a bottle of oxygen in the other. But in Dikhena, everyone has fresh water as well as fresh air. Therefore, it is important to protect what nature has bestowed on them.
This is why the goal of ROAR is to restore and link a thriving Diyakotha Kanda to the Sinharaja Rainforest, making it a contiguous whole, he says, stressing the importance of connecting fragmented eco-systems.
"Rainforests are easy to destroy but difficult to re-grow," says Prof. Fernando, adding that the ROAR project will encourage generations of schoolchildren to track the progress of a rainforest from 'planting to completion' by maintaining data scrupulously and keeping records of the fauna and flora that inhabit the plots allocated to them.
The schoolchildren who are involved in the ROAR project would also be given a hands-on knowledge in conservation as well as training in presentation skills, project management, data analysis and much more which would help them in their future careers.
At the simple function in Dikhena, the Rotary Club of Colombo West was represented by Chairman and Rtn. Jit Seneviratne, Bureau Veritas by Chanaki de Costa and Textured Jersey Lanka Plc. by Rasika Gunawardena. The Principal of the host school, Dikhena Kanishta Vidyalaya, is Renuka Karunaratne.
Meanwhile, WNPS General Secretary, Rohan Wijesinha fervently appealed to schools from other areas to seek partnerships with the five schools engaged in the ROAR project at Diyakotha Kanda.
"Then they too can have plots allocated to them for their own research on the reforestation of a rainforest," he added.
ROAR step by step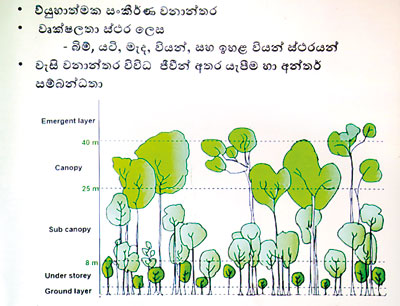 It is environmental expert Vimukthi Weeratunga who takes the children through the stages of the ROAR project, which would follow the guidelines of ecological restoration.
Stage I – Establishment of fast-growing shade trees such as Kenda, Bu-kenda and Gadumba which will thrive in soil lacking nutrients. This is needed as true rainforest tree species at different levels will not grow as there is no shade at present. These fast-growing shade trees will also destroy the problematic kekilla layer, which in turn will leave a thick carbonic fertilizer layer.
Stage II – Planting of short-term shrub species such as Bovitiya, Wal-mussanda and Kirilla, so that when they too wither and die, more nutrients will be added to the soil.
Stage III – Introduction of climax species such as Hora, Boo Hora, Kekiriwara and Thiniya to make the area a complex forest.
The emigration of species will occur after such restoration, with insects, invertebrates, birds and small mammals making this area their home. Gradually, species' inter-connection will accelerate, the food chain will get strengthened and there will be co-existence.