Letters
View(s):

Unfulfilled pledges and questionable yahapalana moves

Mr. President, you were elected as President on a platform of 'Yahapalanaya' administration. But alas! Your promises remain largely unfulfilled.

You and the Prime Minister promised to instal good governance and bring to justice those who committed mass-scale corruption. But the people are waiting anxiously for the fulfilment of such pledges as no perpetrators of financial embezzlement have been punished. Further, the way investigations are carried out by the FCID and CID raises questions. The alleged miscreants are summoned but little or no action is taken. The Attorney General's department, too, should be taken to task, for its lapses in this regard.

A story doing the round is that the proceedings are disrupted by some officials who are loyal to the previous regime. I feel that the process of summoning people before the FCID has become a fashion and is probably aimed at pleasing the masses.

Another questionable move is the Foreign Ministry's decision to pay for the cost of former President Mahinda Rajapake's air passage to Uganda. Is it true such air passage expenses have been offered by the foreign minister without even cabinet approval? All these questionable actions beg an explanation from you Mr. President and you Mr. Prime Minister.

Former ambassador Udayanga Weeratunga, who is wanted by the FCID for questioning, is roaming at will flying from country to country and meeting MR wherever he goes. Yet the FCID is unable to trace his whereabouts.

My parting advice to you,  Mr. President, is that bold decisions should be taken to establish a Yaphapalanaya administration.

Lionel Caldera
Battaramulla
---
Daylight interest robbery at finance house
It is rather strange that a well-known "finance house" pays interests based on the number of days of a month for fixed deposits, while all other finance houses pay interest on the basis of one month irrespective of the number of days.
It is even more strange why the Central Bank has not looked in to this. One must remember, that today, particularly with the cost of living sky rocketing, every cent counts, particularly when senior citizens are concerned
The question is whether the top management and other staff also receive their monthly emoluments based on the number of days.
Over to you Mr. Governor!
Senior citizen
Malabe
---
Where is the River Valleys Board?
How is that houses and buildings come up in river valleys (the most conspicuous being the Kelani River banks) when the River Valleys Development Ordinance is in force?
Where is the Board?
"Flooding"
---
Translating law into justice
Sri Lanka has adopted the legal system of our colonial masters without adapting it to suit local conditions. Felix Dias Bandaranaike (FDB) tried to some extent, but failed.
Today there is much public disquiet that despite talk of dushana and beeshana there have been no significant convictions. A lot of publicity has been given to PRECIFAC questioning people for hours but those arrested are out on bail after a few weeks in jail.
To expedite the judicial process in bringing criminals to book, I would like to suggest the following:
1. Reintroduce FDB's Administration of Criminal Justice Law or introduce something similar.
2. Introduce a law prohibiting judges from granting bail if the charges related to murder, terrorism or financial crimes involving more than 100 million rupees. Since these persons will be languishing in remand prison, judges will be encouraged to dispose of these cases quickly instead of giving long dates.
3. If some of the suspects can be persuaded to turn state witnesses it will help speed up prosecution considerably.
If these measures are taken, the judicial process will be expedited and law will be translated into justice.
N.L. Mendis
Colombo 03
---
No proper policy on tax or interest rates; business community confused
Proper planning, taking right decisions and resolving issues arising out of them are part of a good and effective administration. But the Yahapalanaya administration lags far behind.
Stern decisions are not taken to prop up the economic situation. The regime blames the previous administration for the economic problems and the debt burden. Agreed. But what have the new rulers done? There is no proper policy on revenue collection. Income tax, VAT, and NBT swing from rate to rate and the business community is confused, unable to make price decisions. This frustration was aptly demonstrated by the President of Institute of Chartered Accountants of Sri Lanka at its AGM recently.
He boldly stated that business decisions could not be made because the present government did not have a proper policy on tax or interest rates. He said it was difficult to incorporate tax impacts in the financial statements. Being an expert in accounting, auditing and taxation, his words echoed the opinion of the business community. Hats off to him!
We salute him for his brave uttering since people like him are the need of the hour to open the eyes of the present "Yahapalanaya" rulers. But will they open their eyes?
P.D.S. Perera
Maharagama
---
A hospital that could not make a proper diagnosis
Around 1.30 a.m. on April 3, I got a severe pain in the abdomen and it continued. In the morning I was treated at the emergency unit of a hospital in the suburbs of Colombo and the pain subsided but did not completely go away. Whilst I was on the hospital bed I got fever and started shivering. As the fever continued I was put on antibiotic tablets. On April 6, I underwent an Ultra Sound Scan at the same hospital and it showed that my liver was normal.
As the fever continued I got admitted to the same hospital on the 9th and I was treated with antibiotics through a drip. As this too did not answer, I was prescribed the strongest of the antibiotics, without investigating the reasons for the fever. I immediately got discharged from that hospital and entered a hospital in Colombo.
The next day I underwent another Ultra Sound Scan which revealed that there was an abscess in the liver measuring 4.5 cm. The very next day the abscess was syringed out and the fever, which lasted for 10 days, stopped immediately. Had the abscess burst, if I continued treatment at the earlier hospital, it might have been the end of me.
I was lucky enough to be saved as I had the resources to get treatment from the correct hospital and at the correct time.
R. Fernando
Moratuwa
---
Plastic problem: Cess offers no solution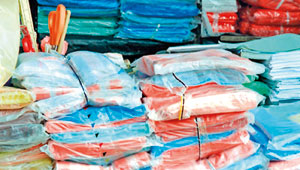 Environmental authorities were to recommend a cess on import of what they called "polythene". In the first instance, the term "polythene" is not identifiable scientifically. I believe what they meant was polymer products which could easily be described as plastics. There are varieties of polymer products/derivatives such as polyethylene, polypropylene, polystyrene, PVC, polyester andpolyethylene terephthalate (PET).
The million dollar question is: Can a cess reduce the import and use of plastic? It is common knowledge that plastic products are widely used not only in Sri Lanka but all over the world. It therefore becomes necessary to find the substitute for plastic. Perhaps, the authorities wanted to curtail polyethylene and polypropylene in the form of sheets and bags. What is the substitute for plastic bags and sheets? Paper?It may be a good substitute,but the use of paper too, is not recommended by environmentalists since it involves the felling of trees.
A cess could only increase the cost of plastic but cannot curb its usage since plastic has become a necessity in our day-to-day life. Instead,the authoritiesshould propose practical means of collection and disposal of used plastics. They also must study the system followed by developed countries. The sad part of the story is that most local bodies,with the exception of the Colombo Municipal Council and a few other councils, are not serious about the subject. Instead of finding short-term solutions which are not result-orientated, there should be serious thoughts on the subject of recycling garbage including plastic to subsidise the cost of collection and disposal.
S. Thamotharampillai
Colombo 06
---
Flood threat at Pasgoda
Immediate rehabilitation of the Urubokke Dutch Canal in the Pasgoda Divisional Secretariat area is a must to prevent possible disastrous floods similar to what we experienced last month.
Will the relevant authorities take action?
P.H. Masmulla
---
Laugh out loud, a bus joke
Private bus owners' proposal to levy a charge to cover the cost of going through slow moving traffic is laughable.
Do they want it implemented islandwide including in areas where there is no traffic congestion and also during night time when there is less traffic?
I believe that it is the private bus owners who should compensate other road users as most of the private bus drivers violate road rules. They overtake without warning, stop to pick up or drop passengers in places where there are no bus stops. At bus stops, they wait for a long time to collect passengers and park in a manner that blocks the traffic flow.
I. Marambe
Via email
---
Read newspapers, watch sports shows to learn English
In our country most of the people have adequate knowledge of English in spite of the poor educational standards. What they lack is the skill in spoken English.
To overcome this I wish to suggest the following methods. Firstly, Reading. As a rule everyone should read English newspapers. Sadly this is lacking in most of us. For example, I recently joined a company, where on the first day I was surprised to see a pile of English newspapers supplied free by the management. But it remained unopened. The papers were in mint condition to be sold as scrap! What a waste of money?
Everyone will have his/her favourite section in any newspaper. It maybe sports, politics or entertainment. By reading we can definitely develop our language skills.
Secondly, sports programmes on TV can also help. On local channels, pre- and post-match discussions are held in Sinhala. If these discussions are held in English, it will help improve the English knowledge of our sports fans.
In my case I have been an avid reader of newspapers and watch sports telecast. In the early sixties when there was no TV in Sri Lanka, there was a popular sports programme called Saturday Special, from 7 p.m. to 11 p.m. on the BBC. As a sports fan I used to tune into the radio and sit through the entire four hours. This was useful in cultivating my knowledge in English.
The recently concluded IPL was a good example where the panelists discussed the matches and held interviews in English. Such programmes are easily understandable and useful to viewers.
David Williams
---
Airport: Flying high and falling low
I visited the Bandaranaike International Airport twice in the past three months to pick up and drop a relative. When I was waiting at the arrival section exit on the first occasion,I saw Deputy Foreign Minister Harsha de Silva coming out pushing a trolley. He was closely followed by a lady, whom I presumed to be his wife.  I learnt that they were coming from Vietnam, having participated in the inauguration of a factory built by a Sri Lankan conglomerate. My relative who was also coming from Vietnam told me that Dr. Silva travelled first class but his wife travelled in the economy class. At the exit, I saw the economist turned politician making a phone call. A few minutes later a car stopped in front of him. Dr. Silva was seen loading the bag with the help of the driver into the boot before being driven away. It was a refreshing sight to see a ruling party politician departing from the usual practice of travelling with siren-blowing police cars and retinue of bodyguards. Hope other politicians will also follow this example.
On the second occasion, which was only a few weeks ago, I happened to be at the departure lounge to see my relative off again. A stocky person, fitting the description of a state bank official, came pushing a trolley to join the passengers who were entering the airport. His mannerism suggested he wanted to go in unnoticed by others. Then a lady staffer in ground crew saree harried up to him, touched his feet and worshiped him. She was followed by another who did exactly what her colleague did. A third in her middle age joined them but seemed contend greeting him with clasped palms in the traditional manner. She inquired from him of his whereabouts, for which he rather reluctantly tried to answer but then decided not to.
This made me inquire from the third lady who this gentleman was. She replied in Sinhala that he was a former chairman. This made me think why a person who held sway in an organisation could not revisit it later as any other citizen, with his or her head held high, unless he or she had reasons to behave like a fugitive. A sad state of affairs!
Jayadewa Mayadunne
Via email
---
The sad state of our country
Reports in the Sunday Times last week expose the sad state of affairs in our country.
According to your reports, it would appear the Government does not know how to govern and our so-called disaster management centres do not know how to manage disasters.
You cannot govern or manage if there are no accountability procedures and performance measures in place.  It also appears that the government is the biggest roadblock on the path of Sri Lanka's businesses functioning efficiently.  Faceless bureaucrats cause undue delays. They seem to devise endless and meaningless hoops for the businessman to jump through, simply for the pleasure of making him jump.
In the case of the Disaster Management Centre, if the Government wants to defend its claim to be competent, it should hold employees, particularly those right at the top, accountable to the lapses.  Equipment worth billions of rupees are gone to pot, thanks to these officials and the debt burden is passed on to future generations. To what consequence?
I challenge the Government to give me the Army and in six months I will have the flooding problem in Colombo under control.  The 'Ajiths of Joy Lanka Watte' and such cronies of power-wielders will be history.  They will be flung off their illegal holdings for defiling Mother Earth, just like Jesus flung out the traders in the temple.
Ranjan
Via email
---
Sports medicine unit: Where are the surgeons and specialists?
I wish to make some observations relating to the sports medicine unit of Sri Lanka.
Sports medicine involves assessment of sportsmen and women prior to competitive sports and treating illnesses or injuries they may suffer as a result of sports activity.
But how injuries to national and school athletes are assessed and dealt with by the so-called 'sports medicine specialists' needs scrutiny.
Are these sports medicine doctors qualified to be on a panel managing injuries to athletes? A properly qualified sports physician must have adequate training in the field of sports medicine and the mere fact that they are medical doctors (or even professors) certainly does not qualify them for the appointment as sports medicine specialists.
I am aware that several athletes have sought treatment from doctors in the appropriate field and it has been the observation of these doctors in general that a fair proportion of sports injuries (treated by doctors at various sports medicine facilities and clinics) have in fact been mismanaged, thereby causing long-term and sometimes permanent injury to these athletes. In some teaching hospitals, there are even unqualified senior house officers who conduct sports medicine clinics and are designated as 'team doctors' for school sports teams. It is high time such unqualified specialists, who also function as 'nutritional advisers' to school children, were exposed and authorities took stern action against them. The public and athletes need to be made aware that other than general medical issues which can be assessed by qualified sports physicians, all injuries must necessarily be assessed by a surgical team including orthopaedic surgeons.
B.G. Iliacus
Battaramulla
Letters to the Editor'Letters to the Editor' should be brief and to the point.


Send them to:

'Letters to the Editor
'The Sunday Times,
P.O. Box 1136, Colombo.

or editor@sundaytimes.wnl.lk.
Please note that letters cannot be acknowledged or returned