Appreciations
View(s):

Godwin Perera

A tree that provided shelter to many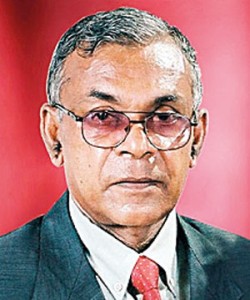 On May 24, 2015 when Godwin Perera passed away, Rev. Father Chriso said how lucky he was to have breathed his last on Pentecost Sunday. Yes, amidst prayers and hymns that he liked best during the month of May Novenas and the recitation of the Rosary, he passed away peacefully.
God must have thought that such a good person should not go on more, so tired that he was. So he was welcomed to His Home, prepared for him with angels by his side. Although he looked hale and hearty only the death certificate reveals how much pain he had endured so cheerfully.
God will reward him abundantly for being a devoted husband, loving father, a father in law, grandfather, brother, relative and friend. He served everybody selflessly and dutifully. Even his clients were looked after very well.
Just a few days before his father's death, may be through premonition he was asked to take the responsibility of his family which was a huge task. But he fulfilled it to the letter. He was a tower of strength, a huge tree to take shelter under, especially when anyone was in trouble.
It was when he was the President of the OBA of St. Aloysius' College Galle that he fell ill seriously. But even then every event that was scheduled for the year was done under his guidance from his sick bed. People who came to pay their last respects spoke of his golden heart filled with generosity which even I did not know about.  Jesus said, "do not your left hand know what your right hand is doing…".
Some said, he was the only one to say a witty word at their political meetings He was very faithful to his green party.
He had his entire education at St Aloysius' College where his father was the Principal of the Primary and mother a teacher, under the strict discipline of Jesuit priests. He entered the University of Peradeniya where after his graduation he was a teacher for eleven and a half years. His students who came to pay last respects were full of praises for him. In the meantime he graduated in Law, passed the Attorney's finals and entered the Bar. He excelled as a criminal lawyer for nearly 38 years gaining the highest respect from the Bar and the Bench equally. He was dedicated to his clients, helpful to the juniors and so courteous and polite to the judges. This was quite evident at He was a devout Catholic, honest and loyal. He stood firmly if anything that was said or done against the church, his own school or the Sacred Heart Convent Galle where our daughters studied.
Even when it was so difficult he tried to recite the Rosary with us just two days before he passed away. His last word to all of us were, 'God bless you' which still ring in our ears and a very special blessings for all of us.
He was a loving, caring husband, father and father in law, grandfather, brother, loving uncle to all his nieces and nephews and a faithful friend to all. Words cannot say  how much we miss him since the huge tree which gave us everything is no more.
May the Almighty God keep him in His safe arms till all of us meet again one day.
-Wife – Kusum
---
SURANGANI ELLAWALA
She loved unconditionally
have walked into this home in Ratnapura where my mother lived all my life only to be greeted with such unchallenged, undiluted, unconditional love. No matter who I had become over the years, to her I was beautiful. I was her child. She didn't see the ugliness, the scars, the darkness I saw in myself. I did wonder often "how come?"
She said we are all products of our restlessness that stirs in our souls, which eventually becomes our search in life, and the real purpose why we were born. In that strife lessons are learned, and the scars are only a testimony that you have begun that journey.
She was quiet, and private person, a creative artist, who adored solitude. Her appreciation for art, and language reflected in the home she created for us.
The colours she used were bold and vibrant, a stark contrast to her gentle personality. The poetry she framed, and hung around in the house were the in print of the DNA she was made up of. Her appreciation for art, and language carried her through difficult times, and it was the pen she used as a medium, and a weapon to express her deepest pain, and her fury especially when my brother was murdered at a tender age of 29.
My late father had great strength of character, and was a king amongst men when it came to ethics. He was like a huge tree that gave shade to many who were weary. Most felt safe when around him. No matter where he went, or what time he got home, all he wanted at the end of the day was my mother. She was there for him 24/7 ready to love, and welcome him home. It was my mother who nurtured this massive tree, and watered the roots in the sunset. He basked in her love, and more importantly trusted her love for him with child-like faith. She was an awesome woman. A woman who knew how to love her man.
My mother had great patience. Her ability to bear up withered me. She dared to love deeply, even if love destroyed her. She forgave the unbelievable. She prayed for better times even if the tunnel never ended. She chose optimism to realism, and she hoped in the face of uncertainty, and difficulty. "The audacity of hope" President Barak Obama's words are the most fitting to the sprit in which she hoped to the end. Was she weary? How hard was it to be her I still wonder.
My late brother, and I were blessed to experience the essence of a mother's love so precious, and the strength, and fearlessness of a great father. No matter how dark the night is the path I walk is lit by lamps, which are the beautiful memories I hold of my late father, mother, and my brother.
Eventually, death is not when a loved one dies. It is when love dies…because I say to them, "glad you are finally together, I have a bit more to do for you here, and I will see you soon".
- Visaka Ellawala
---
D.P.D.P. PEMATHILAKE
He served the village and was an example to me
It has been 22 years since my father passed away on April 2, 1994. He was 72 years. I believe that a personality of that calibre needs to be recorded for the benefit of others. He had many facets to his personality as a well cut and polished gem. He was born in Eluwapola of Kuliyapitiya, the third child in a rural family of 12 children.
After school he had been selected to the Royal Army during the world war, but decided not to join. My memories of him go back to when he was a member of the village council. He energetically served people in the village at a time when rural villages had minimum facilities in the 1960s. He made wells, supplied houses to the poor and started the Ihala Diyadora cooperative society. People were appreciative of his 40 years of service as a village councilor.
One of the uncommon things done by him was the asweddumising of a paddy field. Following in the steps of our forefathers, he asweddumised a large paddy field named Kubukkele at Diyadora in the Kuliyapitiya electorate. He also made a water pond as a reservoir for paddy fields in Thawallegedera. He said that he was very happy because this would yield paddy for people for another thousand years in this country. He raised his voice against insecticides and artificial fertilizers, but no one listened at that time.
He was a practical Buddhist who believed that the true Buddhist should engage in discipline (sila), donation (dhana) and meditation. I have seen him criticizing people who are more interested in rituals than true Buddhist practice.
He was an activist against all forms of alcohol and drugs. He advised youths and adults in the area to refrain from taking alcohol and drugs. He was a role model to me and advised me not to touch alcohol. Amazingly, he made me draw anti alcohol posters when I was an eight-year-old boy in year three of the school. That may have been a reason why I was compelled to start a clinic on my own for alcoholics for the first time in the area at the Base Hospital Kuliyapitiya in 1992 when I was working there as the District Medical Officer. That energized me to conduct similar clinics later in other areas of the country, in Anuradhapura, Kegalle, Kalutara and continue up to today at NHSL as a psychiatrist.
He was a very gifted singer. He was a very popular vocalist at musical shows, dansalas and other social occasions in the area. People were impressed by his ability to sing old songs like "Silumini seeya wadim…., Namu gilee hadapane" in a manner very similar to the original singer.
His willingness to share his knowledge and skills with others was another quality in his life. He was a karate master and taught youths in the village free.
His mother had already donated land and a field to the village temple, the Lokananda maha pirivena at Weekande and he managed it for the temple till his death.
After the his death, the chief priest of the area, Ramannya Nikikaye Anunayake Most Venerable Halpanvila Dammrathne Thera had advised the principal of Diyadora Vidyalaya that children should take part in the funeral as he had been a member of first School Development Council and had helped the chief priest to start this school amidst a lot of political suppression.
May he attain Nibbana!
-Dr. D.P.D. Wijesinghe
---
Erantha Cooray
You were wonderful to all of us
It has been two years since he left us suddenly on that fateful day, leaving a big vacuum in our families.
His demise came fast though we wished for him to live longer, after his kidney surgery which was done successfully one year ago. But everything  changed unexpectedly, when he was hospitalised after a sudden sickness causing pneumonia. He passed away within a week. His demise was a shock to everyone who wondered why such a thing happened to a person like Erantha.
He was a live-wire among the family members with his powerful voice and singing talent and jovial personality, always maintaining family links.
However Erantha was not fearful of death since he was of good faith and believed in God almighty, being a devout Christian. Erantha loved life, but always knew his limits and was generous and helpful to all in need. He enjoyed travelling upcountry with his team that his job entailed at "Astrons" as a marketer of pharmaceutical products. He enjoyed his job with true commitment achieving targets given by the company, and working for 20 long years. He was loved by his office colleagues being one of the organisers for their get-togethers, picnics, christmas parties etc.
He was always concerned about his wife Menik, son Senuksha and daughter Tharini where ever he went and took time to be at home and spend weekends with them. He was also concerned about his brothers and their families and made it a point to meet them often.
Dearest, you have left us with such lovely sweet memories not just of yourself and family but of all the good you did and the wonderful person you were. Those sweet memories carry a long way with our family members and your close friends as well, until we meet again on that beautiful shore.
Thank you Lord Jesus for keeping him in your safe hands.
May his soul rest in peace. Praise the Lord!
- Brother Bryan Cooray
---
ALOYSIUS PEREIRA
Memories of happy times
Aloy was my only brother. With only two years between us, we grew up together, went to school together, played together – and got into trouble together! As teenagers, we went to St. Sebastian's College, Moratuwa. They were happy carefree days but it was soon clear that Aloy was not destined for an academic career. However, Aloy was an able athlete and his prowess as a sprinter won him the Under 19 Champion of the Year award in 1948. All his life he was keen on playing sport – one of his favourites was badminton, which he played with his erstwhile neighbours, the Cooray girls.
That is where he met Chrissy, his wife and soul-mate – a clear case of game, set and match! They were married in 1958 and Aloy proved to be a loving husband to Chrissy and a devoted father to Sandra, Jeff (and daughter-in-law Tamara) and Keith and grandfather to Aloysius (Jnr.) and Annamarie.
After he left school, Aloy did his Chartered Secretaries and spent a brief sojourn with the family flagship, F.X.Pereira and Sons. Ltd. but found  it too stifling because the boardroom was packed to the gunwales  with his uncles and senior cousins. His spirit of enterprise was bubbling over to run his own show which is what he did when he set up his own humble agency called Bromidon Silvex  and Co around 1961 to sell photographic paper.
Over the next 50 years or so, he had the distinction of seeing it grow into a major trading house in Sri Lanka where he acted as sole agent for several multinational companies mostly in the plastics industry- plastic polymer raw material as well as processing machinery. His first major breakthrough came in 1980 when he was appointed sole agent for Sri Lanka for Himont, a US/Italian giant who was the world's largest manufacturer of Polypropylene resin. In 1995, Himont merged with Shell. The new Super Colossus was called "Montell" and Aloy was still retained as agent because he had this unique quality of earning the trust and respect of these multinationals. He was quite unconventional in his personal contact but what came through was his honesty and his integrity. The proof of the pudding was that he was selling Polypropylene by the container load – 3,500 tonnes in 1995 viz. 33.8% of the total market.
Aloy was also the agent for Reliance Plastics of India selling PVC. He was the personal friend of Mr. Ambani, Founder and CEO, who is a "Legend in his own life-time." When Ambani's son had his wedding, Aloy and Chrissy were invited to a reception which was held in a Sports Stadium!
Two other major agencies were Cincinnati Milacron and Starlinger GmbH of Austria, two world renowned suppliers of plastics extrusion lines and bag weaving machinery. In 1999, Aloy (Bromidon Silvex and Co.) was awarded the "Iron-Man" trophyfor excellence in marketing by Cincinnati Milacron GmbH.
At the other end of the Spectrum, Aloy enjoyed a close rapport with all the major industrialists in Sri Lanka. His clientele included  Nawaloka Industries, St. Anthony's  Industries, KG Plastics, Phoenix Industries, Polypak Secco, etc. From the Galle Face Green on, Aloy walked into their hearts and confidence.
Aloy derived steady, reliable support from his wife, Chrissy, who was his business partner who stood by him through thick and thin. In 1989, I became a freelance consultant and that is when I joined my brother, Aloy as the technical arm of the partnership, operating from the UK. My (modest) contribution was mostly related to the annual  Montell Regional Conferences which were held in various, sun-soaked resorts in South East Asia. Memories come flooding back of the happy times that Bernice and I spent with Aloy and Chrissy for 10 years running.
To sum it all, Aloy was a great character and entrepreneur extraordinaire that all of his family can be proud of. Although he was not an ostentatious Catholic, he was a devout one. We now pray that the good lord will grant him his just reward in the next world. May God rest his soul.
- Terry  Pereira
---
AMENDRA SENEVIRATNE
An exemplary judge and trusted friend is no more
It is with deep sorrow that I record the sudden demise of Justice Amendra Seneviratne who was the sitting Judge of the Commercial High Court at the time of his untimely demise.
The certainty that Justice Seneviratne is a rare category of dedicated judges that the Sri Lankan nation inherited in this decade, is the finer feeling of present day legal luminaries of Sri Lanka.
If not for his sudden demise Justice Seneviratne would have definitely been elevated to the higher judiciary and contributed further to the enrichment of the jurisprudence of SriLanka.
Justice Seneviratne may have inherited the fine judicial values and temperaments that he always demonstrated, from his paternal uncle the late Justice O.S.M. Seneviratne who is another great jurist that the Sri Lankan nation produced during the recent past.
Justice Amendra Seneviratne hailed from Balapitiya, a coastal hamlet in the Southern province that has produced a large number of legal luminaries for the Sri Lankan nation such as late Justice Seneviratne: Sir Francis de Zoysa KC, Sir Lalitha Rajapakse QC, H. Sri Nissanka QC, Sir Cyril de Zoysa QC, A.C. (Bunty) de Zoysa PC and Dr. Colvin R de Silva.
Amendra had his early education at Ananda College, Colombo. Untill his elevation to the judiciary Amendra had been a dedicated and enthusiastic member of the Old Anandians 75-80 Group.
He was a fine judge, trustworthy friend, great lawyer and moreover a great human being.
Dear Amendra, may you attain the supreme bliss of Nirvana.
- G.S.A. de Silva, PC 
---
DR. CHARLOTTE HEMALATHA RANASINGHE
A tribute to a tireless academic
After a colourful career as an academic, spread over four decades, Dr Charlotte
Ranasinghe (nee Weerasuriya) passed away on January 20 following a brief illness.
I can still remember the first time I met Charlotte many years ago. Rane, she and I met for morning tea at a wayside café in York Street in the late 1960s when I was working at the nearby Central Bank. The first impression she created in me, of a bright, friendly and professional academic has been etched in my mind ever since. Dr. Ranasinghe graduated from the Ceylon University Peradeniya in 1964 with honours in Geography. Immediately after, she was appointed as an Assistant Lecturer at the university. Two years later, venturing to experience the wider world, she joined  the Public Service as an Assessor at the Department of Inland Revenue and later  joined the Sri Lanka Administrative Service (SLAS).
But the lure of the academic world was too much for Charlotte. In 1968 she left SLAS and joined the Colombo University as an assistant lecturer. Shortly after,  she spent the four years, 1969-1973, as a graduate researcher at Cambridge University, UK, and earned a PhD in geography before returning to the Colombo University as a lecturer. Following the same career path Charlotte was appointed  Associate Professor in 1989.  During that time she supervised the research of two scholars who received the first ever doctorates in Geography awarded by any University in the country. She also worked as visiting lecturer at four other universities in Sri Lanka and as senior lecturer at the Nairobi University, Kenya.
In 1992 Charlotte joined the University of Papua New Guinea as Associate Professor and worked there until retirement in 2005.
Charlotte's contribution during this span of time was not confined to teaching. She worked as an author for the Compilation of the National Atlas of Sri Lanka, as a member of the National Transport Commission, headed several major consultations mainly related to transport, and contemporary socio-economic development in Sri Lanka, and worked as Chief Editor and Supervisor in charge of compilation of the course material for training of secondary Geography teachers in Sri Lanka. She was a life member of Sri Lanka Association for Advancement of Sciences (SLAAS), and held the posts of Secretary/President of its Section on Social Sciences.
She also devoted time to writing. Among them were books such as 'An Introduction to Geography', Published by Sarasavi Publishers, 'Private Bus Transport'-published by Friedrich Ebert Stiftung Foundation, Colombo;'Tyranny of Terrain' – a book on the Development of the Transport Systems in PNG; 'Introduction to Geography' and The Environment and Society; the last three focused on Papua New Guinea. These were in addition to a large number of research articles, among them an essay on 'Popularisation of Bicycle as a mode of Transport.' which won the first prize in a International Lecture Prize Competition, organised by the European Cyclists' Federation.
A little-known major contribution Charlotte was to help to establish a women's hostel for the Colombo University. That was when there was no organised safe accommodation for girls in the Arts and Science faculties. She was instrumental in eventually starting and managing three such hostels.
Even her retirement in Auckland was spent not in enjoying a well-earned rest but in voluntary work helping non-English speaking migrants to learn the language and customs so that they could become fully fledged citizens of New Zealand. To qualify for this she followed a course from the Trinity College of London. Hundreds of migrants have benefited from her efforts.
Charlotte offered the world much more. She had done a lot of pioneering academic work, which held considerable promise for the students in Sri Lanka.
It is not possible to document in a commentary of this nature the immense contribution Charlotte made to Sri Lanka and the world. Her commitment to work and her students, or anything she undertook, was total. Although I was not a student, vivid in my memory is when I sought her help to edit a book I had written about the end of the war in Sri Lanka. She worked day and night and changed that amateur job into a well-received professional work, which was in great demand all over the world. That was Charlotte. Nothing was left half done.
Her knowledge, talent, friendly demeanor and infectious laugh all made her the soul of any party. She gave much more than what she received, to help make the world a better place. Charlotte, you fulfilled your role on this earth very ably and completely. May you attain blissful Nibbana.
Grieving for Charlotte are her husband Rane, children Vidumini and Janaka, and a large number of relatives and friends.
- Don Wijewardana