More families shifted to safety from slide risk
By Wasantha Ramanayake
View(s):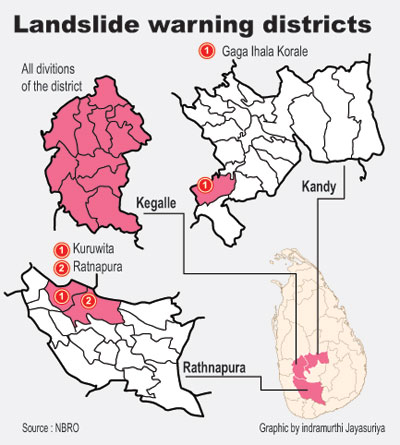 More families were evacuated from the Kithulgala area over landslide fears this week and warnings are still in force in relation to several areas in the Kegalle, Ratnapura and Kandy districts as wet conditions prevail.
In the latest incident, 145 families were permanently evacuated after landslide warnings in the Yatiyantota Divisional Secretariat in the Kegalle District.
The families, who had been living in divisions such as Kithulgala, Polpitiya, Malalpola, Navata and Broadlands, are being sheltered in camps and provided with dry rations, Assistant Divisional Secretary Anura Premaratne said.
He said so far some eight acres have been earmarked for resettling these displaced people and further suitable land was being sought.
"More families will be evacuated after investigations of several other landslide-prone areas," he said on Friday amid signs of landslides in those areas. "We will be visiting Navata and Malalpola with NBRO officials."
The NBRO had also recommended evacuating around 30 families living along the path above the tunnel of the Broadlands Hydro Power Project in the Ambagamuwa Divisional Secretariat division in the Nuwara Eliya District. The houses are in the Polpitiya area, near the first part of the tunnel.
"The NBRO told us to evacuate these families who live on a 90m-wide strip of land above the path of the tunnel, 45m to right and left of the axis of the path," Divisional Secretary R.T.P. Sumanasekera said. These people will also be permanently resettled once suitable resettlement land is identified.
The project officers and the CEB agreed to pay monthly rent for the duration of their temporary shelter until the resettlement, the Divisional Secretary added.
According to the NBRO, 2,129 families in total have been evacuated from their houses since the spate of disastrous landslides in the Kegalle District began with the Aranayake landslide that killed at least 45 people and left about 163 others missing.
NBRO Landslides Research and Risk Management Division Director R.M.S. Bandara said NBRO officials were visiting various sites in Kegalle district for investigations and would also examine areas marked for resettlement.
He said the task of finding good plots was difficult and complicated and officials would consider factors such as accessibility and terrain.
About 2,600 families are living in temporary shelters and being provided with dry rations, Kegalle District Secretary W.M. Abeywickrama Wanasooriya said. Two schools remain closed, providing shelter to the displaced. Altogether 900 acres of land has been identified for resettlement.
Disaster Management Centre (DMC) spokesman Pradeep Kodippili said the DMC was assessing landslide and flooding damage to houses and other buildings in Kegalle, Colombo and other areas for payment of compensation.
"The assessments will be completed soon," Mr Kodippilli added.
He could not say how soon the money could be given to the property-holders. Payments would range from Rs. 100,000 to Rs.25,000,000 depending on the extent of damage, he said, adding, "Those who lost their houses could get the full benefit".
New web-based emergency assistance
The Disaster Management Centre (DMC) will officially launch a new web-based system for more efficient service in providing assistance in emergency situations.
With the new system, users could make a host of requests such as for evacuation, medical facilities, location of missing persons etc. and the progress of the responses will be monitored until the requests are fulfilled. The website will be found at:  177.dmc.gov.lk when it goes live and will operate in addition to the emergency operation centre hotline, 177 and 011 267002 24.
Just a normal monsoon
Despite the recent extensive flooding, the south-west monsoon, which began on May 24, will be a "normal or slightly above-normal southwest monsoon", Meteorological Department Director-General Lalith Chandrapala said.
He said south Asian regional countries had collaborated in examining data to predict the course of this year's south-west monsoon, and considering global weather prediction models, their forecast was that it could be normal or slightly above normal.
The monsoon had seen "slightly above-normal," average monsoonal rainfall.
"But there could be monsoonal disturbances which would bring heavy rainfall during the monsoon period," Mr Chandrapala warned. He added that a few days of the heavy rain that fell in mid-May was due to a low pressure area above the island, which was a normal condition before both the onset and tail-end of the monsoonal periods.