It rained mortars, artillery shells and RPGs
Namini Wijedasa on the trail of the Salawa inferno
View(s):
A box of matches in hand, R.G. Dayawathie prepared to set alight a pile of leaves and twigs she had swept into a corner of her garden. It was then that she heard the crackers.
"Crackers, at this time?" she remembers thinking. It was nearing sundown on Sunday. Perhaps a politician was visiting. "Yako, who is the politician that comes this way without an election in sight?" she wondered wryly, bending to strike a match.
But the crackers did not stop. They grew louder. Dayawathie straightened up and saw black smoke billowing into the sky. It came from where the Sri Lanka Army Volunteer Force Headquarters was located, plumb in the middle of Salawa town. Residents knew there was a stockpile of ammunition inside.
Dayawathie bounded to her telephone and dialled her grandson who was a soldier stationed in Kataragama. She told him rapidly what she had seen and heard. "Aachiye, run, run," he told her, at once. "Leave your house and run."
So the 69-year-old ran. The roads were crowded with others who, like her, were fleeing in panic. "When I looked up, I was in Dehiowita," she said on Wednesday afternoon, standing near the main Colombo-Hanwella High Level Road. She had only returned to her home in Pathurugoda, Pahala Kosgama, the previous day.
Dayawathie was hungry and thirsty. Someone had given her noodles that morning. It was all she had eaten the whole day. Her well-water was unsafe to drink. The mains had run dry. Her house was broken and leaking. There was no electricity supply. "But I know I am better off than people in Salawa town," she said. "They lost everything. Look at my neighbours. They had only just raised their heads."
Next door, a group of people were gathered around in despondence. Their dwelling was heavily damaged. A roadside shop they had recently opened to sell handmade soft toys was destroyed. Dolls and teddy bears, now singed and worthless, sat forlornly on a table.
There is still no final word on how many buildings were wrecked on June 5 and 6 after a fire erupted at the military's ammunition depot in Salawa. The blaze set off a chain reaction that saw thousands of mortars and artillery shells, multi-barrel rockets, rocket-propelled grenades and fuses rain down on the town and its environs. Explosions rocked the camp from 5.45p.m. till well past daylight the next day. Tendrils of smoke rose from some ruins even midweek.
The Disaster Management Centre states that 1,318 persons from 351 families have been affected. Judging by facts on the ground, this is a conservative figure. A census was in progress on Thursday and Friday. It is feared that hundreds more–some estimates say over 800–have been touched in various degrees.
The impact was felt far and wide. One multi-barrel rocket round was found lodged in a manioc patch in the Pugoda police division, nearly 11 kilometres away (9km, as the crow flies)! This was the furthest that had been observed and was clearly an exception. Military sources said they were likely to see remnants of ammunition within a three to five kilometre radius of the base. But the worst damage was wreaked in the immediate vicinity of the fire as well as in surrounding villages.
There are only charred tree stumps and rubble where the ammunition dump once stood. The ground is peppered with shells and shrapnel. The Army hurriedly obscured it from view by erecting a wall of galvanised roofing sheets. There were instructions to block media from photographing the site. Our cameraman was reprimanded for shooting from the window of a two-storey, damaged house. He was also prevented from taking pictures of a stack of ammunition remains in a clear case of closing the stable door after the horse has bolted.
"Here we are, without a roof above our heads, and their priority is to hide the camp," said a businessman in Salawa town, just across from the base. He offered our photographer a view from the second floor of his shop. The building had been under construction when it was hit. Now, he had to start all over again.
Among the ammunition that the depot had stocked were 155 artillery rounds (the highest calibre possessed by the Sri Lanka military), 152 artillery rounds, 60mm mortar rounds, multi-barrel rocket rounds and rocket-propelled grenades. All of these were found in some form or the other in homes and businesses, on roads and lanes, in fields and gardens. They were scattered in vast numbers. Many were intact. Others had splintered on impact, shooting fragments in all directions. There was cast-iron everywhere.
"It is very fortunate that none of them exploded outside the camp," said a bomb disposal expert who did not wish to be named. "Had they exploded, the devastation to life and property would have been much greater." It was also fortuitous that the fire erupted while inhabitants were still awake; and that it had been a Sunday, when there were fewer people in the camp and outside.
Losses were predominantly caused by heavy ammunition rounds landing with great force. Roof upon roof was broken. Fires had erupted in many areas. Hemantha Rodrigo's two-storey hardware shop opposite the camp was gutted. Smoke still rose from its innards. Dressed in a shirt and sarong, he dallied hopelessly at the edge of the ruins. The 48-year-old had opened Hemas Hardware twenty years ago on seven perches of land.
When the blaze broke out, Hemantha had been putting up racks to display a new consignment of power tools. Big, black smoke was followed by explosions. The camp siren was on. He evacuated with his wife and two children to Pugoda. He returned to nothing.
"I am in debt to the tune of Rs. 5 million to the People's Bank," he said. "I stopped renewing insurance on this shop two years ago because the premiums were so steep. I thought I would not need it anymore since there was no terrorism. It is better if we had also died. We have no way of living now. Everyone around me is in the same situation."
There is anger in Salawa and other villages. Many here are private and State sector workers. Their earnings were invested in their homes and businesses. They are unconvinced by Government promises of reparation and feel they would not recover in their–or in their children's–lifetimes.
Most of what was lost could not be compensated for. The scale of destruction is vast. Sporadic protests broke out throughout the week as inhabitants rued the slow pace of cleanup operations. The Army moved in only on Wednesday afternoon to remove debris and ammunition.
Residents are furious that an armoury had existed in their midst. Some, like retired Air Force employee Shelton Jayaweera, remember how people had protested when the dump was first shifted there in the early 90s.
"I knew that, one day, this would happen," 60-year-old Shelton said, red-eyed. "But I thought it would be during the war." He had spent years building his two-storey house with money he had earned in Qatar after leaving the Air Force. The paint was still new. A volley of ammunition rounds had torn into the structure, leaving it uninhabitable.
The Kosgama Government Hospital suffered badly. It will be razed to the ground to make way for a new construction. The outpatient department and clinic have been temporarily shifted while in-patient services are being provided by the hospital in Avissawella. There is rubble on the beds. The medicine room is open to the sky. The building is flooded.
The doctors' quarters, where Resident Medical Officer Priyantha Idamgodage lived, are a mess. One projectile had entered through the chimney and landed on his gas stove. Another slammed into his refrigerator. The television and furniture were hit. Only the washing machine and a Buddha statue in a corner of his sitting room survived the onslaught.
Parts of Salawa look no different to a battlefield. There are trees without heads and the undergrowth is burnt. Pieces of ammunition will be found in these areas for years to come. The cause of the fire has still not been determined. "My team is still working," said Government Analyst Sakuntala Tennekoon on Friday. "That is all I can tell you."
Even that was more than what the military has said so far.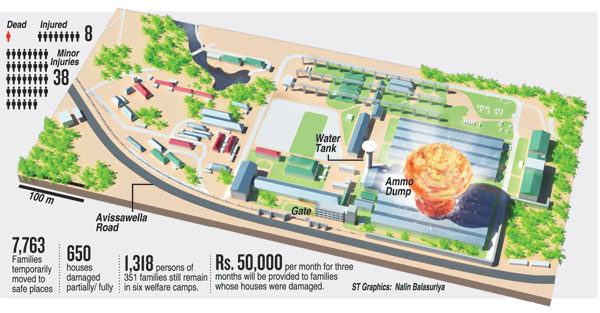 Basic rules in stockpiling ammo flouted
The fundamental principle of stockpiling ammunition has been flouted by the Sri Lanka Army, an ammunition expert told the Sunday Times in the aftermath of the Salawa disaster, which he blamed on "the negligence of authorities".
"The basic principle is that you cannot store ammunition in a populated area," said Brig (Retd) Neville Fernando, an Ammunition Technical Officer (ATO). "For that matter, this was not small arms. This was mortars, heavy artillery rounds and rockets. They should not have been stored there at all."
The correct storage clearance area, depending on the type of ammunition, was three to five kilometres, Brig Fernando said. Steps should have been taken to avoid "sympathetic detonation"–an explosion caused by another detonation.
Fire could have broken out due to a lack of ventilation, excessive heat, an electrical spark, a lit match or cigarette butt, etc. "An ammunition dump has got to be completely ventilated and, if possible, air conditioned," the Brigadier said. "The building must be completely concrete. There are so many ammunition qualified officers in the Army after us. They should have pointed these out."
"The present Commander of the Army has got to take complete responsibility, immaterial of when this dump was established," he maintained. "He, being an Engineer Corps officer, should have realised the dangers of such large amounts of ammunition stored in this place. He should have explained to politicians that they cannot be kept like this."
Shortcomings in fire prevention measures at the Salawa ammunition dump were pointed out by the Air Force as far back as 1999, documents obtained by the Sunday Times show. A letter sent to the Director of Operations of the Sri Lanka Army by the Officer-in-Charge of the Air Force's Fire Service Department points, among other things, to poor electrical wiring and inadequate ventilation.
"No 2 Ammunition dump does not have a separation wall in the section to the right side of the building," it states. "Under this situation risk arrises [sic] from to [sic] directions. One is that a fire can spread due to wind and secondly any person can easily cause sabotage."
"The electrical wiring is of a temporary nature and the supply can't be cut off in an emergency," it adds."Some of the wiring is a [sic] exposed to leaks in the roof. At the No 01 Ammunition dump "H" there is inadequate ventilation which will cause a buildup of excessive heat inside."
Many other hazards have been flagged. It was recommended that traverses or bunds be built around the ammunition dump. It was also proposed that lightning conductors be fixed to the building; adequate fire extinguishers be installed in easily accessible locations; adequate ventilation be provided for each building; electrical fittings such as switches and wring be insulated and spark proof; and that each building must contain only one type of fire class explosive.
Against a backdrop of poor transparency and accountability in the military–particularly after the Salawa disaster–it is not known whether these shortcomings were addressed.