Strains of music in unusual spaces
Text and pix by Dilantha Dissanayake
View(s):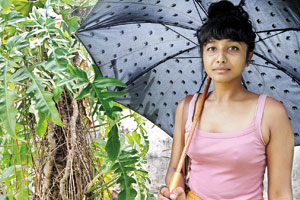 How does one combine a career in architecture and a passion for writing and performing music? Aditi Veena or "Ditty" uses innovative spaces to captivate her audience with beautifully prepared spoken words and a natural gift for entertaining.
Born and raised in New Delhi she is well used to the live music scene in her hometown. Yet with time she has moved away from traditional venues to give a more intimate and personal experience to her audience.
She started to sing at the tender age of 14, at her school's contemporary western music choir and along the way taught herself to play the guitar and trumpet. The later which her father played while he was at school.
Her current Mumblings EP brings out her love of music, poetry and art. If you have ever longed for the years gone by, when you bought music and you had a piece of tangible art, then I would suggest seeking out Ditty. The Mumblings EP is a small booklet that folds out into a poster containing the interactions and impressions of four men in her life. Represented by animals – they are her father, brother and two ex-boyfriends. The booklet has charming innocent illustrations with lyrics in a stylistic font befitting the images. At the back you are lead to a website with a unique code that allows you to download the tracks.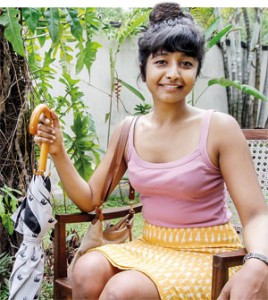 She makes a living by day as an architect, which is the reason she initially moved to Sri Lanka after coming on a diving holiday, being impressed as well as inspired by the buildings and motifs. She has gigged around the island extensively. 'I have played in many gigs and bars and clubs both here and at home, I got freaked out with people talking and consuming while I was amplified in the corner so I tried to play with non traditional spaces, experimenting with how that effects the performance and experience." Of late she has played at the Prana lounge in Colombo, the arena was a small corridor with a vaulted ceiling where the music gently floated through the audience and more recently assisting in a warrior yoga session at Sri Yoga Shala, Unawatuna.
Ditty is currently planning events which would see her busk on the streets more, interacting with her audience and writing relevant music. Presently writing "Poetry from Ceylon" about her latest experiences, "I can comment easily, it becomes more fluid and less restrictive." She recently performed a humorous yet caring piece called "Food City" at Melo Manic Sessions in Galle.