Singing Ambassador hits a heartfelt note
by Duvindi Illankoon
Having won the hearts of Sri Lankans and the diplomatic community with her ability to sing not just in Sinhala but in eight other languages, Vietnam's Ambassador Phan Kieu Thu will take to the stage on behalf of flood victims
View(s):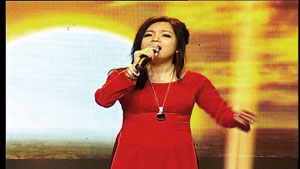 Ambassador Phan Kieu Thu can recall the names of songs we grew up with at the drop of a hat and she seems bemused at our surprise. The Ambassador of Vietnam to Sri Lanka and the Maldives, who was appointed to her Sri Lankan office in 2014, will raise funds for flood relief with a concert at the Russian Cultural Centre. She will sing almost entirely in Sinhala — a talent for which she has acquired a reputation over a very short time.
"I truly believe I was Sri Lankan in a past life," she tells us at an interview at the Embassy of Vietnam in Sri Lanka. Ambassador Phan has gained a name for herself among both Sri Lankans and the diplomatic community for her ability to sing not just in Sinhala, but in eight other languages including Russian, Spanish and Korean. She takes it in her stride; it was only in September last year that she performed to raise funds for a housing project for people in need.
Ambassador Phan hails from a diplomatic and political background. Her father Phan Doan Nam was a senior diplomat and Assistant Minister of Foreign Affairs. Her grandfather was Pham Duc Nam, a well-known commander and Chairman of the People's Committee of Da Nang for many years. It seemed only natural for Ambassador Phan to follow in their footsteps; accompanying her father to his different postings and then onto university in Ukraine, mastering several languages besides Vietnamese.

She holds a B.A. in Russian Literature and Language alongside an M.A. in Public Policy. She is now completing a Ph.D in Economics. She has served in Southeast Asia and Australia before her appointment as the Ambassador to Sri Lanka and the Maldives, making her one of the youngest to be so appointed in the country's Foreign Service. It was with this appointment that she first considered singing in Sinhala.
Around the same time as her appointment, the Mayor of Colombo, A.J. M. Muzamil visited Vietnam and Ambassador Phan quickly arranged for a Vietnamese singer to perform a song in Sinhala for him. It was so well received that she considered bringing the singer to Sri Lanka for performances. "But then I thought–why not learn the words myself? I could cut costs!" she laughs.
In Sri Lanka, her first opportunity came at an event in Ratnapura. She had chosen a simple lullaby and a friend had arranged for instructor, Asela Bandara, to help her with pronunciation. "He was doubtful," Ambassador Phan remembers. "But once he heard me sing, he urged me to perform a popular song." Thus in six hours the Ambassador learnt the words of Malini Bulathsinhala's 'Sanda Madale Sita'.
These days she simply hears a song she likes on the radio and strikes out on her own. She tries to learn what the words mean, but also more importantly what its message is. The Ambassador listens to the music as many times as she can to absorb the words and how they are sung. Having a predilection for Hindi songs, right now she is particularly fond of 'Tum Hi Ho', a song that elicits a delighted response from her audience.
But her favourites will always be those of Nanda Malini's, a singer whose music Ambassador Phan is very attached to. It has to do with the beautiful melodies, she explains, as well as with the poetry of her lyrics. It challenges her more than usual to learn the meaning– and this Ambassador thrives on a challenge. This is why she can sing in nine languages and speak both Russian and Korean fluently.
The response to all this has been very positive, she smiles. "People often come up to me and say they really enjoyed my singing and ask if I could teach them as well. It's a nice way of bringing them together."
This is why on Thursday, June 23, Ambassador Phan will sing to raise funds for those affected by the floods. It's an important cause to her, she says, "because Sri Lanka is so close to my heart." She will perform alongside Menaka De Fonseka Sahabandu, Surekha Amerasinghe and Dhanushka Seneviratne.
'Graceful Melodies', an evening of song on behalf of flood relief, will be on June 23 from 7.30 p.m. onwards at the Russian Cultural Centre. Tickets priced at Rs. 2,000 are available at the venue (pre-booking is advised). All funds raised will be directed to the Rupavahini Disaster Relief Fund.