Karavika to release 'Of Earth and Sky'
By Kaveesha Fernando
View(s):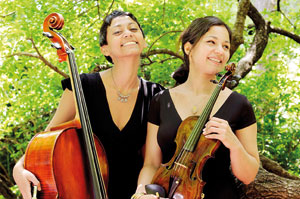 Karavika is New York based quartet which is named after a mythical, soulful songbird of the same name found in Buddhist texts and is known to sing in the loving presence of family and friends. Inspired by this togetherness, 'Karavika' is currently working on releasing their second album 'Of Earth and Sky', which is scheduled to be released in August this year. The quartet comprises Amali Premawardhana on cello, Trina Basu on violin and Perry Wortman on bass and they are joined by various guest artistes. The CD will explore the themes of motherhood, childhood, family and love – and is partly inspired by Amali and Trina's recent experiences as new mothers and starting a family. 'Karavika' spoke to the Sunday Times about their music and upcoming album and discussed their inspiration and plans for the future.
Karavika began when co-founders Amali and Trina met through a mutual musician and friend in 2007 and realized that they shared an interest for exploring music – especially Indian classical music. They began as a violin/cello duo and they created most of the music for their first album 'Sunrise' as a duo. Trina feels that the intimate process of experimenting with new sounds and trying out new techniques is what has helped them unveil what their music was going to sound like.
Both founders have South Asian roots – Amali's mother is a pianist and music teacher who first taught in Sri Lanka before moving to the States, while Trina has Bengali roots. Perry, who is married to Amali, was also inspired by Indian music when he was young through his Indian neighbours at whose house he would play on their set of tabla. Apart from Perry, who has been with the band since the early stages, Karavika works with many different percussionists and have several key musicians who rotate depending on the performance. Typically, their percussionist is either a mridangam player or tabla player and the versatility of their music allows them to work with musicians who have a western sound as well. For 'Of Earth and Sky', they have worked with a few other New York based artistes, including bansuri player Jay Gandhi, carnatic vocalist Roopa Mahadevan, carnatic violinist, Arun Ramamurthy, mridangam player Rajna Swaminathan, and tabla players Avi Shah and Sameer Gupta.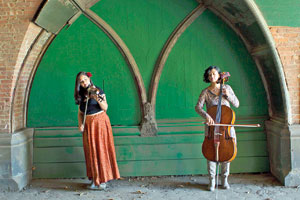 The music Karavika plays is called 'Raga'– a form of Indian classical music. In spite of the fact that the music is primarily Indian, they also draw from the classical and folk traditions of America. Amali feels that although it has been challenging to incorporate two different systems of music in a way that does not sound fake, their process remains very natural. The music usually starts with one person's idea. When someone brings in an idea or melody, they all work on it and decide whether or not they can build their music upon that central idea. 'Our aim is to strike a balance between preserving the essence of the folk melodies and traditions while contributing to our own ideas of music, even if it means breaking or bending some of the rules' says Perry. He also felt that it was refreshing to explore music which gets lost in the shuffle of today's mainstream cultural playlists.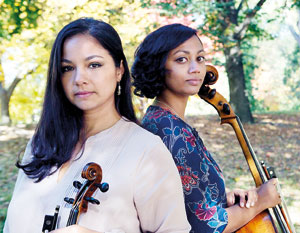 'Of Earth and Sky' will be released on August 11. They can be contacted on their Facebook page https://www.facebook.com/karavika or their website http://karavikamusic.com/