President promises urgent action to reduce CoL, vows to strengthen economy
By Our Political Editor
View(s):
During exclusive interview with the Sunday Times, huge ammunition depot explodes; Kosgama like Syria, questions as to whether full story will be told
High priority for lasting reconciliation; those against it are  traitors and extremists
Sirisena gives details of what has been done, says time  needed for full probe on big corruption cases
For President Maithripala Sirisena, an afternoon siesta is not an affordable luxury. On rare occasions, when the rigorous routine of his office compels the need for some rest, he seizes the opportunity. Last Sunday was one such occasion.
Yet, he was mindful of the engagement at 5 p.m. at his official residence at Paget Road, a tree lined area. It is a stone's throw away from the 88-year-old historic Senior Police Officers Mess (SPOM) at Keppetipola Mawatha and overlooks the lush green playground of Sirimavo Bandaranaike Balika Vidyalaya.
A few minutes ahead of time, he walked in to a lounge wearing a checked bush shirt and trouser to greet me. "No photographs please. I am just out of bed," he said laughingly. We adjourned to his conference room in the connected adjoining building. He asked a staffer to switch on the microphone and began to answer my questions.
A few minutes into the Q & A session, an aide interrupted. He handed in to President Sirisena a typed strip of paper. As he read through, his facial expressions showed concern. He reached out to a telephone on the conference table and asked the operator that he be connected to Army Commander, Lt. Gen. Chrisanthe de Silva. A brief conversation ensued. I heard the President tell him to act immediately. "Vahaama gatha yuthu piyawara ganna" or immediately take measures that are necessary, he directed.
With that over, Sirisena turned to me and said that the Army's ammunition depot at Kosgama was on fire. He nodded as I told him this was their Central Armoury and was located in a built-up area. He did not realise then that the fire would turn out to be the worst in the Army's peacetime history. Thousands living around the complex were affected. Houses were destroyed, some occupants losing all their worldly possessions, animals died on the spot and vehicles were badly damaged. The raging fire lit up the night sky. It was not just small arms ammunition that exploded like the rapid burst of crackers. As it spread, Multi-Barrel-Rocket shells and anti-tank ammunition began to explode. Artillery shells were strewn all over, some shells falling inside houses through the roof. Luckily, the triggering mechanism in them had been stored in accompanying boxes as is the usual practice. They are connected together in the battlefield. This explained why scores of unexploded shells were strewn around near civilian houses and shops.
The night around the Salawa army complex was reminiscent of one during the height of the separatist war. The aftermath was no different. Secondary explosions that were triggered by the fire prevented troops from moving in. They waited helplessly till late next day before venturing out. Covers have now been placed to conceal from the public eye some of the damage caused. It is a supreme irony that an Army installation of such prime importance, protected on a number of occasions from Tiger guerrilla attacks, should become a towering inferno that destroyed even surrounding houses when there is no war. This week, the area looked like a war-battered zone, much like those projected in news pictures of the fighting in Syria. Now the question asked by most people is whether the real truth behind what triggered the fire would ever be known.
It was in this Central Armoury that all imported military hardware was first stored before being sent out to installations in former battle areas. There were at least two known instances where Tiger guerrillas made plans to blow up a storage facility at Salawa. In one instance, after the State Intelligence Service (SIS) reported that a group was conducting surveillance in the area, whilst staying in an unknown location in Avissawella, action was initiated. This included the deployment of members of the Tiger guerrilla breakaway group led by Karuna alias Vinayagamoorthy Muralitharan to locate those suspected. The group had thereafter withdrawn. On another occasion, on June 3, 2008, SIS operatives arrested a guerrilla group which had found shelter in an estate line room in Yatiyantota. They possessed C-4 explosives, grenades, gelignite sticks and T-56 assault rifle ammunition. They were handed over to the Yatiyantota Police. The group was to confess that one of their targets was the ammunition depot at Salawa. They had planned to wreak havoc.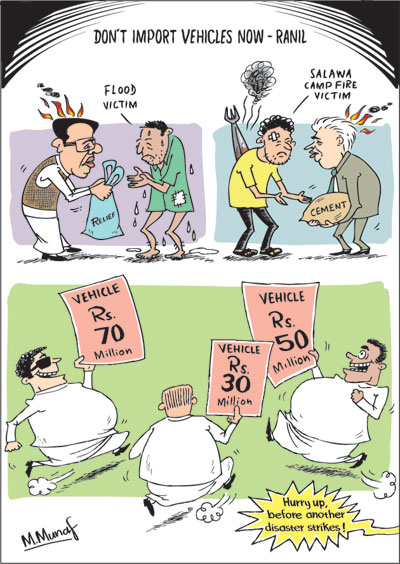 Ahead of the military defeat of Tiger guerrillas, part of the Salawa stocks was shifted to Veyangoda. The move was to make way for the Army's Volunteer Force Headquarters to be located there. Until then, the premises were occupied only by the Logistics Command. The inferno has prompted the Army, the Navy and the Air Force to review their storage facilities. Large stocks of outdated military ordnance that lay at Kankesanthurai are to be brought down to Kalpitiya to be destroyed. Earlier, such stocks were dumped in mid sea. However, the Central Environmental Authority (CEA) had raised objections to such a move. The Air Force is shifting some of the stocks from near Colombo to Ampara.
Details of the massive fire and its aftermath appear in reports elsewhere in this newspaper. A tri-services Board of Inquiry has been appointed to probe the tragedy. It is headed by Air Vice Marshal Kishan Yahampath, Director, Ground Operations of the Sri Lanka Air Force (SLAF) and includes Rear Admiral Dharmendra Wettawe, Director, Naval Operations and Brigadier Dhananjith Karunaratne, of the Army's Engineering Services. In addition, an Additional Secretary to the Ministry of Defence and an Army bomb disposal specialist will also be part of the Board.
Defence Secretary Karunasena Hettiaratchchi told the Sunday Times, "We are having an open mind. We will not speculate. We will await the report of the tri services Court of Inquiry and the findings of other investigations that are underway." Other state agencies conducting investigations are the Criminal Investigation Department (CID) and the Government Analyst's Department. Yet, it has now become fashionable for both political and military leaders to be liberal with their comments on such situations though what they say is more fiction than facts. A military official said the fire at Salawa would have been caused by lightning. If he was correct, every week an ammunition dump would have erupted in flames since rains and lightning have become a common feature during the ongoing monsoon. Another top military official claimed there would have been much more damage if not for the fact that the items had been better stored. It has already come to light that improper storage was cause for the biggest ever damage. A Cabinet minister said the fire was the fault of the previous Government and not theirs. As an irate "Joint Opposition" leader remarked, "thank God he did not blame the recent rains, resultant floods and landslides also on the previous Government." Far from convincing a discerning public, such remarks only end up as poor reflections on those who make them. Yet, they do not realise that they are made to look fools in the public eye.
President Sirisena continued to receive reports periodically that Sunday on the status of the fire. At one point, he answered a phone call from Defence Secretary Hettiaratchchi who was in Singapore to attend the Shangri La dialogue. This is an inter-governmental security forum held annually by the International Institute of Strategic Studies. He told him to return to Sri Lanka immediately.
President Sirisena answered questions posed to him. Here are the highlights:
Q: It is one and half years since your victory at the Presidential election. Are you satisfied with the way things have unfolded?
A: There are many reasons why we can be happy about. I can say that because I took over a country which did not have proper democracy. The country was plagued with corruption. There was disregard for human rights and fundamental rights. The judiciary was corrupt and the country was burdened with debt. The foreign debt remained at Rs. 9,000 billion.
The country was facing many challenges. There were fears that military leaders and politicians who directed the war against the LTTE would be hauled up for war crimes. There was talk about some offering to face the 'electric chair' than allow this. There was a threat of economic sanctions being imposed against us. Two such measures had become effective when we took over. One was the ban on fish exports to the European countries. The other is the GSP plus tariff concessions to the garment sector. Both were stopped.
Within the country, natural resources were being destroyed with the influence of local politicians. Forests were being denuded. There were rackets over mineral resources such as sand, stones and ilmenite. Corruption was taking place from the top to the bottom. Local politicians were allowed the free will to act in any manner they wanted. They were involved in rape, murder and misused their powers. There was mistrust and uncertainty among the Sinhalese, Tamils and Muslims. Though the Liberation Tigers of Tamil Eelam (LTTE) was militarily defeated within the country, their ideology remains. Outside the country the LTTE's networks remain. Some of the former LTTE leaders living overseas are trying to achieve their goal of 'Eelam' and divide Sri Lanka.
Therefore, because of the factors I have mentioned, many powerful nations and the UN had distanced themselves from Sri Lanka. The World Bank, the IMF (International Monetary Fund) and the ADB (Asian Development Bank) had distanced themselves too, without providing much assistance. The Japan International Cooperation Agency (JICA), the agency which provides development assistance, also kept away. There was a strong campaign over allegations of war crimes. This was over incidents which took place in the final stages of the separatist war. Neighbouring countries too had distanced themselves. There are many other reasons I can point out. But, I took over a country which was shunned by other nations.
In the past one and half years what I have been doing is to reverse these adverse issues and trends. Today no country can live in isolation. If a country tries to live in isolation, it cannot progress. We live in a hi-tech world. Therefore we need high-technology to develop. We need to provide knowledge to the younger generation. Also we need support from economically strong countries to salvage this country which has debts amounting to more than Rs. 9,000 billion.
One of the main achievements in the past one and half years was the passage of the 19th Amendment to the Constitution. This was a great achievement for democracy. The Executive powers exercised by the President have been transferred to Parliament to the maximum possible extent. This was done through a Supreme Court determination without recourse to a referendum. The Constitutional Council has been established. Through this nine Independent Commissions have been set up. Bribery and Corruption, Police, Human Rights, Public Service and Audit Commissions are among them.
Also nations which had distanced themselves and the UN are now friendly with us. The loud cries of war crimes allegations have receded. The loud cries for setting up War Crimes Tribunal to probe the allegation have ceased too. The talk of facing an 'electric chair' has ended. The ban on fish exports to EU countries has been lifted. All countries have turned out to be friendly. The shortcomings in the judiciary have been reduced and a strong judiciary has been restored.
Our foreign reserves are being improved. The trade balance between imports and exports is being narrowed. The destruction to natural environmental resources has been reduced. Annually we have 5,000 new kidney patients. The main reasons have been the excessive use of agrochemicals. We have controlled the use of it.
About 20 percent of the country's population suffers from malnutrition. To minimise this, we have introduced different programmes. With the help of the Customs and the Police, we have launched a strong campaign to prevent the smuggling and distribution of narcotics in the country. To minimise the damage from pesticides we are promoting organic fertilizer. We have started a campaign among the farmers. These are some of the many achievements. Therefore I can be happy about my past one and half years in office.
Q: There are accusations that an important pledge you made during both the presidential and parliamentary elections – bring to justice the corrupt elements in the previous Government – has not been fulfilled. Why is this?
A: The kind of corruption we are investigating is not like probing a case of someone stealing a bunch of bananas in a village. There are powerful politicians and businessmen involved. They have used their knowledge and skills to carry out such corrupt activity.
Investigations cannot be completed in a month or two. In other countries these investigations take seven to ten years. We cannot enforce the law of the jungle. We are carrying out impartial investigations. The law should be implemented properly. There cannot be human rights violations or violation of laws in the process. We have already filed several cases and several investigations are nearing completion. Some large scale financial frauds are being investigated with the assistance of foreign countries. Among the countries providing technical support are the United States, Britain and India.
I have also strengthened institutions such as the Commission to Investigate Allegations of Bribery or Corruption (CIABOC), the Financial Crimes Investigation Division (FCID), the Presidential Commission of Inquiry to Investigate and Inquire into Serious Acts of Fraud, Corruption and Abuse of Power, State Resources and Privileges (PRECIFAC), the Police Special Crimes Investigation Division and the Criminal Investigation Department in an effort to take action against those responsible for corrupt acts.
Q: You have declared that for any probe on alleged war crimes in Sri Lanka, there will be no foreign judges. Is that the official position?
A: Yes. Very clearly we do not need foreign judges. We can resolve any problem within the country without foreign intervention. If necessary we can obtain foreign technical support. That again will be without any commitment or conditions attached.
Q: What is the position of the Sri Lanka Freedom Party (SLFP) with one faction supporting your predecessor Mahinda Rajapaksa?
A: I was sworn in as President on January 9, 2015 and it was on January 13 that I was called upon to take over as President of the SLFP. That is something which I did not expect. However, in our manifesto we had mentioned that the two main parties would work together to form a government. That came as strength for us to pass the 19th Amendment to the Constitution. Some said though I took over the party, I do not have the support of some members.
However, during the last May Day rally (in Galle) it was shown that there were an overwhelming number of SLFP supporters who backed my leadership. We are strengthening the party. It has suffered two electoral defeats at the last Presidential and Parliamentary elections. Therefore the party is being revamped.
Q: One of the accusations is that you re-appointed on the National List to Parliament UPFA candidates who were defeated at the general elections. Some argue that they did not win the mandate of the people. Was it intended to strengthen your grip on the party rather than the country?
A: They were defeated at the parliamentary elections by their own party people who worked against me. They were not defeated by the people. Some SLFP leaders defeated them in an organised manner. That was an unnatural defeat. Some have come first in the previous elections in their respective districts. I require persons who have long-term political experience in the SLFP to carry on with the work of the Government. Therefore, I appointed them on the National List.
Q: how do you see the National Unity government working? Is it any different to the cohabitation government of 2001-2004 which collapsed in three years?
A: This is the first time in more than 60 years that the main political parties in the country have come together to form a government. This is something new. Also it is complicated and not so simple. Therefore, the people can see shortcomings in the system. These two parties were bitter rivals. This marriage is a difficult one. It is not easy. We are continuing that difficult job. As a government, we have had success. Some say the Government is not stable and weak. I reject this claim. Those who say so are those who are against the Government.
We have strengthened democracy. Human rights and fundamental rights have been strengthened. Judiciary has been strengthened. The reconciliation process too has been strengthened. Things which should have been done by the former government, in the post-war period for reconciliation, to reduce fear and mistrust among communities were not carried out.
Reconciliation is something which cannot be built with cement, bricks, concrete or tar. We are aware why a separatist war came about. More than the war, in victory we should take into consideration the reasons which led to the war. We should take precautions to prevent the recurrence of such war. If the youth in the north take up arms again, it is a defeat for the country. We should stop it. To do that, we should resolve their issues.
Reconciliation should be strengthened. An acceptable programme should be put in place. The message of the importance of Reconciliation should be delivered to the Sinhala Buddhists in the south, than to those living in the north. More than 100,000 persons displaced by the 26-year war live within and outside the country. Some live in India and some in Western countries. This nation belongs to all. Therefore national unity should be strengthened.
Q: How will you deal with those who want to stymie your efforts towards reconciliation?
A: Those who work against this are 'Jathi Dhrohio' (traitors). If they work against this, we consider them as 'Anthavadhin' (extremists). There are extremists both in the south and north. There are extremists outside the country as well. They try to interrupt or scuttle this programme. We will deal with them firmly.
Q: You have gained the support of Western countries, but what about the relations with China?
A: With China, too, we have good relations. I have another invitation from China to visit that country. Last month I met Indian Prime Minister Narendra Modi on his invitation. Therefore we have good relations with all countries. This is a result of our balanced foreign policy.
Q: Another issue which the people are blaming the Government is the rising cost of living. What is your position?
A: That is correct. The cost of living has increased. It is causing difficulties to the average person. One of the reasons is that we have been compelled to take measures to resolve the issue of the huge foreign debt amounting to Rs. 9,000 billion. This has resulted in the rise of the cost of living. I believe that the people should receive relief soon. I will be submitting proposals to the Government to this effect soon.
Q: Can you comment on the state of the economy?
A: There are shortcomings in the management of the economy. I accept it. We need to take corrective measures.
Q: Have you any new plans for this?
A: Yes, I will be submitting proposals to strengthen the economy and reduce the cost of living. They are now being studied.
Q: There has been a clamour by sections of the Government and the 'Joint Opposition' not to re-appoint Arjuna Mahendran as Governor of the Central Bank. What is the position?
A: (He laughs and says) "there are a few more days to decide on that."
As he rose from his seat, President Sirisena reiterated that the results of a Government cannot be all shown in just one and half years. "There is a lot more to do. We need time for this. We will overcome the challenges and build a better country. I need the support of everyone for this," he concluded.