Behold and hail! The pampered Jades of Lanka in the Chariots of the Gods
View(s):
Yahapalanism's robe turns transparent to reveal naked truth of inherent greed
Billion bucks for 32 luxury limos for 30 ministers is no extravagance but a necessity claims Govt
PM moves to delay mega perk till flood hit homes are built but will it lift the dark ominous cloud?
For a people who had seen rain last month and fire last week, this Tuesday's news that the Government planned to spend over a billion bucks of the public's money to buy 32 mega w cars for a handful of ministers with the price tag of each super vehicle ranging from 30 million to 50 million to 70 million rupees, came as a thunderbolt to strike their very bellies and churn the innards out in a vomit of disgust and opprobrium over their representatives' sordid natures which belied belief.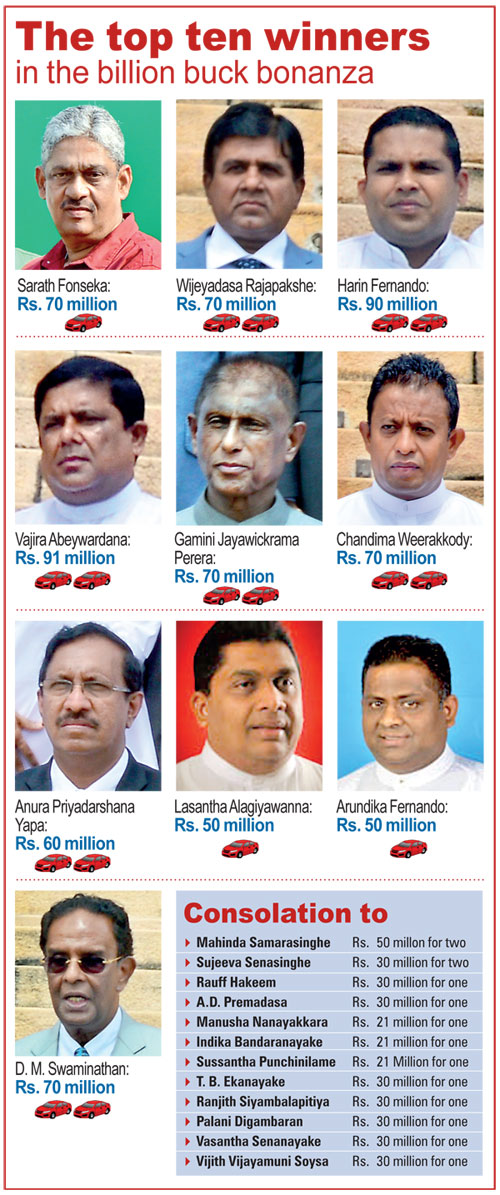 In that one instant of lightning's dazzle stood revealed the squalid spectacle of a privileged cartel busy serving themselves to extreme excess whilst the rest of the country was on a government enforced strict diet. It showed the sheer hypocrisy of those who professed to practise the Yahapalana faith; and turned transparent the robe of Yahapalanism to reveal to the masses that the naked greed and lust for self aggrandizement held by its lofty expounders today were no different from that once harboured by those in the previous regime.
On Friday Prime Minister Ranil Wickremesinghe moved in to exercise damage control to contain growing public fury of the Government's decision to grant this extraordinarily exorbitant perk to ministers. He ordered the Treasury not to release any monies for the import of the super luxury vehicles until money has first been allocated to rebuild the homes destroyed by the Aranayake landslide and floods last month and those damaged by the Kosgama fire and explosions last week.
Though it may be the only silver lining in the dark cloud since it will ensure the speedy grant of relief to the recent landslide, flood and explosion victims, the dark cloud still hovers overhead and ominously threatens to pour down on Yahapalanaya's vaunted doctrine and to submerge it out of existence. The prime minister has creditably stressed that it is the primacy policy of the Government to grant relief to the people. He should also not forget to include the victims of Koslanda's landslide who are still waiting for their homes to be built two years after the tragedy.
But in no way should the prime minister's directive to the Treasury that the people's damaged homes must first be rebuilt be taken as a sign that it is Christmas thereafter for the ministers. Much more is at stake. Merely because a government discharges its fundamental duty of providing relief to those hit by natural disasters, it does not entitle the government to play Santa Claus to its own ministers and start dishing out expensive toys to them, stuffed to the brim as they already are like the turkey on the yuletide table. Thanks to the PM, the mega motors project is presently suspended but it is still on the board. The sooner it is replaced by something more in tune with harsh economic realities the better it will be for the Government's own future. Or else the fallout will be disastrous.
For in the public eye, those who had condemned the Rajapaksa squanderers just one and a half years ago and sworn to purge the body politic of the mindless criminal waste of public money if elected to office, will appear now as the newly enthroned squanderers. They will be seen as openly scraping the last dregs of the public coffers to enjoy a billion buck luxurious drive on Lanka's thoroughfares, and be viewed as callously displaying vulgar ostentation in the midst of national tragedy and hardship, oblivious or indifferent to the public revulsion that shadows it.
It is indeed mind boggling that this Government wedded to the Yahapalana doctrine and committed to eradicating the frivolous squander of public funds which had brought the economy to its very nadir; and still desperately paddling the water merely to stay politically afloat, should have taken this rash and ill advised decision which goes against the inexorable current of public opinion and outrages the people's sensitivities.

Barely three weeks ago had the nation experienced one of its worst natural disasters when three provinces, including its capital, reeled under floods caused by a Bay of Bengal storm. Together with the Aranayake landslide, the deluge toll was nearly 50 dead, over hundred missing – feared dead – and more than 3500 in refugee camps. Then there was Sunday's mysterious fire in Kosgama's army camp which caused the ammo depot to explode killing one and injuring five and damaging public and private property.
Leaving natural disasters and inexplicable fires aside, the Government had last month also sounded grave warnings that a Rajapaksa-made economic disaster brought about by massive wastage and mega corruption had imperiled the nation's finances. It had appealed to the people to tighten their belts, make the sacrifices necessary due to the previous regime's profligacy and to be prepared to endure even more hardships ahead till the government was able weather the storm and make it to port in a sink or swim crisis. The era of prosperity that was heralded to dawn with proper economic management was put on hold till international loan obligations incurred by the Rajapaksa's reckless spending habits were first met.
In the form of a modern day Malthus, Finance Minister Ravi Karunanayake appeared as the Prophet of Doom and, prophesying a gloomy future and croaking the end is nigh if urgent drastic measures were not introduced, sought to tax everything that met his eye. Certain quarters even proposed reintroducing capital gains tax which had been abolished for the last thirty years without giving any thought of how it will negatively impact a growing economy betrothed to capitalism. Finally the Government slapped a 15 percent Value Added Tax (VAT) on a variety of goods and services, including food and health. With the rupee on the downward slide, the daily battle to keep the wolf from the door has taxed the people's reliance to bear the burdens to the limit. VAT has only aggravated their problems.
It is in this backdrop that the Government decided to demonstrate to the entire populace that while it is the unfortunate fate of the people to make do with bread, it is the good fortunate of those who hold the larder key to gorge cake. Though the new Yahapalana maxim seems to be 'in the sweat of a people's face, shall their master's eat rich cake', it should not be forgotten by these pampered Jades of Lanka who now intend to ride high on the billion buck chariots of the Gods, that they would do so only until they return to the opposition's dustbin; for out of it were they taken by the people, for people's pawns they are, and unto the opposition's dustbin will they be returned by the people if they recklessly become the spendthrifts of a people's trust and money.
On Tuesday the government presented a supplementary estimate seeking parliamentary approval for purchasing 32 brand new cars at a cost of Rs. 1,175 million for the use of 30 ministers, state ministers and deputy ministers. It was presented on behalf of the Finance Minister Ravi Karunanayake by the Chief Government Whip, Parliamentary Affairs and Media Minister Gayantha Karunatileka.
So who are the fortunate few? The blue eyed recipients of the Government's largesse? And for what high purpose are these fancy vehicles which range from SUVs such as Land Cruisers, Outlanders, Hummers to super-duper luxury cars like Mercedes Benz, BMW, Volvo, Jaguar and Audi, that cost between Rs. 50 million to Rs. 70 million, really required?
Couldn't Sarath Fonseka, for instance, have settled for something more modest than a 70 million buck car to drive round town? Or Wijeyadasa Rajapakshe and his deputy Dushmanth Mithripala manage on something less stretched than Rs. 70 million? Or for that matter couldn't Vajira Abeywardana and his deputy Nimal Lanza do their Home Affairs far cheaper than the 91 million motors they have been allocated? Or Harin Fernando and his deputy opted for something a lot less dear than the two vehicles they will be getting for Rs. 90 million?
Well apparently not. On Wednesday Rajitha Senaratne, Gayantha Karunatileka and Karunaratne Paranawithana held a news conference. Though they were not on the prize list in the first round of installments, the three defenders, in the manner of the Three Musketeers, gallantly adopted the 'one for all, all for one' policy to defend the right of their fellow cabinet ministers, lucky enough to be chosen as the first recipients in the first government organized 'seettuwa'.
They were there to defend the indefensible and at least Rajitha Senaratne revealed he knew it when he blurted that he did not know whether super luxury vehicles were quite in order. Their main and only justification was that ministers require a four-wheel drive vehicle to visit their villages to attend to their work. When a journalist asked whether a 70 million vehicle is necessary when one can buy a top class Japanese SUV with four wheel drive, it was shrugged off with the reply that a four wheel drive is essential for the ministers to return to their villages to attend to their work.
This sole justification raises several questions? Don't ministers travel to their villages now? Aren't the Monteros and other similar vehicles they use now already come equipped with a four wheel drive facility which is a standard feature, and don't they cost less than Rs 15 million? What do these super luxury vehicles that will cost the nation Rs. 50 million to 70 million really do that a 15 million Montero cannot do? Do they fly over water? Do they come with a cubby full of 007 style gimmicks, including chilled champagne popping out from secret closets? Do the rear seats double up as a water bed where ministers can enjoy a spot of private relaxation with the shutters heavily tinted to ensure total privacy? The sort of high priced deluxe model that gives a spiffing thrill on wheels? If it is to make a minister's flying visit to his electorate to attend to work more convenient and more comfortable, Foreign Minister Mangala Samaraweera's workload is not in his hometown Matara but in foreign capitals. Is the Government planning to buy him a private jet to save him the bother of having to fly on scheduled commercial flights? There are 92 cabinet ministers, deputy and state ministers in the Government. Out of this elite cadre, 30 have now been chosen. How will the 62 who are yet to receive these super luxury motors manage in the meantime? Will it soon become a status symbol by which a minister's standing is judged and will those now bereft of it, consider it infra dig to be even seen dead in a poor minister's Montero? Is the Rajapaksa super road network so bad that it needs a super luxury vehicle to travel on it?
Minister Senaratne said that unlike in Singapore, Sri Lanka needs vehicle permits with higher vehicle capacities as the ministers have to travel in difficult terrains such as mountains. It is not like Singapore or the Maldives, he explained, in Lanka ministers have to travel thousands of miles. Perhaps the good minister should, from the mainland of Lanka, sneak a peek across the Palk Strait and see how central government ministers in that patch of land 50 times bigger than Lanka called India travel? Do they surf the roads in 70 million buck vehicles or do they slither in SUV four wheel drive Japanese Toyota Fortunes built in India?
Now that the Prime Minister has stepped in to put in limbo the plan to give 30 ministers a billion buck gift of mega luxury vehicles, the Government should use the breather to review its original decision to pander to the demands of its ministers. Ministers do need proper vehicles to attend to their work. That is not at issue. The question is whether it is necessary to provide them with vehicles at mind boggling prices merely to gratify their egos? Can the nation afford to spend such huge amounts on such vehicles when hospitals are without ambulances due to lack of government finances to import them? Shouldn't the government decide on a standard vehicle for all ministers like it is done in India?
Secondly when the Government tells the people to tighten their belts and practise austerity without complaining of hardships, is providing ministers with even more ludicrously high priced vehicles the best example to set? By such actions isn't the Government gratuitously providing lethal ammunition to its political enemies to fire at will and blast the Yahapalana doctrine upon which the government's political ideology is based sky-high? Is the Government not in danger of losing the moral high ground if, while condemning the Rajapaksa regime for its criminal squander, it brazenly demonstrates it has no qualms in also following the same course?
Something seems to be rotten in the state of Yahapalanaya that moves a government to even contemplate taking such an inane decision: a decision that is a sure fire way to earn a people's lasting ill will and invite legitimate reprehension. And if the Government, even now, fails act more prudently, the flame lit by the late Venerable Sobitha Thera and carried by Maithripala Sirisena will soon be seen to be flickering and will be in danger of being blown out. Even if it can brave the gusty winds of opposition, the question now being posed is whether it can survive the puff and pant of its present bearers?