A silver lining amidst the darkness of disaster
By Suvini Hettiarachchi and Kaveesha Fernando
Youth groups and volunteers rally help during the recent floods and landslides aroud the country
View(s):
The recent floods and landslides in Sri Lanka have been one of the worst disasters to hit the nation. The extent of the destruction was vast, but the generosity shown by dedicated volunteers was a definite silver lining amidst the darkness of the disaster. Many youth groups rallied to help and are still engaged in efforts to aid those affected.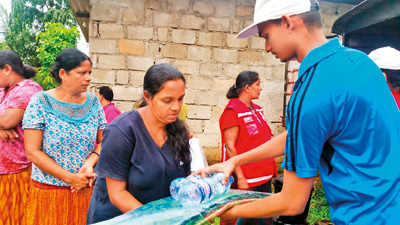 The Global Shapers Colombo Hub is one such group helping with the relief efforts. An initiative of the World Economic Forum, the Global Shapers are a network of hubs developed and led by young people between the ages of 20 and 30; driven to make a contribution to their communities. They have even come up with their own system to help out. The system comprised of five phases. Phase one is the Rescue and Response phase where they helped coordinate the relief effort, collected funds and deployed vehicles to help with donations. Phase two saw them deploy immediate aid. They are currently in phase three where they are helping clean houses and send personal care packs. Phase four will look at long term rehabilitation and in phase five they will be working with Environmental Scientist and Disaster Resilience expert Shayani Weerasinghe who will help them look back and see what lessons they have learnt while helping out.
Present Curator of the Hub Sharanya Sekaram feels that the methodology is something which volunteers will come up with eventually while the work is most important. 'In the initial stages, there's no point in sitting and planning. The plan will emerge eventually and you need to look carefully to see it but what's most important is that you take action when disaster strikes,' she says.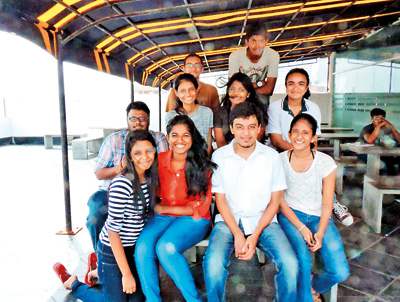 The Rotaract club of ACBT comprised students aged 17 – 26, has been collecting aid which they donated in Awarakotuwa, Wattala. 'We went to the area, which was affected by the flooding and we donated food packs to the people who were stranded in their houses, along with medical aid which we received with the help of a doctor,' said Rotaract member Nethmee. They initially partnered with the Rotaract club of Wattala to donate aid and also joined hands with One World Volunteers in order to collect aid. They are also planning to help out with the long term efforts of rebuilding.
Poorna Senadheera and Barana Ranasen have been organising the distribution of dry rations near the Galahitiyawa temple in Mulleriyawa North. What started off as six friends who volunteered to donate bread and seeni sambol to those affected soon grew into a movement of around 45 people who have been collecting dry rations, organising medical camps and distributing essential items to those affected by the flooding in the Kolonnawa area. Barana feels that they received most of volunteers through the Facebook status which Poorna put up after their first day of volunteering.
"I put up a status on FB asking for swimmers to contact us to get involved in our efforts. By next morning we received many calls from all parts of the island from people wanting to join in and help," says Poorna. In fact, Poorna's message was circulated among the youth on WhatsApp. The organisations which joined in the effort include the Leo club, the Rotaract club, the Cadets club etc.
While many programmes are being organised in the Colombo region, other districts were also eager to do their part in helping out.
Ganindu Abeysinghe together with 15 members of Old Rajans Scouts Association have put up a Facebook post requesting dry rations and medicines from the public to be handed over to the Kandy District Scouts Headquarters. They had collected a considerable amount of materials and travelled to Rajagiriya Madya Maha Vidyala in Aranayake to distribute them among landslide victims. Ruwan Wijerathne had provided the scouts with transport from Kandy to Kegalle free of charge.
The Interact Clubs around Kandy also organised a stall in their annual Food Fest at Kandy City Centre on May 28, to collect dry rations, medicines, books and other items. Moreover, a share of profits from all stalls would be given to those in need.
The youth in Kurunegala were also quite eager to provide their contribution at this time of need. The Rotaract clubs of Kurunegala and Ibbagamuwa together with Interact clubs of Maliyadewa Boys' and Girls' Colleges and Holy Family Convent had joined hands with the Red Cross and launched a massive project named 'Lending Hand' to help the flood and landslide victims.
According to Dilan Moragolle, the President of Rotaract club in Kurunegala, all items such as water bottles, medicines and other dry rations were collected to the Red Cross Branch Office. From there, they had travelled to Kahanthota Road, Malabe and given away rations to about 30 affected families in that area. They plan to visit the landslide victims in Aranayake with more donations as soon as possible.
Any youngsters who would like to help the disaster affected students, can do so by donating to the common Google Drive documents which have been made to help students who have lost their notes and schoolbooks in the floods. They can do so by clicking on the link given below for Advanced Levels Arts
https://drive.google.com/folderview?id=0ByyIyF31Ho72Q2VwbWNUYkdnMnc&usp=sharing.
Other links can also be found for the Grade 5 scholarship and Ordinary Level exams and the other streams and mediums for the local Advanced Level exam as well.
It is comforting to see the youth stepping out to aid people in need, using social media for a good cause, volunteering sponstaneously without considerations of religion, caste, creed or organisation.