Post -Bradby Pallekele incident in retropesct
By Aubrey Kuruppu
View(s):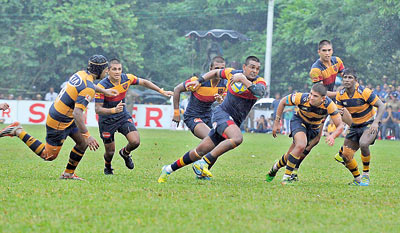 The unfortunate events that followed the awarding of the Bradby Shield could have been avoided if the message had been communicated to the captains that in the event of a tie, the holders of the shield continue to retain possession of it.  There was no such issue in 1992 when the first tie occurred. The Royal Captain Harindu Wijesinghe allowed his opposing skipper H.M. Gunatilleka to walk away with the shield.  This has been the case in another encounter, that between Isipathana and Thurstan for the Adbul Jabbar Trophy.
Although this is a one off engagement, the principal remains the same. The Shield/Trophy has to be won back. A tie is not good enough. The Bradby is the oldest bit of silverware on offer in schools' rugby. Accordingly, it believes the players of Royal and Trinity to set an example for others to follow. The fact that there was TV coverage means that if somebody does something wrong, almost everyone sees it.  The 2013 match at the Royal Complex started off with a little bit of friction and argy bargy. Trinity performed the pre-match Haka and Royal barged through it.
Trinity had no right to challenge their traditional opponent. By the same token, Royal shouldn't have barged is as they were the hosts.  Former Principal of Royal, Upali Gunasekera, realised later, that what his team had done was wrong. Accordingly, he sent his captain and vice captain all the way to Trinity in the school van so that they could tender an apology.  The Isipathana vs Science match saw some violence directed against the referee, funnily enough, by the supporters of winning side. While not holding a brief for the offending side, it must be said that referees too, should know how to uplift their standards.
The semi-final of the last Rugby World Cup which saw Scotland being deprived of a win at the last minute, yet accepting the incorrect decision of the referee with grace must be held up as an example. The 78th minute penalty which enabled the Aussies to win 35-34 was not commented on by the Scots after the match. Grace under pressure?  School matches should not end in fisticuffs. A discussion should be held by the Rugby Association, School Authorities, Education Ministry, the SLRFU and the Referees' Society. The decisions taken should filter down to the schools.