Platypus has more questions than answers
View(s):

I am sure that once 'the creator' had finished all his work and was just about to have a wash for the evening he stumbled upon some unfinished fragments. He just stopped in his tracks and took time to assemble the puzzle. Then when he finished it, he found it to be so funny and awkward, he promptly banished it to the unknown parts of Australia which was sparsely populated at that time.  It was duck-billed, mammal bodied and web-footed with a tail that looked more like a flat pan. It was a mammal that laid eggs, but be careful it was also venomous. So, though it was duck-billed and looked very cute it was not kissable or huggable. It was better left own its own. The creator decided to name it Platypus.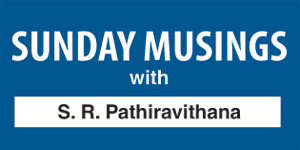 I really crashed through this flash in my mind when I was talking to a cricket acquaintance and was immersed in an animated chat about the state of affairs in the hallowed halls at Maitland Place.  He was still trying to fathom and come to terms with SLC President Thilanga Sumathipala's decision to do away with the Zonal system which was introduced by the last interim committee. I put more fuel to the issue by saying that when the Zonal system was aborted one of the club stalwarts boasted, "We just threw Mahela Jayawardene's Zonal thing into the dustbin – what we need in this country is a club-based system because it had worked for us over the years.
So if at all the system should be fine-tuned and made lean and mean, but not put to death."  But, wrong we both were. Now Sri Lanka Cricket is trying to pump in a cricket hybrid which is neither club-based nor Provincial-based and the entire system has become nonplussed – like a duck-billed Platypus.  First it was school cricket that was taken to task. The Sumathipala administration lunched the Under 19 Provincial tournament which was almost run concurrently with the ongoing school cricket tournament which also turned into a bit of a joke. The current school cricket season which began in September last year finished only last evening.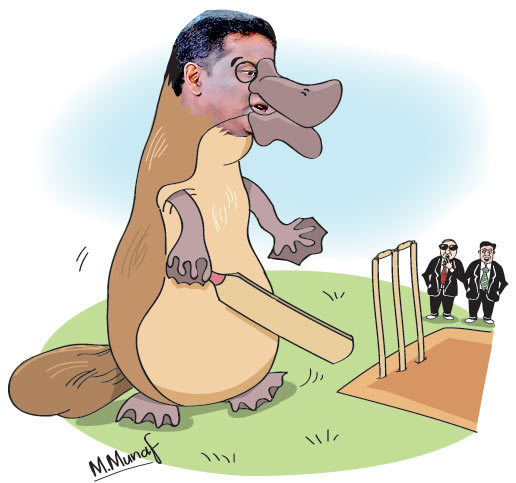 Seemingly, the differences between the SLC and the schools' segment led to the birth of the Under 19 Provincial Tournament.  The under 19 Provincial tournament was played while the iron was hot. The under 19 school tournament was at its zenith and the entire system was ready to accommodate a tournament of that nature.  But, Sumathipala has envisioned an under 21 Limited Over tournament (50 overs) and a T-20 tournament – both to be played within the club system and these would be followed by the under 23 Provincial tournament.  At present, the majority of the stakeholders are up in arms over this move which is like a Kidney Operation which is to be held in the Long Room at Lord's – untimely and unyielding.
One irate stakeholder just burst: "We have been preparing for the under 23 tournament to be played in June. We have worked out our squads and even named the respective captains. Now we have to reverse the gamut of things and we are back to square one.  "How can we find the necessary players for this under 21 tournament. This is the tail-end of a hectic schools tournament and half the cricketers and especially their parents are looking for a break. At the same time, there is a segment of cricket playing children who are preparing for the GCE 'A' Level examination in August. This means there will be a sizable lot of players who are bound to miss this tournament."
Now the stakeholders are questioning the wisdom of conducting a tournament of this nature. If the ultimate goal of this exercise is to find some teams for the under 23 Provincial Tournament, it would be futile because some of the best cricketers of that group may not be a part of it.
The stakeholders charge that not only cricket tournaments, even most of the deeds of the present cricket administration are ad hoc. They question of the wisdom of giving more prominence to district and provincial-led cricket. They ask whether the SLC hierarchy are trying to woo the District and Provincial officials, looking at the bigger picture of the next cricket AGM. They have listed some blatant instances in point form.
Proposal – Provinces/District Associations Annual Admin Grant for year 2016.
 District Associations (Minor) Rs. 350,000 each
 District Associations (Major) Rs. 500,000 each
 Cricket Associations Rs. 500,000 each
 Provincial Cricket Associations Rs. 3 Million (1 million each for Western Province PCA, Central PCA and Southern PCA – will be paid once EXCO extract is provided)
 Cricket Equipment for DCA's Rs. 300,000/- per district
 Cricket Equipment for Schools – to be given through Minor Districts Rs. 300,000/- per Minor Districts
 Cricket Equipment for Schools – to be given through Major Districts Rs. 400,000/- per Major Districts
 Mattings for DCA's and Schools (100Nos) approved Rs. 3.5 Million
All this money was spent while the swimming pool and the side-wicket projects mooted by the former administration were shelved for want of funds.  The stakeholders claim that the provincial tournament is being held, not to strengthen the system, but to please those members of the Provincial and District clubs who helped the present cricket regime to come to power. What we can envision from this kind of a mêlée is the breakdown of the system.  If it is going to be a fully fledged Provincial tournament like the Zonal tournament, we would be right behind. But, this system does not belong to any system. Neither does it strengthen the game of cricket in the country.
Some even fear that the ultimate goal of this exercise is not the provincial tournament as such, but the revival of the SLPL (Sri Lanka Premier League tournament) which crashed ingloriously after just one attempt.  We only ask at this end, "Where have we gone wrong?". The current result of the national team is ample testimony to what is needed. But, when we look at what is being done to remedy the situation, one cannot be satisfied.  When the mission statement was made at the inception all the flowery language was used and glorious explanations of how things are going to were said in no certain terms. But when we look at the action, the action is lop sided and there are more questions than answers. It does not fit. Even if fits it looks like the platypus – thoroughly disjointed.