After the floods, complaints regarding missing items flow in
By Damith Wickremasekara
View(s):
As rescue workers and volunteers rushed to help flood victims, thieves moved in to remove electronic items, mobile phones, vehicle parts and other valuables from houses that went under water, police revealed yesterday.
So far 22 suspects have been arrested and more complaints are flowing in, prompting the police to open up a special entry book to record complaints, according to Senior Superintendent of Police (SSP) Ajith Rohana, who is in charge of the Colombo North division which includes the flood-hit areas of Kelaniya, Wattala, Mulleriyawa, Hanwella, Grandpass and Wellampitiya.
He said some thieves had used inflated tyre inner tubes to reach those houses whose occupants had moved to safety.
As most people, who were worried about their valuables, refused to leave their houses despite rising flood waters on May 16 and 17, the Government urged them to move to safety, promising them that adequate security measures would be taken to protect their houses.
SSP Rohana said some 2,000 policemen, both in civvies and in uniform, were deployed in the areas to prevent robberies and help in the relief work. In one incident, police arrested two suspects inside a house. They had told the police that they were looking for mobile phones. In another incident, a suspect was arrested while he was trying to remove a motorcycle. In yet another incident, the police arrested a man while he was trying to remove side mirrors of vehicles partially submerged in the waters.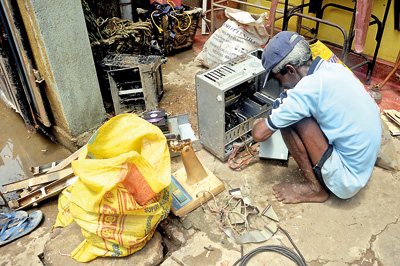 Most of the suspects were drug addicts or people with criminal records, he said. Drug addicts were also seen collecting aluminum utensils and other damaged items so that they could sell them at scrap metal shops. In addition to robberies, there were also organised groups who posed off as flood victims and collected relief material only to sell them in other areas.
"We have identified the woman and will be taking her into custody. She collected packets of milk powder, bottles of water and other food items and sold them at lower prices," SSP Rohana said.  There were many such people who had come from other areas to the flood-hit areas only to leave with three-wheeler loads of food items.
The SSP warned those who bought food items from such crooks that if they did not return the items, they would also be arrested.
He said the people who had returned to their houses must change their main door locks as they might have become weak due to the floods.
The SSP said the police, drawing lessons from the current experience, would work out plans and be prepared for more effective evacuation and security operations during times of natural disasters.