Ranura's take on Spanish covers
By Dhananjani Silva
View(s):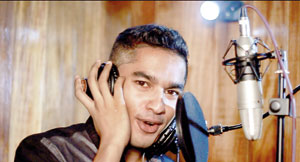 You may have heard Enrique Iglesias- singing Bailando countless times, but one might be surprised to hear a young Sri Lankan singer with this Spanish hit, doing just that.
Ranura Lamal Perera is an emerging young talent in Sri Lanka's music industry who has a knack for creating cover songs.
With the Spanish cover song he did for Enrique Iglesias'Bailando' lastDecember, followed by his second cover song forMichel Teló's Nosa Nosa -Ranura was able to make his presence felt in social media; reconnecting these two fan favourites to the contemporary generation of Sri Lankan listeners.
Doing cover songs is a great starting point for any artist, says Ranura whose ambition is to get more involved in the entertainment sector.  However, music was nothing unfamiliar to Ranura. A past student at St. Peter's College, Colombo, he was a member of the College choir. Added to this was the inspiration he drew from his father Rufus Perera who is a music Visharada.
Ranura who took wing to Cuba to pursue his higher studies in the field of engineering made use of his overseas stay to sharpen his talents in music as much as to study the Spanish language – time spent during which Ranura underwent vocal training at the 'Casa de Cultura' in Cuba- a cultural institute in Cuba which gives lessons to those with artistic talents following an audition. He flew back to Sri Lanka after his graduation and found employment in the private sector, but his passion for music, never faded.
When Sri Lanka hosted Enrique Iglesias' performance, he considered this the most opportune moment to reconnect with his passion for music. At this point, he used his creativity, and the Spanish language competency to create the Bailando cover song to reach out to the Enrique fan base in Sri Lanka.
"Artists make cover songs to get to know the fans. So,I thought for the Sri Lankan audience, a Spanish cover song would be something different. In this day and age where social media is very popular, people are hunting for talent. They normally like to see people with unique talents. Doing something like this, I thought, is the best way to get noticed on social media and showcase my skill. In doing so, my main objective is to create a fan base for my own music," explains Ranura adding that he is still getting know the Sri Lankan audience.
Adding that there was an incredible response to the videos he posted online with a recorded 100,000 views on Facebook just seven days into uploading the 'Bailando' cover song, Ranura says feedback he received from the listeners encouraged him a great deal.  "Many popular names in the industry reached out to give tips to improve myself and to express their willingness to collaborate with me," he says.
With Ranura's maiden attempt on cover songs being a success, he hopes to create more cover songs in the future to explore what the field of music has in store for him.