'Kaerakena Keliya', a play for unity
View(s):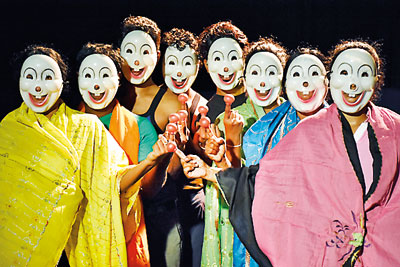 The newest theatrical production of  the Janakaraliya Cultural Foundation, 'Kaerakena Keliya', a translation of Tracy Holsinger's 'The Travelling Circus', a short play based on Mike Masilamani's book 'The Boy Who Speaks In Numbers' will be staged  at the Western Province Aesthetic Resort (NADA) of the Dr. Stanley Wijesundara Mawatha, Colombo 7 on May 31.
The play is a collaboration between Janakaraliaya and the Mind Adventures theatre company.
The original story, Masilamani's 'The Boy Who Speaks In Numbers', is a children's' tale that describes the fortunes and misfortunes of the citizens of the Small Village of Fat Hopes, who are caught in the crossfire of a Civil War of lies.
"I think some people weren't ready for the Brechtian treatment of the material so soon after the war," states Holsinger, who is currently directing the Sinhala and Tamil productions under Niriella's guidance. As Niriella states, Janakaraliya's purpose has always been influenced by the desire to prove to the audience that even multi religious communities with different languages could work and create on their own without any personal or group inhibitions.  This production reflects these values and strives to remind us all to appreciate each other's humanity, to create spaces for healing and dialogue, to create new narratives that deal justly with victors and vanquished alike.
'Kaeraken Keliya' features Janakaraliya's Sumudu Mallawaarachchi, Rasaiah Loganandan, Ronika Chamalee, Selvaraj Leelawathy, Nishantha Kularatne, Thiyagaraja Sivanesan, Ajanthan Shanthakumar, Devran Sri Livera, Arosha Tharanganie and Inoka Lankapura. The Sinhala script is by Ryan Holsinger in collaboration with the Janakaraliya cast. The Tamil script, which will be performed in Jaffna in September, is translated by RasiahLoganandan.
Tickets are priced at Rs.200, reservation for the show on May 31 can be made by sending a mail to janakaraliya@gmail.com