Gearing up for the big day
View(s):

This week we begin a column on hair and makeup  to address everyday issues of dealing with those difficult days. With wedding season just around the corner we kick off the column with  some tips from Nadisha Wittachy of Salon Luminaire on how to get ready for the big day 

Every bride's dream is to look fabulous on her wedding day. A few simple things kept in mind and well planned out ahead of time will help you achieve the perfect look on your special day.

A bride must look fresh, radiant and elegant. But  still look like you and not someone else — unless, of course you want to! It is your day after all!

First decide what you will be wearing. Is it saree or a dress? Will you be wearing a veil? Are you going with a more traditional or modern look? Choose a style that suits and flatters your body shape. Don't choose a style just because everyone is wearing it.

Do a bit of research into the type of look you want. Collect a few pictures — online sites such as Pinterest and bridal magazines are a good source — to show your stylist the kind of a look you like or have in mind. But go with an open mind, as your stylist will be able to advise you on what would suit you best.

If you already have someone whom you are comfortable dressing you, then you are set. If not, don't be afraid to do a trial with one or more stylists. You will probably have to pay for the hair and make-up trial. It is usually worth it in the longer run, as you will know in advance what it will all look like, removing anxiety and putting you at ease leading up to the Big Day. If you need any changes, you will have time to discuss with your stylist, refine, and finalize the look.

When it comes to your hair, there are a few things to consider. First, it must suite your face and personality, what you are wearing and its neckline. If your outfit has lots of detailed work on it, it's better to go with a simple hair style and let the focus be on you and the dress.

The venue will also play a role — indoors or outdoors like at the beach? What is the weather likely to be during that time of year?  Depending on your hair type, you can decide if you are having your hair in an updo or having it down. With frizzy, curly hair it will not be practical to have it down if your wedding is outdoors, as the humidity will make it frizz. And likewise, some styles may not hold well on straight hair. Discuss with your stylist and find a style that is practical and holds well through your function. You may also want to consider if you are wearing flowers or an ornament in your hair. And what type of veil you are wearing will also have to be kept in mind.

For brides with short hair, who choose a more traditional look for the day,  may need to grow out their hair a little bit until it is a workable length. For those who decide to go with short hair, invest in a good haircut 10 to 14 days ahead, so that your hair has time to settle in with the new growth and looks soft. Make-up on your wedding day will play a huge part in the total look. For make-up to be applied smoothly, it helps a great deal to have clear skin, which is like a canvas to work on. Keep yourself well hydrated at all times, eat lots of fresh fruits and vegetables. And invest in a facial every 4-6 weeks in the run up to the wedding or a clean up once a month if you have acne. In the worst case, consult a dermatologist but make sure to tell them about your upcoming wedding so that he or she can treat you appropriately. Don't forget to get plenty of sleep leading up to the Big Day — easier said than done.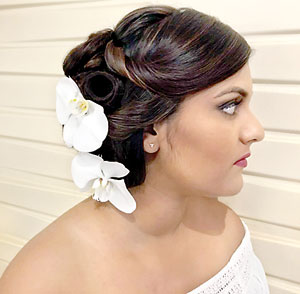 Make up for the special day should not be too heavy or cakey . Make up should even out skin tone and accentuate features. Your foundation should match your skin tone well. You can go one shade lighter. Ideally, it should be a perfect match to your shade. If you are doing a make-up trial, take a few pictures to see what the kind of make-up looks like, but keep in mind your natural skin tone.
False eyelashes are popular, they can add volume to your lashes if done properly. The idea is to enhance your eyes and not to take all focus on to the eyelashe. Discuss with your makeup artist/ stylist about options available. Fill-ins can be added just to the required places and it can look very natural and bring in a balanced focus to your eyes. Your stylist can be an invaluable source of advice and comfort as you prepare for your big day.