A new dawn in the East – Sunrise by Jetwing, opens
View(s):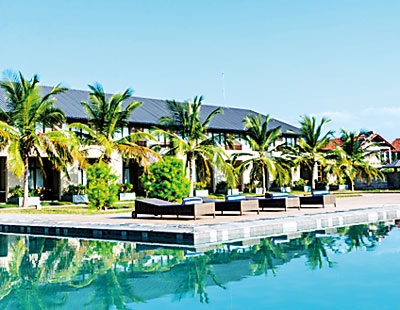 The never ending beach lines of Sri Lanka are a wondrous sight. It is what makes our island nation unique, and better yet a most favoured traveller destination.
Adding to the distinctive beaches in the island is Passikudah, a coastal resort town located 35km north of Batticaloa and home to one of the longest stretches of shallow coastline in the world.  Beautifully placed in the centre of the Passikudah Bay is Sunrise by Jetwing overlooking the white sandy beach, a unique feature of Passikudah.
Located approximately 298km away from Colombo, Passikudah is in every essence the go-to place for the perfect getaway by the sea. The wide and white sandy beaches softly caresses your feet, and the shallow waters stretching out 50m into the sea with shades of blue glistening in the sun is truly mesmerising and soothing. In essence it is a one shop stop for visual and bodily comfort.
The six hour drive to Passikudah passes through key signature wildlife, archaeological, and religious sites in the country.  The drive past Habarana is an exciting one with the road stretching out across the thick jungle, and elephants can be seen flocking by the side of the road. Polonnaruwa is one and a half hour drive from Passikudah and is home to distinct archeological remains of the Polonnaruwa kingdom.
There's much to see in and out of Passikudah, and for the heavy travellers Sunrise by Jetwing provides a warm luxurious haven for relaxation and rejuvenation.  The large spaces have an open view of both the pool and the sea at a distance with large trees marking the property. The recently opened lavish hotel boasts 58 rooms in three separate wings with attached balconies and terraces, out of which 26 rooms have a majestic view of the sea. Additionally, there are two luxurious suites inclusive of balcony/terrace area. In keeping to the lavish service the hotel promises the room facilities comprises of air-conditioning, fan, telephone with I.D.D., mini bar, flat screen satellite TV, tea/coffee making etc.
The Sky Bar, which remains a perfect spot for star gazing, the main restaurant catering to mouthwatering global cuisine, the 109m pool to dive into when it gets too warm, an open air Jacuzzi to immerse in, a spa inclusive of a steam room and sauna, and even a fitness centre for the health conscious are the additional facilities the hotel houses.
While the hotel will caters guests comforts the visitors may engage in the many activities in and around the property. For the adventurous souls a stroll to the village or bike ride can be arranged. The adrenaline junkies can involve in the water sports including scuba diving and snorkeling and even extreme water sports such as wind surfing and kite boarding.