A modern retelling of a sacred tale
Kaveesha Fernando speaks to Nilan Maligaspe of the Arpeggio Creative Dance Academy on their latest production 'Breaking the Karmic Cycle'
View(s):
When most people imagine a ballet, they would picture a classical performance such as the Swan Lake. However, Nilan Maligaspe looks at things a bit differently. Nilan's latest production, "Breaking the Karmic Cycle' (Chakraya  Bindi  Yai) is a modern retelling of the early life of the Buddha told in contemporary and ballet dance form
The ballet begins at the point at which Prince Siddhartha leaves his palace and ends at the point at which which his son, Prince Rahula also gets ordained. "I wanted to explore an aspect of the story which not many people focus on. This ballet will focus on how Princess Yashodara felt when her husband (Prince Siddhartha) and later her son (Prince Rahula) left to become ordained. In fact, it begins with Princess Yashodara crying. The message we want to bring out is the fact that every relationship which we have will end eventually, "he says.
The ballet will feature Nilan's students, aged 12 – 25, who began practicing for the production in mid-2014. They are part of his Academy – the Arpeggio Creative Dance and Drama Academy. The Academy trains youth from across the island who show promise in the field of dancing and are trained free of charge by Nilan. This production will feature many students who will be getting on stage for the first time. They come from all across the island and train around three times a week at the Goethe Institute, the Indian Cultural Centre or the Sudharshi hall. Training students from across the island is no mean feat and Nilan feels that modern trends have made it even harder. "With every production that I do, I try to give out a positive message. However, it has been increasingly difficult in the past few years because students aren't always interested. They are influenced by modern day reality tv shows and tele dramas and sometimes want to do something which doesn't have meaning and convincing them to do something productive becomes difficult," he says.  However, Nilan's insistence on giving the audience a positive message has paid off because the production has managed to keep with the positive values which he believes in. In fact, he goes a step further and even attempts to ensure that his students keep up with their studies and spend their time positively.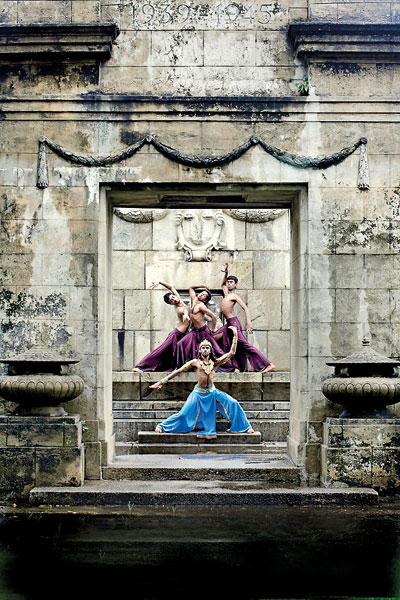 Having studied both Western and Eastern dancing, Nilan – who has been a dancer and dance instructors for several decades. His latest production is an attempt to promote ballet, which he feels should be taught in schools. "Ballet is good medicine for both the body and the mind and students should be taught at least the basics of ballet at school level,"he insists. He welcomes anyone who is talented in dancing to apply to his school and join him in his quest to revive ballet in Sri Lanka. "Breaking the Karmic Cycle" is Nilan's 16th production. Most of the work for the production is done internally, with Nilan himself designing the costumes, a parent helping with makeup and one of his former students, Pradeep Gunarathne assisting with the teaching.
Music for the  production has been produced by Sanjeewa Paranamana. Finding sponsors for his projects has also been quite difficult because most people seem to be more interested in projects which excite and entertain rather than those which have meaning, says Nilan.
'Breaking the Karmic Cycle' will be staged at the Lionel Wendt on June 4 at 7.00pm. Tickets are priced at Rs. 500, 750, 1000 and 1500 and will be available for purchase at the Lionel Wendt. Students interested in contacting Nilan to apply to the Arpeggio academy can email him at nilanmaligaspe@gmail.com