Car and SUV imports pick up despite heavy taxes
View(s):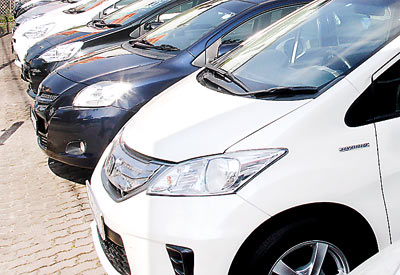 Despite the government's tightening of vehicle imports with heavy taxes, motor car and Sports Utility Vehicle (SUV) registrations recorded an increase during April against March, even though it was a holiday month, JB Securities, an equities brokerage in Colombo said in an analysis.
The holiday month however saw a drop in most categories except for cars, SUVs and 3-wheelers, Motor Traffic Department data showed.
Motor car registrations recorded 3,618 units in April up from 3,326 units a month ago but significantly down from 5,116 units in the same 2015 period.
Brand new car registrations recorded 1,709 units significantly up from 1,186 units the previous month but significantly down from 2,926 units earlier.  SUV registrations recorded 706 units in April up from 610 units the previous month and marginally up from 704 units earlier.  Premium brands recorded 46 units in April slightly lower than 49 units the previous month and significantly lower than 93 units, a year ago.  Electric cars recorded 85 units in April significantly down from 160 units the previous months and 152 units earlier.  1,142 units Maruti cars were sold last month up from 639 units the previous month and an extremely low 255 units in January but yet significantly down from 2,239 units a year ago, JB Securities said.
Micro recorded 141 units up from 108 units the previous month and Hyundai recorded 125 units gaining on 112 units recorded the previous month.  It has been revealed that the sharp fall in registrations recorded in January and February may not entirely be due to a fall in demand but owing to a 'go-slow' at the Department of Motor Traffic.  JB Securities revealed that the pick-up in numbers in the subsequent months may be clearing of the previous months' backlog.  Pre-owned car registrations recorded 1,909 units marginally down from 2,140 units a month ago and also marginally down from 2,190 units a year ago.
This category of vehicles has faced multiple headwinds over the last seven months but registrations were not lower despite the rate of excise taxes on hybrid vehicles has increased and the base on which taxes are charged according to the specified customs valuation has increased by 40-45 per cent.  The taxes have increased by around 80 per cent and the CIF value of vehicles in rupee terms has also increased doubling their value. Financing share was 66.3 per cent significantly up 55.9 per cent the previous month, JB securities disclosed.