Sri Lankan New Year Festival held in US
View(s):

Woodbridge,s NJ-Beautiful weather added spice to a grand day-long gala held in celebration of the Sri Lankan New Year on Saturday, April 30 at the Alvin P. Williams Memorial Park, in Sewaren, New Jersey. The event organised and sponsored by the Sri Lanka Arts Society of New Jersey, featured Sri Lankan cultural activities as well as traditional Sri Lankan music and food. It was graced by the Chief Guest Ambassador A.S. Khan, the Deputy Permanent Representative of Sri Lanka to the United Nations, and Congressman Frank Pallone, the representative of the 6th district of New Jersey. Several hundred members of the Sri Lankan community attended the event.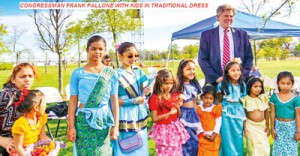 The day started at 10:30 a.m. with the serving of kiribath – the traditional Sri Lankan breakfast. This was followed by sports and fun competitions for children and adults from various age groups, which were enjoyed by all. Children's races, the men's and women's running races, the sack race, and the "Gama Haraha Diweema" (a one mile race around the park) were among the most popular. All the winners received prizes.
Lunchtime featured an extravaganza of scrumptious spicy Sri Lankan food. It also featured a special music session featuring many community singers. The biggest attraction of the New Jersey New Year festival has always been the fancy-dress parade. Over twenty children, dressed in creative costume as well as traditional dresses, participated during in this hour-long event.
At the end of the fancy dress event the children got a surprise by posing with Congressman Pallone for a group photograph.
Congressman Pallone, who is a leading member of the Congressional Sri Lankan Caucus, addressed the members of the Sri Lankan community emphasising the many ties between the United States and Sri Lanka, and the need for even stronger bilateral relations.
"We are pleased that the Sri Lanka Arts Society of New Jersey is able to provide our Sri Lankan expatriates and especially their children, a New Year's celebration that features our traditional cultural activities along with fun and games", said Thushara Wickramasinghe, a member of the organising committee. "The event was planned well in advance, and all members of the Arts Society worked hard to make this event a success", he added. He also acknowledged the generous support received from community members: Messrs. Shantha Athalage, Navin, Anomal, and Thushara Gunawardena who sponsored the prizes, and the Group "SOPHISTS" for attending and supporting the Event.
For additional information please email slasnj@gmail.com