Young Footballers' future at stake!
By: Subhani Hassimdeen – former national football captain and national coach
View(s):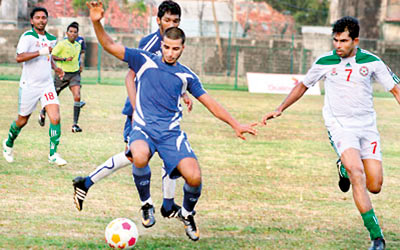 It is not surprising for those who have played and witnessed quality club football in the past to read the article appeared in the Sunday Times dated 24.4.2016 , under the caption "Walkover as never before in F.A. Cup history".  It was revealed that 509 teams which took part in the FA Cup Knockout Tournament 2015/16 conducted by the Football Federation of Sri Lanka there were walkovers amounting to about 30 to 40 matches as teams had not turned up for their encounters.  It is obvious that according to the number of walkover only bogus teams have sent in entries in order to indicate that a large number of teams are taking part in the competition.
All over the world the prestigious F.A. Cup tournament is considered by those countries as a national sport event and held with much enthusiasm and competitive atmosphere which gives the soccer loving crowd a real treat for the money they pay.  Teams in those countries will have to play in the league tournament and show their prowess to get qualified to play in the FA Cup tournament.  When our controlling body increased the number of clubs from 150 to 500 to play in the ongoing FA Cup tournament, I predicted that most of the clubs will give walkovers and the tournament will end up in a mess. What we really need is not the quantity but quality in the tournament.
The tournament committee must understand that our national teams are formed by quality and talented players from these clubs to perform well at international competitions.  There was a time when the local inter club matches generated tremendous excitement to football fans who flocked in their numbers to fill the venues. Some of them even speak now, about the high standards maintained by clubs in the capital city and outstations. Where is our football heading during the last two decades or so? Nobody seems to know. With all the development work that the FFSL has been talking about, nothing beneficial has happened in our football.
The Controlling Body has been boasting so much of their football development work on the papers and TV appearances, but what had actually happened is that our football standards has gone from bad to worse.  It is the duty and responsibility of the Technical Committee of the FFSL to screen and identify the perform standard of the clubs who apply to play in the FA Cup competition and forward their recommendations and approvals before such teams are allowed to play in this prestigious competition without making a mockery of the whole tournament.  Another serious threat hangs over the development of Sri Lanka football, the malign and ever present influence of few money men.
Their objective and purpose has always been by hook or by crook win trophies and fame. If they think that they could develop our football to international level only with money, they are certainly making a serious mistake. Hiring few talented local and foreign players to achieve their petty objectives in a long run will totally ruin our country's football and the future of our footballers.  To play professional or semi-professional football our country does not have the required playing standards and structures like countries in the calibre of England, Germany, Spain, Italy, Japan and to name a few.
On the other hand the undeveloped countries from South America and Africa initially train their young players from the grass-root level matured and talented ones are encouraged to play professional football in the countries mentioned above with the aim of achieving two vital aspects. Firstly their players to gain good exposure and experience playing beside top class players in the world, subsequently return home and train with their world cup squad to perform well at the World Cup final Qualifying rounds and then their players have to make-their living, in other countries and remit adequate foreign exchange to their country.
During the period 1960 to 1970 some of our talented soccerites were invited to play by foreign clubs and states. Peter Ranasinghe was invited to play for a club in England. M.M. Hassimdeen was invited by the famous English Football club Everton. He was the first Sri Lankan footballer who was hired by the Mysore State team in 1961 on their Far East tour. Players in the calibre of M.M. Hassimdeen , S.M. Noor, M.A. Ameer, P.D. Sirisena, Rumy Packeer Ally, Asoka Ravindra to name a few played professional club football in East Pakistan (now Bangladesh). In the more recent past, many of our talented soccerites played professional football for top leading clubs in the Maldives.
In fact, many of our coaches travelled to Male and coached their national team as well as clubs on contract basis. What is the position now? The whole situation has turned upset down.  Our national teams are facing humiliating defeats in the hands of unheard and unrated countries. Our playing standards at school, club, and league level have dropped drastically. Adding to the misery some have made it a practice to hire players from Nigeria merely to win a few domestic competitions thereby depriving our talented and upcoming to gain the necessary exposure and experience in the sport.
Why can't these money – men use our talented players, particularly the school levers instead of mushroom foreign players to achieve their goal. Even our coaches do not get an opportunity to improve their profession, merely sit and watch a few foreign players helping their cause.
Four or five decades ago football legislators like Donovan Andree, Hon V.A. Sugathadasa, Sir John Tarbat, Robert Senanayake, Lawrance Fernando to name a few gave both of their time and money purely for the love of the game. Many such benefactors gave guidance and directions to our footballers without the slightest fanfare.
They on number of occasions dipped into their pockets and dished out finance assistances to many football players. They even found permanent jobs for many soccerites to run their day to day life even after hanging their boots. Such were the qualities of those genuine football administrators.  During the period 1950s to 1970s the Armed forces, Police, Mercantile sectors, Public sectors and prominent banks offered permanent jobs to our soccerites. This not only helped them to improve their playing standards also paved way to build up their future as well.
Looking at the present day football players, I am afraid that they are going to end up as paupers when they retired from football.
Most of them has got used to a life style of playing football for clubs, run by few money – men who pay them a monthly payment and travelling allowance to attend practices and matches in the evenings, rest of their time being unnecessarily wasted either loafing, gossiping or sleeping. They are either without a permanent job or not involved in a suitable technical oriented job for their future without realizing, what is going to be their fate when they hang their boots.  My humble request from their parents and school Principals is to see that they encourage their children to concentrate more in their education first and then play football as a curriculum sport. Unlike countries such as England, Germany, Italy, Spain, Japan to name a few, our country does not have a structure and quality in football, for – them to become professional players and end up has millionaires.