Why mum still always knows best
By Kishani Jayasinghe - Wijayasekara
View(s):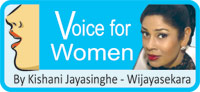 In this world of inevitable change, constant indecision and subtle adjustments; with many people living in an increasingly consumer-driven society which is never satisfied unless and until the latest newest model of anything with a circuit board is obtained, one thing remains unchanged. One thing that in most cases, remains unshakable and immovable in the face of change–generation after generation: Our mothers and their golden nuggets of wisdom. No matter how much you think you have learnt, or how much more current and advanced society may seem today, more often than not, children around the world subscribe to a four word phrase that has survived the test of time: that phrase that eventually comes to pass as being an unshakable truth, every single time: Mum is always right.
Looking back and looking at life's trials and tribulations and growing pains with older and wiser eyes, I often marvel at the sheer depth of wisdom my mother displayed during the most trying moments in life. She would manage to find just the right words to lift me out of the doldrums of despair, with just a few choice words that made everything seem better.
According to a study done by Clinton Cards in 2012, it was found that on average, mothers pass on 41 nuggets of wisdom to their children. Tim Fairs, a spokesman for the firm said: 'Even as adults we continue to go back to mum for her wisdom and advice on daily scenarios, because as she says herself "Mum knows best". He goes on to elaborate that 'it's these little nuggets of information which we hold dear, and which get passed down from generation to generation. These pieces of advice might be small, but the very fact they stay with us for years on end prove they hold great weight.'
I have always held in great esteem, the ability mothers seem to have, to be everything to everyone, without really trying too hard. Things that sometimes seem to be impossible or may require a team of people to sort out, are usually taken care of singlehandedly, within a negligible amount of time and with great aplomb – by a mother. She usually seems to have all the answers. How does a mother do that? Does motherhood come with a pre-programmed set of instructions on how to do anything and excel at everything…having reached the illustrious milestone myself, I was forced to admit there is indeed no secret manual, no magic wand and no pixie dust to ease the way. What I do have are these 'pearls of wisdom' as I now call them, passed down from her lips to my ears, only to one day leave my own and reach another set of little ears .
I often find myself, remembering the exact moment my mother said something to me, which I go on to share with our children. According to Tim Fairs: 'In an age where we are bombarded with rules, guidance and expert advice, it can often be the little things that our mums say that prove to be the most memorable and help guide us through life.'
Pearls of wisdom that I hold dear and cherish every day, for their relevance and accuracy. Little phrases and everyday sayings like "keep smiling"… "be happy"… "just try your best"… "be yourself"… "life is too short to be unhappy"… "you have one life – live it to the full" and my favourite three worder, "have no regrets"… these little everyday lines shaped my childhood and if truth be told, fused themselves to my brain and my being and have helped shape me into the individual I am today. Words that I hope one day will rejuvenate our own children. As it turns out, I am not alone. The study also revealed that a majority of children always remember these golden nuggets of advice their mothers pass down to them over the years. In fact, advice from mothers is so precious, seven out of ten adults regularly pass it on to their own children.
So perhaps this year, the best way to celebrate a mother is to not merely send her flowers and cards; make her breakfast in bed; gift her something edible and delicious; take her out to dinner or send her off somewhere beautiful for a weekend…if you already did that, that's fine. Perhaps the second part of the present and some may say – the best gift of all – is to simply acknowledge the Etiquette ('treat people with respect', 'treat others how you wish to be treated yourself', 'If you can't say something nice, don't say anything at all' and 'manners maketh the man'); Encouragement ('get an education because no-one can take that away from you', 'you only get out of life what you put into it'); Manners ('close your mouth when you're eating', 'don't talks with food in your mouth', 'don't forget the magic words – please and thank you' ) and in general, the overall good sense she shared with us. Mothers usually know that they know best but they are rarely told so. We don't always acknowledge a mother's tireless input and effort, the multiple roles of motherhood she inhabits and the fact that a mother's working hours are endless and that she never really gets off the clock.
Perhaps at this specific time of the year, when we pay tribute to Mother's Day and Anna Jarvis' efforts to establish it, it's time to honour our own mothers. To let them know, that we know, that they know best; that we value their instincts, their unconditional support and that we are ever so grateful for them. Go on. It's not too late. In the ideal world I envision, every day is Mother's Day – A mother's love deserves nothing less.
All comments, suggestions and contributions are most welcome. Confidentiality guaranteed.
Please email: KJWVoiceforWomen@gmail.com