Letters
View(s):

Vanishing species in Parliament and politics

In England MPs are not called honourable members, but some of them are.  In Sri Lanka, they are called honourable members, but some are not. -  Lakshman Kadirgamar, Speech at the UK-Sri Lanka Friendship Society in 1993.

The late Lakshman Kadirgamar spoke these words with his characteristic combination of   wit and seriousness in 1993. What would he say now in 2016, if he were alive? Change "some" to "many" in the last three words? To be fair by the many gentlemen left in the house by the Diyawanna Oya, "all" are not dishonourable.

Yahapalanaya (good governance) needs yahapath minissu (good people). Good people are gentlemen (and ladies) and vice versa. They are a vanishing species at least in Parliament and politics. There are a good few left, though. All honour and praise to them and may God bless them; they are genial gentlemen whose soft  answers turneth away wrath" and whose temperate language is a strand of the noble eightfold path.

Some parliamentarians are not behaving honourably at all. They are not gentlemen by any stretch of the imagination; their conduct, their speech, their manner and mien unworthy of a gentleman. The Speaker has often had to reprimand certain MPs for ungentlemanly and unparliamentary conduct and remind them of the presence of schoolchildren in the public gallery.  The country needs honourable gentlemen at least in our august assembly, referred to on one TV channel as "Rata hadana thena" (the place where our country is built).

The vulgar reality is that our voters (also, referred to by a columnist as "voter buffaloes") do not always send gentlemen to parliament; there does not seem to be any other choice. So let us of the older generation just watch the "descent to Avernus"; we have no other option.

Our dharmadveepa is sick, like William Blake's The  Sick  Rose  because "The invisible worm/That flies in the night/In the howling storm/Has found out thy bed of crimson joy/ And his dark secret (hate)/Does thy life destroy."

Hate lingers. It is not about compromise or consensus. It is about victory or defeat. It is about power. It can break a peace, wreck a government, and tear a party asunder.

Fear and loathing, rivalry and ambition, bitterness and animosity, dveshaya and vayiraya howl in our midst and have taken root in a country that was taught that "hatred ceaseth not by hatred but by love".

Parliamentary debate pours out the hate that boils in the mind of antagonist and protagonist alike; it flows into life outside the Diyawanna Oya and on to public platforms where racist drivel is spouted and cruel hostilities are hammered.  The House of Parliament, often called in Sinhala the uttareethara aayathanaya (supreme institution), was verily and eerily turned on May 3 into a House of Horrors, nay, a House of Shame.

Carlton Samarajiwa
Via email
---
A statue of Kannangara should be erected at all govt. schools
In his tribute to C.W.W. Kannangara in a letter in the Sunday Times of May 1, K.Godage has made a minor pardonable error due perhaps to the lapse of time.
The Principal of Richmond College, a Wesleyan missionary school was not a Father, as in Catholic schools, but was Rev. James Darrel. Rev. Stone was different. One gets the impression that he was a bookworm, that he was not. Photographs at the time show that he had played cricket and football.
At the time he was the Minister of Education, CWW Kannagara was a member for Matugama. He initiated the Free Education scheme against much opposition and established central schools. He hand picked the principals to make a success of it.
His 'pearl of great prize' was ridiculed at the time, and his opponents saw to it that he was defeated at the next election. Unlike the ministers today who get a princely salary, he died a poor man. A special vote was passed to give him a santhosam!
Mr. Godage suggests the erection of a statue of him in the principal towns in the country. But I would suggest that a statue be erected in every government school. When I was practising in Matara a group of students came to me for a contribution for some event at the Ruhuna University. While talking to them I asked them who had initiated the free education scheme. Pat came the reply -'Bandaranaike'!
Dr. Chandra Weeraratne
Ratmalana
---
More such enlightening articles needed for modern-day politicians
Mrs  Ekanayake, congratulations on your article in the Sunday Times of May 1.  Many of our younger generation and even many of our present-day politicians, do not know much about these great gentlemen of the past, who worked only in the interest of our country, most times sacrificing their time and even their possessions to work for the downtrodden folk of our land. In contrast most of our modern-day politicians work not only for themselves, but also for their families and even for generations to come.
I also appreciate the contents of K. Godage's letter on the same page, where he highlights the life and contribution of the late C.W.W. Kannangara towards the education system, for the benefit of the people of this country.  It would be great if these articles could be followed up with accounts of great politicians of the past, in all three languages, in the interests of the youth of our country, as well as most current  politicians, who hopefully will be able to learn something about how they should work and behave.
B. Wijesinghe
Nugegoda
---
Flip side of Churchill's poison in coffee
With reference to the gag attributed to Winston Churchill under the heading 'The secret to a quick-witted comeback' in your April 10  issue (Sunday Times 2), I wish to quote from "The Churchill Factor" by biographer Boris Johnson.
"'Winston', she is supposed to have said to him, if I were your wife I would put poison in your coffee.  'Nancy', Churchill is alleged to have replied to her, 'if I were your husband I would drink it.'
Alas, Churchill almost certainly never made this brilliant remark or if he did, he had swiped it from someone else.
"Yarlin Gilbert attributed this not to Churchill but to his great friend F.E. Smith – and then further researchers spoilt the thing entirely by tracking it down to a 1900 edition of the Chicago Tribune, where it appeared in a Joke-of-the-day column. Did, the young Churchill somehow spot it that year, on his trip to America and squired it away for use on Nancy Astor? I doubt it. Did someone simply recycle the joke, and decide that to be properly funny it needed to be put plausibly in the mouths of some famous people? Much more likely".
Take it, whichever way you like.
Dewage D. Gunasiri
Pokunuwita
---
The abused finger
There are many bad habits,
that we have acquired
It's impossible to mention them all,
But the one that stands out
and is most repulsive
Is the licking of one's own digital.
To help flip a leaf; some are stubborn indeed,
Yet there are other means of turning a page,
By the aid of a damp sponge, laid in a dish
All leaves will have free passage.
It's as simple as that I tell you 'old chap',
No need to spit on the 'Good Book',
When you climb up to the pulpit.
Take the sponge and the dish,
Say goodbye to licking your digit.
George Eddie
Ragama
---
President, it's time to act and stop the public from being further burdened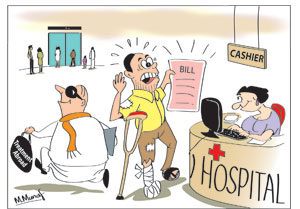 The President in one of his recent speeches said he would not allow the public to be burdened any more and if anyone was incapable of doing things that way he would send them home.  Those seem to be just mere words.
The Finance Minister and the Governor, Central Bank appear not to care about what the President says.  They run the show the way they want.  They are supposed to have exempted electricity and water from the VAT but not the telephone which is an essential utility nowadays and private hospitals.
Many ministers go abroad for treatment, using the tax payers money while depriving the tax payer of seeking the services of a private hospital paying his hard earned money in the hope of better facilities.
Even the ministers' telephone bills are paid for by the tax payer. Therefore none of these VAT increases apply to them.  At the end of the day the already penalised public has to foot the burden of a failing economy.
It is high time that the President took control and put his words into practice.
M. Joseph
---
Diyatalawa: The forgotten paradise in Sri Lanka
Diyatalawa has the best climate in Sri Lanka, and somebody told me it has the fourth best climate in the world. Whilst I was at work, I visited almost all the places in Sri Lanka among other things to find a suitable place to live in retirement. I chose Diyatalawa as it is not hot and humid as Colombo and not cold and wet as Nuwara Eliya. The climate is perfect in all respects throughout the year. I set up house at Diyatalawa after retirement, in fact I started a housing complex and a 'home stay unit'.
For the past few years, we have been having guests, mainly foreigners and they love the climate. Several of them told us that it is the first time that they have had a good night's sleep after coming to Sri Lanka.  A couple of Sri Lankan expatriates were so taken up with the climate, they wanted me to find them a place here so that they too could come and live here in their retirement.
Diyatalawa has so much potential to attract tourists on a large scale throughout the year, but unfortunately there is absolutely no infrastructure. There is nothing for guests and tourists to do here. Basic things are not available such as parks, sports venues, supermarkets, entertainment facilities, or even a petrol shed. If this town can be developed like Nuwara Eliya it will no doubt be more popular due to the pleasing climate that requires no fans, air conditioners or heaters.
Another major opportunity is to set up an international cricket venue at Diyatalawa. This is the ideal climate to play international cricket matches. Players need not sweat and spectators can watch matches in comfort. It will certainly be the best cricketing venue in Sri Lanka and perhaps the world.
I wish the authorities will take notice of this God given wonder of nature and exploit it to the best advantage of the country.
Ananda M.N. Perera
Via email
---
End this beggar menace at traffic lights
As a regular motorist, I am deeply perturbed at the behaviour of some of the panhandlers on our public roadways, especially on Dr. Danister De Silva Mawatha (Baseline Road) near the signal lights at Avissawella Road junction.
At this point vehicles are stuck in the traffic, sometimes for more than 12 minutes. But what is more annoying is that vehicle users have to endure the harassment of beggars who exhibit their debilities to win sympathy and earn a few rupees.
Some of them have the audacity to hit the shutters hard with some kind of a metal ring they wear. They get angry if no money is given. This is totally unacceptable to vehicle users.
They even hinder the free movement of vehicles when the signals turn green. They take their own time to move to a side.  All this happens in full view of the police.
Will the authorities take action before a major clash happens between panhandlers and irate vehicle owners?
Dumindu Pelpola
Ja-ela
---
Why give so much security to a defeated candidate?
I hold no brief for any party or political leader, but being a septuagenarian I feel I must I express my view on the security for the former President.
The issue over Mahinda Rajapaksa's security has become a jocular drama when one goes through electronic and print media news bulletins these days.
In my view, the logical step MR should take is, now that he has served the nation for two consecutive terms, to say "adios" to politics and retire to his ancestral abode at Medamulana, disregarding the pleadings of his downhearted acolytes.
Providing security for defeated candidates is beyond comprehension. Further, is this security provided to withstand attacks from LTTE cadres, if there are any left? All know that the the main root of this diabolical organisation is no more now. Then why provide so much of security for a defeated candidate?
Of course, Mahinda Rajapaksa was the prime mover of the defeat of the LTTE, with his brother Gotabaya Rajapaksa and the then Army Commander Sarath Fonseka playing no less a role. So, I expect MR to make a bold statement, refuse any form of security given to him by the Government, and to be a true statesman in politics, now that he is in the twilight of his career.
My parting question is: Why do we provide so much of security, at taxpayers' expense, to politicians who have entered Parliament to serve the people?
Lionel Caldera
Battramulla
---
Authorities deaf to continuing noise pollution
I was disturbed from my sleep on the night of April 30 at 11.30 p.m. by a loud bass noise thumping away relentlessly through some electronic equipment dishing out very loud music. Unable to sleep, I called 119 and the local police station.
It finally stopped at 12.15 a.m. on May 1, 45 minutes later. As the CEA cannot curb this harassment of sound pollution by night or day, it is time to give the police the right to spot fine heavily the offenders instead of just warning them.
This time it was a van outside the 24 hour eating boutique nearby that was the offender. We suffer a lot of noise pollution during the day from building works, vehicles horning, lottery sellers etc. Hence, it is time to stop this frequent harassment and disturbance to our sleep by totally banning any form of noise pollution after 9 p.m., especially horning, by imposing stringent deterrent punishment.
Why can't those in authority understand the heavy toll of noise pollution on the lives of people?
C. Jayatunge
Kohuwela