Young musician duo to set a world record in Sydney
By Susitha R. Fernando
'Strings and Drums' features 100 instruments
View(s):
Young multi-talented musician Nalaka Sajee Jayasinghe together with another young Sri Lankan musician Dinesh Perera is ready to set a world record playing 100 musical instruments.
Sri Lankans in Australia and music lovers in that country will have a rare opportunity to witness this musical treat at 6.30 pm on May 21 at Bowmen Hall, Blacktown, Sydney.
'Strings and Drums' will fuse a large number of musical instruments representing both oriental and western ranging from sitar, violin, mandolin, guitar and a mixture of some unlikely 'makeshift' instruments.
Nalaka who has mesmerised many a musical fan in Sri Lanka with his performances in public shows and live musical programmes on television is a music director, performer and graduate teacher. Sajee, a graduate in music from Sri Jayawardenapura University took a keen interest in music and dedicated himself mastering a number of musical instruments mainly string ones. He is a master performer in both classical and modern popular music.
Nalaka started his musical journey with the flute and played the violin and guitar while he was reading for his A/L examination. Nalaka studied music for his degree and played  the Sitar under well-known sitarst Pradeep Ratnayake.
"Since I had an academic background in music with extensive study on music theory I was able to learn many other instruments," Nalaka said.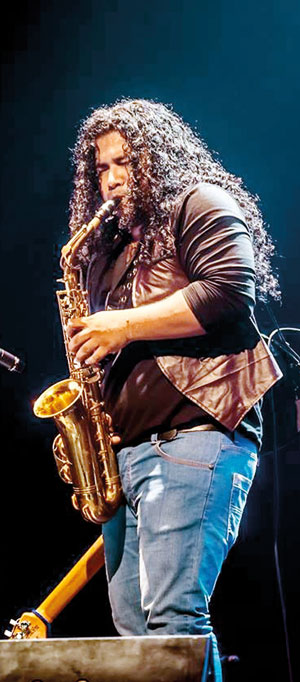 During  the concert in Sydney, Nalaka will play a large number of instruments including sitar, guitar, mandolin, banjo, auto harp, ukulele, saxophone, recorder, blue harmonic and a number of lesser known musical instruments like didgeridoo,  duduk and kalimba.
"We will take a number of eastern instruments which we would not be able to find from Australia while a large number of western instruments will be hired from Australia," said Nalaka Sajee describing the massive task of performing with 100 instruments.
Nalaka's colleague Dinesh is a Sri Lankan artiste based in Australia and has devoted his life music and dancing. A trained dancer in classical Sri Lankan and Indian dance forms. Dinesh has performed with Sri Lanka's National Cultural dance troupe on overseas tours. At present  he is also the Director of the Sankha Ridma Dance Academy in Sydney, Australia and on a mission of teaching and promoting the art of traditional dance to the younger generation. Dinesh will play a large number of percussion instruments including drums, Getabera, tabla, conga, bongo  etc.
'Strings and Drums' will include performances ranging from rock music, jazz and blues and Latin to traditional Sri Lankan rhythms and melodies such as vannam and the best of world music.