Paththini potrays a love devine
View(s):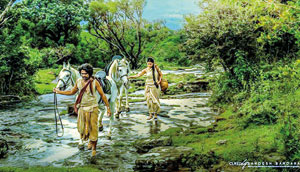 Prof.  Sunail Ariyaratne's latest film "Paththini" based on a love affair between Kannagi and Kovalan or goddess Paththini's story, is now screened at EAP circuit cinemas around the country.
Starring Puja Umar Shankar, Uddhika Premaratne, Aruni Rajapasa and several others in the stellar cast the film is produced by Milina Sumathipala for Sumathi films. Cinematographed by Channa Deshapriya, the music direction of 'Paththini is by Rohana Weerasinghe and its screenplay and story are written by Dr. Ariyaratne himself. Bimal Dushmantha does art direction, Chandana Deshapriya the camera, Sameera Kindelpitiya make up Chandana Wickremasinghe choreography, Tissa Surendra the editing and  A. D. Ranjit Kumara is the executive director of the film.  To Praneeth Abayasundara's lyrics, playbacks are sung by Visharadha Nanda Malani, Amerasiri Peiris, Nirosha Virajini, Kasun Kalhara, Uresha Ravihari, Damayanthi Jayasuriya and Saman Leni.