French cinema recreated
View(s):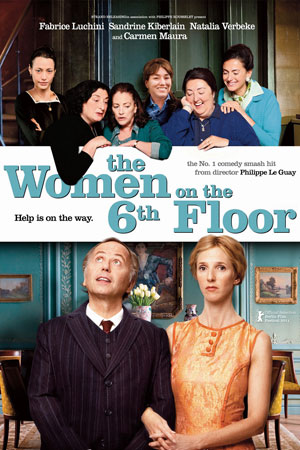 Weekly film screening at Alliance Francaise de Colombo features different faces of the French cinema.
'Les femmes du 6ème étage' (The Women on the 6th Floor) directed by Philippe Le Guay will be screened at 3 pm on May 17 and at 6.30 pm on May 18 at Alliance Francaise de Colombo.
Paris, in the early 1960s. Jean-Louis Joubert is a serious but uptight stockbroker, married to Suzanne, a starchy class-conscious woman and father of two arrogant teenage boys, currently in a boarding school. The affluent man lives a steady yet boring life. At least until, due to fortuitous circumstances, Maria, the charming new maid at the service of Jean-Louis' family, makes him discover the servants' quarter on the sixth floor of the luxury building he owns and lives in. There live a crowd of lively Spanish maids who will help Jean-Louis to open to a new civilization and a new approach of life. In their company – and more precisely in the company of beautiful Maria – Jean-Louis will gradually become another man, a better man.
'Le Fils de l'autre' (The Other Son) film created by Lorraine Levy will be shown at 3 pm on May 24 and at 6.30 pm on May 25.
Complex repercussions face two families — one Israeli, one Palestinian — after learning that their sons (Jules Sitruk, Mehdi Dehbi) were accidentally switched at birth.
'L'affaire Farewell ' a film directed by Christian Carion will be screened at 3 pm on May 31 and at 6.30 pm on June 1.
In the early 1980s, a high-ranking KGB analyst, Sergei Grigoriev, disillusioned with the Soviet regime, decides to pass Soviet secrets, including a list of Soviet spies, to the government of France, then under the newly elected President François Mitterrand, a  Socialist in coalition with the Communist Party. Grigoriev (code-named Farewell by the French intelligence service) hopes to force change in the Soviet Union by revealing their extensive network of spies trying to acquire scientific, technical and industrial information from the West. He uses Pierre Froment, a naïve French engineer based in Moscow, as his unlikely intermediary.
Rupavahini celebrates Vesak from Budhgaya
Sri Lanka National Television Rupavahini is to telecast Vesak from Bodh Gaya tittled 'Siri Budhgaya Vandana' from 5.30 am on the Vesak day, May 21.
It was after 25 years  that such an important event was being telecast from Bodhgaya. On Vesak day at 6.30 am a sermon will be delivered by Aggamaha Panditha Ven. Kotugoda Dhammawasi Anunayake Thera.
Throughout the day various religious programmes will be telecast from India on Rupavahini and  a large number of devotees and a crew from SLRC have already gone to India.
Parallel to this various religious programmes will be aired from Gangaramaya via the 'Buddha Rashmi' Vesak programme.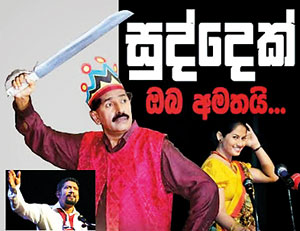 "Suddek Oba Amathai"
A play and a speech
'Suddek Oba Amathai' written and directed by Udayasiri Wickramarathne, will go on the boards at 3.30 pm and 7.00 pm on May 29 at Lionel Wendt Theatre, Colombo 7.
Veteran actor Jayalath Manorathne will perform together with Madani Malwatte and Nalin Pradeep Udawela and music composition is done by Lalith Wickramarathne, makeup by Priyantha Sirikumara and stage management is handled by Rohitha Jayakody.
All seats are box planned and tickets are now available at Lionel Wendt theatre.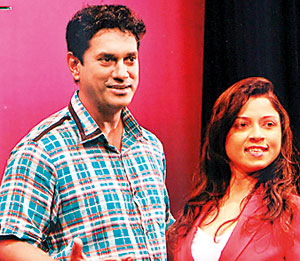 Aluth Horek Onee
 A Thief atGampaha
'Aluth Horek Onee', the latest comedy play that is going around the country will be staged in Moratuwa, May 15, today at 3.30 pm and 6.30 pm at Sarvodaya Vishwa Samadhi Hall Moratuwa.
The play directed by  Ajith Mendis stars  Wijaya Nandasiri, Roshan Pilapitiya, Saman Hemarathne, Senaka Titus, Mihiri Priyangani and Kumari Senarathne, Anthoney Surendra and Llewellin Vanderwall. The play will be staged again on May 28 at Bandaranaike College Theatre, Gampaha.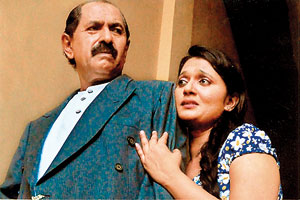 "Handa Nihanda": Mano back to direction
Latest theatrical production by Dr. Jayalath Manoratne 'Handa Nihanda' will be staged at 3.30 pm and 7.00 pm on May 28 at Lionel Wendt Theatre, Colombo.
The cast of the play includes W. Jayasiri, Ravindra Yasas, Lakshman Mendis, Ferny Roshani, Lanka Bandaranayake, Sanjeewa Dissanayake, Sudharshana Bandara, Nimal Jayasinghe and Jayalath Manorathne himself.
The music direction for "Handa Nihanda" is done by Nawarathne Gamage while makeup  is by Jagath Padmasiri, stage management is by Nishshanka Gunasumana and costume designing by Suwinitha Perera.
All seats are box planned and tickets available at the Lionel Wendt theatre.