Everest Trek Blog: Pushing forward to the summit
View(s):

Sri Lankans  Jayanthi  Kuru-Utumpala  and Johann Peries are gearing to summit Mount Everest. Here in a short description they describe the progress they've made as conveyed through their support team in Colombo.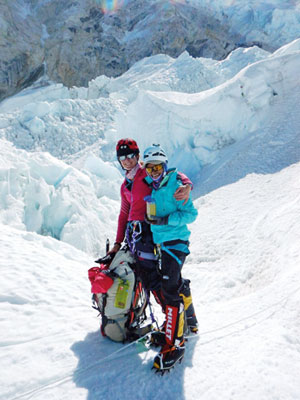 This week we completed our second rotation, from Everest Base Camp, up to Camp 1 for one night, then Camp 2 for the second night and Camp 3 for the third night, before descending down to Camp 2 for the fourth night and back down to Everest Camp. This was the highest we have ever been, and the most demanding both physically and mentally.
Camp 3 sits at an altitude of 7,200m (23,625 feet). Imagine a Toblerone Chocolate bar. Break off one wedge, and turn it on its side and put some tents there – this is what the campsite looks and feels like.
In order to get to Camp 3 we had to cross the Khumbu ice fall again, crossing crevices with ladders and ropes.  From Camp 2 we walked to the Bergshrund, which is a gradual uphill on ice and snow leading up to an ice wall. That had to be scaled up in about 5-6 hours. It was very steep, 90 degrees in places and about 70-90 degrees the rest of the way. To climb the ice wall we used our jumars (ice axes) to go up. But the hard blue ice makes it very hard to dig our crampons in.  In addition, there was also about 5 inches of snow, making it more difficult to get a grip with the crampons. At Camp 3 we could see the Lhotse face, and Camp 4 in the distance.
With the reduced levels of oxygen at this altitude there are numerous effects on the body. Aside from the difficulty breathing the depleted air, there is a further toll on the body due to the loss of appetite.  As the levels of nutrition drop due to the difficulty in eating the body moves into a state of catabolism. The fat and protein (muscle) stores remaining in the body are gradually used up to provide energy. It is very important to continue with exercises and stretches to help maintain the muscle in the body.
There is a strange feeling like we are in a reality game show. Almost daily we see people being eliminated and evacuated by helicopter.  We have to be strong in mind and body to continue.  We will now rest at base camp for a few days before commencing the final push to the summit.