Chef's Table Dining Experiences at FLOW
View(s):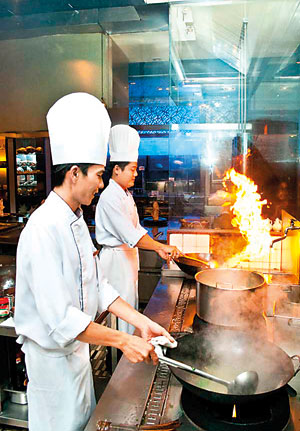 FLOW at Hilton Colombo Residences prides itself in being the only restaurant that offers exclusive Chef's Table dining experiences in Sri Lanka. An all-day dinin g, with an open kitchen concept with seating for 168 guests, FLOW has a dedicated private dining room for these exclusive dining experiences.
A Chef's Table is a dining experience where guests' meals are prepared by a dedicated chef, and the process is seen by the guest and explained by the chef with each main course. Set in a comfortable and contemporary ambience, the private dining area has exclusive cutlery and crockery to host up to a maximum of 14 guests at a time.
Menus can be customised by speaking with renowned Executive Chef Priyal Wijesuriya. The Chef's Table is opportune to host clients and family for special occasions. Each course is paired with a range of fine wines from around the world.
FLOW has paved itself as a destination for dining the cuisine offered by the award winning culinary team.
The open kitchens in the main restaurant include a Chinese wok, Tandoori oven and Zesti oven, perfect for meat lovers.  Wijesuriya, who has played an integral part since its design phase says that his Team is very passionate about the restaurant and enjoy the vivid offerings served from the five open kitchens, 'We offer some  of the favourite cuisines the world-over such as Japanese, Chinese, Indian and Sri Lankan; we have already established ourselves as a favourite for local cuisine. The Chef's Table is an exclusive offering to diners who appreciate custom-made exclusive menus being prepared in a 'show kitchen' from start to finish'.
The inclusion of a Chef's Table dining area was a strategic move made by the management on identifying that there was a need for one in the market. Karim Schadlou, General Manager, remarked that it was discovered that there is a need for a Chef's Table in Sri Lanka; he went on to comment thus, 'We have had a great response since the inception and the market has ide ntified FLOW as a restaurant that can offer the level of service to complement the exclusive menus offered with the Chef's Table. It's mainly patroniszed for special occasions, and will only grow to become a more popular concept of dining in Colombo'.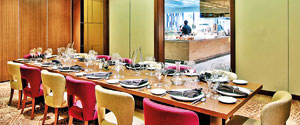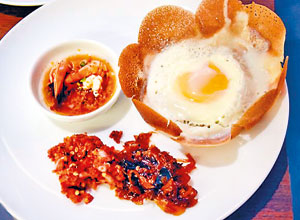 FLOW is active on social media, and guests can follow them on www.flow.lk or on Facebook. For reservations or for more details, contact 
0-115-344-644