Chef Publis felicitated for 60 years of service at MLH
View(s):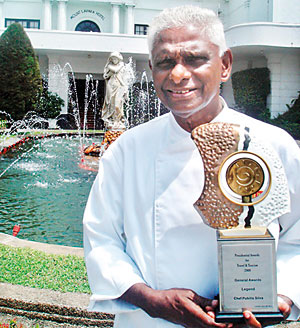 Celebrating 210 years of history and colonial heritage, Mount Lavinia Hotel is a pioneer in promoting Sri Lankan cuisine to the world. The face synonymous to the hotel as well as traditional culinary art, none other than Dr. Chef Publis Silva, was felicitated for 60 years of dedicated service to MLH, at the recently held Annual Staff Day.
This was the 24th Staff Day where staff members and their families participated in a lunch hosted by the Chairman Sanath Ukwatte.
Gold awards for the long serving staff, scholarships for the families and housing grants were distributed during the ceremony.  The highlight of the event was when the Management and staff of Mount Lavinia Hotel led by the Chairman Sanath Ukwatte and Group General Manager BazeerCassim, rewarded Chef Publis with a prestigious award for his service.
Chef Publis initially joined Mount Lavinia Hotel in 1956 as a coal carrier, dragging the heavy gunny bags of coal used for the kitchen stove. His other main duty at the time included scraping 80 coconuts along with another kitchen hand. With such humble beginnings, he soon became a Kitchen help through sheer dedication and hard work. Winning the trust of the Head Cook, he gradually ascended the ladder in learning the art of cooking. He was subsequently promoted as Head Chef of Mount Lavinia Hotel.
Chef Publis has been functioning as the Director Culinary Affairs since 2003 and has spearheaded numerous culinary projects, including the colossal task of popularising Sri Lankan cuisine around the world. He is also the author of 23 books, and has entered the Guinness Book of Records for creating the largest and longest Kiribath as well as the world's smallest recipe book titled 'Royal Meals of the Last Kings of Sri Lanka'. He was awarded an Honorary Doctorate by the Open International University of Sri Lanka in 2004 and is the only chef in the world to hold such a prestige in Culinary Art.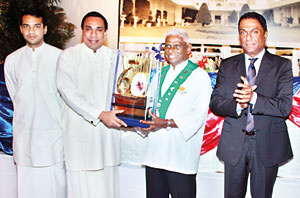 Commenting on the appreciation he received from Mount Lavinia Hotel, Chef Publis expressed the following thoughts, 'Mount Lavinia Hotel is my home. Even after 60 long years, I still enjoy every day I spend serving the hotel,and continuing my research and writing. I have been blessed with the ability to bring international fame and I have met many people throughout the years, including royalty. Yet I always come back to the hotel. As the Director of Culinary Affairs, my main role is to be a consultant; to guests, wedding couples, and even staff. This allows me to share my knowledge with many people and I am grateful for it. This felicitation from my family at Mount Lavinia Hotel is closest to my heart than any other accolade I have received."
Visit www.mountlaviniahotelgroup.comax