Kids Essays
View(s):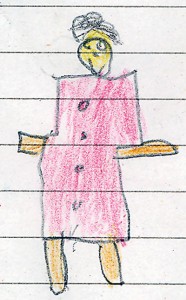 My sister
My sister's name is Shameera. She is three years old. She studies at La Petite Fleur. She likes to eat rainbow rice. She likes to drink mango juice.
I love my sister very much.
Shadrach Fernando (Elementary 1)
La Petite Fleur
---
My favourite book
My favourite book is 'Diary of a Wimpy Kid'. It's written by
Jeff Kinney. I borrowed this book from the British Council Library, Colombo. This book is called 'Dog Days'.
The main characters are Greg, his mother Susan, his father Heffley,
his brothers Rodrick and Manny, and his best friend Rowley.
Greg has a three month holiday and he doesn't know what to do. He starts playing video games but his mother has a different idea. So he starts to enjoy his summer with his friend Rowley at the Country Club. A week before Greg's birthday, Mr. Jefferson (Rowley's father) tells them to pay
83 dollars for drinking smoothies at the club.
When it was Greg's birthday, his mother confiscates the money he collected to pay Mr. Jefferson. Then his Uncle Joe's dog Killer eats half of his birthday cake which puts Greg in a bad mood. Greg calls Rowley over to spend a night at his house and they watch a scary movie, and his mother grounds him.
The Diary of a Wimpy Kid is an awesome storybook that you can't keep down until you finish reading it. There are many more books in this series like, 'Rodrick Rules', 'The Last Straw' and 'The Ugly Truth' etc.
I love this storybook so much.
Zumama Zarook (Grade 5)
Lyceum Int. School, Nugegoda
---
Myself
My name is Malaika. I am four years old.
I go to Nursery. I like to play. I like my mom and dada.
I play with my dada's toy cars. My toy is a toy ball. I have two toy cars. I like to colour and play. I like to watch TV also. I like to go to the market.
Malaika Gammampila (4 years)
Visakha Nursery School
---
My favourite cartoon
I like my cartoons. One of them is 'Oggy and the Cockroaches'. I like Oggy, Bob, Olivia, Jack, Dee Dee, Marky and Joey. They live
in separate homes. They are friends.
Sanila Mahagedara (Grade 5)
D. S. Senanayake College
---
My mother
My mother's name is Chalani Samaranayake. She is 51 years old. She is a housewife. She is fair and beautiful. She has long hair.
She gives me healthy food to eat. She always advises me to be good and have good qualities. She teaches me in my weak subjects. Also if I have done any mistake, she will punish me so that I will go on the right path. I share with her all my good and bad moods.
I am very thankful to her. I love my mother very much. May God Bless her!
Vinuth Siriwardana (11 years)
Vidura College
---
My trip to Europe
We left for France on December 12, 2015. At around 7a.m., we landed at Charles de Gaulle Airport and went to the Hotel Best Western. That same day we went to my father's friend's place and later visited the Eiffel Tower, which is one of the world wonders.
The next day we went to Les Invalides and saw Napoleon Bonaparte's tomb. He was one of the famous chief's of France. I was lucky to see Madame Tussaud's which has many statues of famous actors and actresses. From there we went to my uncle's place in Paris and saw my aunt and my cousin Analise.
Later we proceeded on a river cruise where we saw the Liberty Statue which was built by the French.
The next day we went to Mont-Saint Michel, on the border of France and Germany. It is a hidden palace
surrounded by the sea.
Our first visit in Switzerland was to Lake Lucerne which was full of swans. The next day we went to Italy. There were many shopping malls in Milano. After shopping, we went to Verona and saw Romeo and Juliet's house.
The following day we went to Rome. We saw the Colosseum, and the Tower of Pisa. We went to Venice by ship and had a gondola ride. We went to the Vatican where we saw where His Holiness Pope Francis lives.
We went to Monaco and saw Princess Grace Kelly's palace and gardens. We went back to Paris and celebrated Christmas with my uncle's family. Thereafter we went to Luxembourg and saw the Duke's palace. Next, in Germany we saw the Frankfurt Bridge filled with lovers' padlocks. In Holland we saw farms and windmills and saw how they make cheese.
We finished our journey and headed back home. It was one of the most adventurous journey's I have had.
Nevanmie Ranasinghe (Grade 6)
Musaeus College
---
The job I like most
I like to be a doctor. The doctor does a great service for the people. The doctor is respected by all. He gives advice and suitable medicines when some are ill.
A doctor needs to have a good education, strength, courage, kindness and patience.
Doctors are mainly responsible for healing of patients. They face lots of difficulties when treating incurable diseases. No matter how hard it is, I am going to try to become a doctor. I will study medicine and become a surgeon. It is the biggest dream of my life.
Isuru Fernando (8 years)
Jennings Int. College, Nainamadama
---
My home garden
My favourite place is my garden.
I have a small flower garden. I have grown seasonal flowers having varieties of beautiful bright colours. It is a great joy to me to take care of my plants myself. Every day, I water my plants. It is a good feeling for me because I enjoy working there.
My home looks very beautiful because of my garden. I love my garden very much.
Abdullah Hilmy (8 years)
Wesswood Int. College
---
How I spend my Sundays
On every Sunday my family members are free. So on that day we plan an outing. Normally we go shopping. I like shopping very much because I 'm a girl. Normally girls like to do shopping. Actually I like to do shopping with my friends as well as with my family members. First of all we are going to shops that are selling clothes. We buy clothes with the latest and most beautiful fashions.
Then we go to the library to read books. That is my favourite part of
the day because I love to read books.
My mother and father read books in the adults' corner while my sister, brother and I read books.
We have a gala time reading
children's newspapers and fiction. Funday Times also waits there early on the newspaper rack for me to read.
I enjoy reading them very much.
Our next stop is a restaurant to have our lunch. We buy rice and curry for our lunch with a soft drink.
After all this we go to the ramparts and walk there till evening. After that we are going back to our house. Before we go home, we always go to Food City to buy food.
This is the way I spend my Sundays with my family members.
Sithmini Sirithunga (12 years)
Sacred Heart Convent, Galle
---
Myself
I am a boy. My name is Sethuratnam Sathurjanan. I am seven years old. I study at Sussex College Bandarawela. I am in Grade 3.
My class teacher's name is
Ms. Taniya. She teaches us English.
My best friend's name is Thushan. He is a good friend of mine.
My favourite food is chicken fried rice. My favourite drink is orange juice. My favourite colour is red.
My favourite cartoon is Ben-10.
My favourite subject is English.
My future ambition is to be a policeman.
S. Sathurjanan (Grade 3)
Sussex College, Bandarawela
---
My best friend
I have many friends but my best friend is Hiruni Marasinghe. She is the best I like more than my other friends. She came to our school in Grade 6. We were good friends but we are mostly together now. I am happy to be with her.
She is a tall and fair girl. Hiruni has a kind heart and helps others a lot. Her ambition is to be a doctor. She has very different, good qualities that I like in her more than others. As she is a good friend I always enjoy her company.
I wish Hiruni a successful life.
Shamain Wijayarathne (Grade 9)
Good Shepherd Convent, Kandy
---
Drought
Drought is a weather related natural disaster. It is a period of time when there is not enough water to support agricultural, urban, human and environmental water needs.
The most frequent hazard in the world is drought. Changes in rainfall patterns occur due to changing weather conditions. A drought is caused by the incidence of low rainfall. According to some weather scientists, a period of more than 15 days without rainfall indicates a drought condition. For some people a few days without rain is a drought, while for some others a number of rainless years should be there to term it as a drought period.
There are a number of regions in the world which experience droughts. Some of them are parts of Africa, Central Australia, Maharastra, Gujarat and Hydrabad states in India. In these areas the prevalence of a long period without rain is the reason for drought conditions. In the drought areas of Africa, people have to trek long distances in search of drinking water.
Shanali Kulasekara (Grade 11)
Christ Church College, Matale