President takes steps to evict former regime's key players
View(s):

President Maithripala Sirisena was livid when he learnt at last Tuesday's ministerial meeting that some key players in the previous Government were still occupying official bungalows.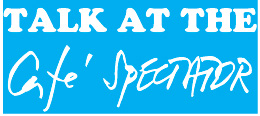 This is despite a number of notices issued to them to vacate. President Sirisena noted that one such person was in former President Mahinda Rajapaksa's security contingent, and lived within visible distance from his own official residence at Paget Road.
This Army officer and a team still remain though a contingent assigned to Rajapaksa, the Government says, has now been replaced with Police personnel. He directed that electricity and water to such bungalows be disconnected immediately. That would at least make them vacate the official residence which they were no longer entitled to, he noted.
---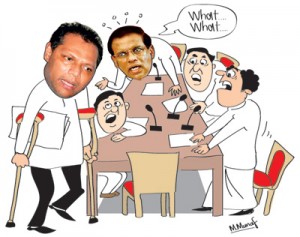 Tissue the issue: Jayasekera on crutches
Sports Minister Dayasiri Jayasekera walked into last Tuesday's weekly ministerial meeting with the help of a pair of crutches.
It prompted President Sirisena to ask him which sports had caused him the injury. Jayasekera said it was no game of sports. He had torn a tissue when he was exercising one morning.
There was a humorous moment when President Sirisena asked what form of exercise that could lead to a torn tissue. He laughed as he posed the question. Mr Jayasekera replied "not the kind of exercise you may be thinking."
The remarks provoked laughter among ministers.
---
Case against VIP: Questions over how key witness fled to Canada
A principal witness and his wife in a case against a VIP in the former Government in a money laundering case fled to Canada where he is now domiciled.
The departure angered senior Attorney General's Department officials who had directed the Financial Crimes Investigation Division (FCID) to seek a travel ban on him and his wife. This was after the couple were interviewed by FCID officials while in Colombo over a deal involving a large plot of land in Matara.
Top officials in the Department raised a query why this was not carried out. The answer shocked them. It was a top Police officer, who has since gone on retirement. He had directed the FCID not to impose a travel ban. Was he directed to do so or did he act on his own is the question baffling most investigators.
Thus, a key witness will be absent when the VIP faces charges in courts.
---
Berlin embassy loses its ears
A communications blackout at the Sri Lanka Embassy in Berlin has caused chaos and confusion.
Foreign Ministry sources say the Embassy, for some unexplainable reason, ignored a notice from German Telecom over disruption due to upgrading work. They were advised how to make alternative arrangements but an official said no one evidently took note of it.
The result – no communications could be originated from the Embassy and only incoming ones were possible.
As a result, tourists visiting Sri Lanka have complained they are unable to apply for their visas on line. Nor can the Embassy contact the Foreign Ministry in Colombo in the course of its day to day work.
---
Mayor wants Municipal Commissioner fired
Colombo Mayor A.J.M. Muzzamil has asked Western Province Governor K.C. Logeswaran to interdict Municipal Commissioner V.K.A. Anura. The move follows allegations that the Commissioner issued an ownership certificate of a land to a party to whom the land did not belong.
The real owners of the land had then gone to Courts. On the strength of the certificate reportedly issued by the Commissioner, the recipients had taken an empty cargo container and tried to place it in the land in question. They have since been evicted.
---
Rajapakshe gives special attention to Rajapaksa
Justice Minister Wijeyadasa Rajapakshe not only invited former President Mahinda Rajapaksa to the lavish wedding of his son at the Cinnamon Grand Hotel.
When it was time for Rajapaksa to leave, he walked all the way from the ballroom with Rajapaksa, opened his car door and shut it after the former President got in. Then he said goodbye before returning to the wedding ceremonies.
The home coming ceremony at the Colombo Hilton was equally lavish.
---
Joint opposition to celebrate May 19 victory
Ahead of his departure to Uganda, former President Mahinda Rajapaksa met leaders of the "Joint Opposition" at his residence in Mirihana.
One of the issues to be discussed was the May 19 anniversary of the military defeat of Tiger guerrillas. He said the Government would not mark the event in a befitting manner and proposed that they hold a different ceremony in Kurunegala for the occasion. It was agreed.
From his residence, soon after the decision was made, Rajapaksa telephoned former Minister and UPFA Kurunegala District MP Johnston Fernando. Rajapaksa urged him to find a suitable temple premises for the conduct of the ceremonies.
If civil society organisations are accusing the Government of not proceeding with action against those involved in bribery, corruption and other malpractices, the meeting at the Rajapaksa residence decided on a committee to identify corruption within the Government and make it public.
---
Gulf prince seeks Sri Lanka's resort island
The crown prince of a wealthy emirate is now exploring the possibility of leasing out an uninhabited island off Sri Lanka.
He wants to develop it into a luxury resort not for tourism development. It is for use by him and members of his family as a private retreat.
Government officials remained tight-lipped on the request except to concede that a request has arrived.
---
AC van to take Basil to court
Police Headquarters had to release an air conditioned van to provide transport to former Economic Development Minister Basil Rajapaksa to attend sittings in the Magistrate's Courts.
The van was released to the Financial Crimes Investigation Division (FCID) which had arrested Rajapaksa over money laundering and other charges. He was released on bail. An FCID detective accompanied Mr. Rajapaksa. If no air-conditioned vehicle was available, the FCID would have been compelled to take Mr. Rajapaksa in a Jeep as it does in the case of other suspects they arrest.
A former official who dealt with the media during the time of the separatist war was among those who had appealed for an air conditioned vehicle.