Let peace and happiness prevail this Vesak
View(s):

Vesak Poya is just round the corner and it is time for us to take some important decisions on this occasion, instead of letting this hallowed event pass.

Vesak Poya is an ideal occasion to spread loving kindness and respect for each other in this country blessed by the doctrine of Lord Buddha. There are no barriers of caste, religion, or political affinity for peace and happiness. So anyone who is pursuit of peace and happiness must learn to live with other human beings in society.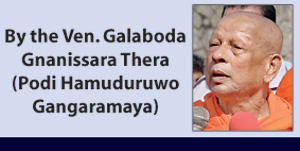 According to Buddhist teaching "Vissasa parama gnathi", the best relationship is based on trust with everyone. But today the husband does not trust the wife. Parents do not trust their children. Neighbours do not trust one another. At work places, most people do not trust one another. If this is the environment we live in, where is our happiness? Where is our peace? If we are suspicious of others, how can we achieve peace? Why are we divided along caste or creed lines? In our hearts we have to feel for others.
In our TV and radio channels, Buddhist programmes are broadcast daily. Yet, we see evil, injustice and fraud around us. We have to be sad about this situation. In no other country is there so much Bana preaching broadcast like ours. But evil to such extent does not happen with such frequency in other places! Therefore it is time to correct ourselves without hanging our heads in shame.
Recently some devotees from Gampaha visited our temple. I asked one of the knowledgeable elders about the problem of paddy fields being left fallow. He gave an interesting reply: "Venerable Sir, we have been used to bathing from the well, stream and pond. But today people are bathing from the tap. That water drains into the lavatory pit and gets absorbed to the ground. But the water we used for bathing flowed back into the streams and then to the paddy fields. Fields were cultivated even with that water. Today there is no water in the streams because people are using taps and the water is not available to cultivate the land."
I realised from what he said that the villagers are sad about our dry weather, about fields becoming fallow, and the streams going dry. But the people who use taps do not realise this. This elderly man elaborated his story further and said: "When we washed our plates after eating, even that water was thrown to a plant. But today there is no water even for a plant in the garden. But at the time of harvest we expect fruits from the trees. If there is no fruit we sprinkle fertilizer. We are so ungrateful."
Even if there is a well nearby, some do not bathe there. Bathing from a well is a good exercise. Without knowing this, some spend tens of thousands of rupees to buy exercise machines. After a few days the machine is discarded. Some buy refrigerators on loans but have no money to buy and stock food in them. Some live on loans, for style. We want to show off, but spend all our earnings settling loans. The world sees us as millionaires. Is there true happiness in such families? We have to think about this seriously.
Those who earn a living fraudulently, must know that such earnings do not last. This is what Buddhism teaches and also the law of nature. Their happiness is short lived. They suffer for long.
I would like to request everyone during this Vesak to be satisfied with what you have and not be too greedy. So during these Vesak days, those who have, please give to those who do not have. Village-based organisations and groups must come together to look after the poor. Dig a well for someone who doesn't have one. Build a toilet for someone who lacks this basic need. Provide roofing to those who need it. Let the clergy, the rich and the business community get involved in such activities. But do not confine such good acts only during Vesak. It should be continued with the realisation that we are doing something good and useful. When you volunteer to help some people they will not want your help or might even refuse your help. Do not be disheartened. This is the result of their past evil deeds. They are condemned to suffer, but do not give up; try to win them over.
Also during this Vesak, help the man who is distilling illicit liquor in your village, by showing him a path to earn his living in a just manner. Help him set up a small stall to sell vegetables and fruit. Look for such people and help them. You will be doing a world of good. If you are thinking of equanimity, try to lead those who have gone astray to the correct path. If you come across children who are being misled and going astray, do not look the other way but make efforts and bring them to the correct path. Your children will be blessed in turn for such good acts. Every elder must take this to his or her heart.
There are people who rob funeral houses, evil men who abuse children, men who pluck fruit stealthily. How can we be happy with all these? How can we be free? At least think of your freedom and try to take these people away from evil. Turn the evil into good. And help the poor.
I discussed with bank officials a proposal to provide loans to the poor. But these people have little to offer as surety. Banks are there, but the poor cannot benefit from them. I am trying to arrange with banks to help the poor people to put up a toilet, dig a well or buy roofing sheets. Those who want to help the poor in the villages, please come forward. I am appealing to the clergy, benefactors and good hearted people. Please call us. Please give us details of the people who need financial help. Please give us a hand. Please let us know what you hope to do this Vesak. I will be able to support your cause.
Address: Ven Galboda Siri Gnanissara Thera, 61, Sri Jinarathana Road, Colombo 02.