UMT presents student leaders with Unity and Integration Award
View(s):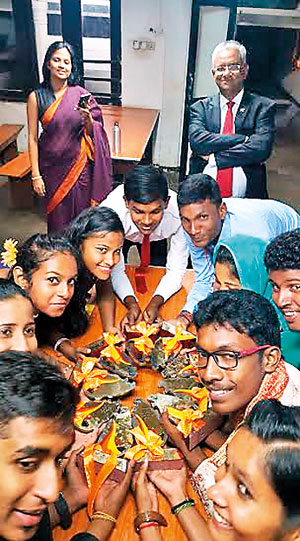 The Unity Mission Trust, a non-profit trust which aims to foster unity and integration among the youth, this year held their programme in Guruthalawa. Ten individuals, who were recognised as student leaders, were awarded the Unity and Integration Award for their commitment to fostering these values in their respective regions.
'I wish Unity Mission Trust success in their journey forward. This organisation helps young people like us develop our talents by understanding what we need. I joined the UMT family a year ago and today I'm honoured to have won this award,' said Unity and Integration Award Winner Sithy Shadla Raslan, describing her experience at the recent Power One Hundred programme.
The 100 youth who participated in the programme were selected from the students who took part in the annual Unity Camp and other UMT programmes held throughout the year. Apart from the Unity and Integration Awards, the event consisted of the 'Ray of Hope' – which was organized to celebrate cultural diversity across Sri Lanka as well as a programme aimed at developing the mind-sets of the participants titled 'Empowering Youth: Building Bridges of Friendship'.
Unity Mission Trust also elected the members of their National Youth Leadership Council during their three-day stay at Guruthalawa. Newly elected president S. Mayuran Raj, who is from Mannar, feels that being elected to the council is one of the most unforgettable moments of his life and is proud that the organisation chose him to be their president. Outgoing president Methunshanka Suduwelikondage from Matara, also spoke at the event. "I was born into a small family, but today I have 7,500 brothers and sisters across Sri Lanka," he said in his speech, echoing the sentiments of many who were present.
Speaking about the event, co-founder trustee Shyamala Pinto-Jayawardena stated that the dreams of the children present during the event reflected the fact that there was a need for organisations such as Unity Mission Trust all over the island, and possibly even all over the world. She also mentioned the fact that the children have been encouraged to reach out to their respective communities through social service projects and that the ability for children to recognise the needs of their communities and be of help is one of the many goals which the organisation has set for itself.