Segar and Iromie: Exhibition of two distinct styles
View(s):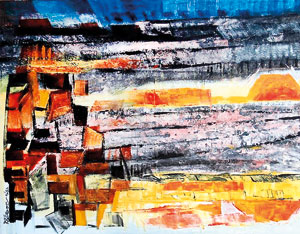 Sifani Jewellers will host two acclaimed Sri Lankan artists in a joint exhibition at their gallery at No. 86, Galle Road, Colombo 3 this week. Artists Iromie Wijewardena and Raja Segar, both of whom have distinctly different styles will present their work  on May 13-15 in this exhibition.
Pictured above is a recent Segar painting due to be exhibited -'Shanties by highrise buildings'  mixed media  on canvas, which the artist says was done by spreading the paints on canvas and driving his car over it. "Yes! the first painting done by my car," he told the Sunday Times.
At left is a painting by Iromie.