Letters
View(s):

Criteria to select top officials: It's time for a rethink  

It was reported in a daily newspaper recently that, Prime Minister Ranil Wickremesinghe has appointed a high powered committee of officials to recommend criteria to be used as guidelines when appointments are made to the posts of Chairman, Boards of Directors and CEOs of State Enterprises, pointing out the dismal performance of the State Enterprises in Sri Lanka as the reason for this measure. The Prime Minister had pointed out some negative practices adopted in the State Enterprises at present as key constraints to improving their performance.

Almost all of them relate to political interference. It is common knowledge that the appointments as Chairman, Boards of Directors and CEOs were made on relationships – blood or family, friendship, political affiliations, to help those who helped and the like. At the end it says, "When considering it useful Mr. Wickremesinghe will consider the criteria recommended by the official committee when appointments to top posts of the State Enterprises are made." It may be with or without criteria; the government has absolute discretion in these matters. Therefore, the fundamental question is: Does government and its bureaucrats use their powers honestly to serve the people and to meet their needs.

People are the stakeholders in this, and bear a huge cost to maintain these loss making State Enterprises. It is their tax money that sustains them. The state of affairs of the government institutions is causing sharp decline in the level of trust the citizens have in the government. The huge losses incurred in the government owned airlines, other enterprises providing public utilities, selling commodities and engaged in trade and commerce activities are putting a heavy burden on the taxpayers. Wastage, corruption and frauds reported in them amply prove that the government is not good at managing.

Could the people expect these changes will make these loss making State Enterprises perform better, making them efficient and profitable enterprises and take off the burden of sustaining them and making good their losses year after year from the people?

It is widely believed that the government is slow, inefficient and costly, while the private sector is dynamic and efficient. The view is now widely held, that the way to make an economy more dynamic is to get the government out of the way and let the private sector innovate and compete.

The Government is good at establishing the circumstances for economic success, but less so in managing economic success. When it comes to managing operations the government has lost ground, contrary to the private sector, and centralised power around the political authority, government managers have learned the art of delegating up rather than down. Too many decisions including pure management ones end up with the political authority at the top. One cannot even begin to imagine that a State Enterprise could do what a private sector organisation is able to accomplish in pursuing new markets as well as producing and delivering products and services to consumers.

Government enterprises have too many management layers, too many oversight bodies and too many employees generating and gathering performance reports rather than performing. It also has too many conflicting goals and has piled up too many activities on top of one another, without being concerned about what they accomplished and the results they yield. Notwithstanding high-profile programme reviews we watch daily on TV, they have lost sight of their core responsibilities including managing effectively and profitably, setting standards, enforcing them and making sure that the services are delivered to the people efficiently.

The state sector trade unions are inhibiting change at a time when other organisations change or fall behind. Almost all the state sector employees belong to a trade union. Among other things government managers and the trade unions need to explain, how many employees have been removed for inefficiency annually in the state sector, from a large workforce of millions of employees in the government.

Unless our political and public institutions be they public administration, government departments, public corporations or other state owned enterprises are able to perform at a higher level to deliver programmes and services to the people, truly the risk of the situation becoming increasingly chaotic is imminent, thus losing the ability to win the confidence of the people.

If the Government cannot learn to row better, it will not enjoy the support it needs to steer the ship of state and create the necessary circumstances for economic success the people envisage, pinning all hopes in the government to deliver as promised.

Raja Wickramasinghe
Via email
---
Did Buddhism really survive without state support?
This is in reply to "Buddhism survived without state apparatus support during British Colonial days" by Leelananda De Silva.
With all due respect to the writer and his thought provoking article, I wish to point out that it seems quite narrow minded.
If the writer wants to compare the state of Buddhism in the British period with that in some other period, I suggest that he should have compared it with the state of Buddhism in the coastal areas during the Dutch period and the Portuguese period.
By the time of Anagarika Dharmapala the British imperial establishment may have been on a more lenient course with its colonies – having learnt its lessons in military defeat by the independence of the USA and the Canadian revolts and also having been philosophically battered by some of its own scientists and philosophers like Charles Darwin.
Also, Anagarika Dharmapala and Mohottiwatte Gunananda Thero who led the famous Panaduravada Buddhist Upheaval, are special people, of the calibre of Mahatma Gandhi or even better.
One should also consider that Great Britain which likes to pontificate to us has taken great pains to protect its Anglican Church via its monarch. (No offence to Anglicans).
Even the United States is not a truly secular country since it uses the motto "In God we trust" in official documents.
If we should objectively question "Buddhism and the constitution", an extremely thorough research should be carried out on the histories of all countries, the status of their majority religions, and the reasons for that status.
Also please note – the secular constitution of India has failed to prevent violence against Muslims and Sikhs by Hindus.
The problem for Buddhism in our country is when corrupt and racist leaders take leadership in supporting it, when there are enough moderates to do so.
Ravi S. Madanayake
Via email
---
A place for love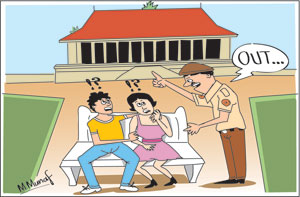 The youth of Sri Lanka are faced
With the problem of expressing
Love in public places
Independence Square is out of bounds
There is no independence there
Galle Face Green is too open to the breeze
Good for flying kites
Only Colombo parks with nature's
Abundance of trees in which birds build nests
To nestle together
Offer space between their roots
For young lovers to embrace in privacy
Although there may be, wardens walking
And prying, there is no reason to worry
The park was created for natural
functions….
Punyakante Wijenaike
---
These parents should not be taxed but compensated
A rumour doing the rounds these days especially among parents of international school students is that the government is contemplating a 15% tax on international schools.
This is grossly unfair, for several reasons. Firstly because these mostly middle class parents don't send their children to paying schools by choice, but because they don't have the connections or money to enrol them in the so-called popular public schools.
Secondly, these students, as citizens of this country are as entitled as any other fellow student to free education but deprived of it because of the lack of places in popular public schools.
Students in international schools are not included in the programmes of free distribution of books and uniforms, although their parents contribute to public coffers by way of taxes
In view of these facts, I believe that, instead of burdening those parents who are denied of many benefits, compared to parents of students of popular public schools, the government should introduce a voucher system to partly compensate the parents of the students of international schools.
Rear Admiral Lakshman Illangakoon
Via email
---
Schools aren't what they used to be
During our days schools had a rule that children had to be at home after six p.m. Parents would have to explain to the principal of the school their children attended if they were caught breaking the rule. But times have changed.
On the lighter side, one day a student was caught by the principal of a leading Kandy school Kenneth de Lanerolle, while walking down Peradeniya Road. The principal stopped his vehicle and the student's explanation was that he was trying to solve a maths problem! He was excused.
That is the type of school administration we lack today.
Tudor Wickremasinghe
Colombo 9
---
Travails of train rides and a way to get on the right track
Various government proposals to reduce the congestion on roads have always been a topic discussed though such proposals do not seem to contain any real intention of  easing the complexity of the public transport problem. Massive project plans like Highways, Monorails and Metros come down to mere political propaganda and in most cases fantasy.
Why isn't the government interested in utilising the existing resources rather than seeking international assistance to find a solution to the increasing number of commuters and ever increasing motor traffic especially in Colombo City? Are wise proposals which can be executed on a minimal budget not sexy enough to market in political campaigns?
As a regular commuter who uses public transport, I would like to offer my observations that I made to and from work. Most of my life I travelled by train to Colombo, whether to  school or work. My working place changed from Colombo in 2008 warranting a change in my mode of transportation. I was transferred to Colombo again in 2016 and my daily routine since then is a combination of personal and public transportation that includes train travel. After experiencing the same hardships that I encountered almost eight years ago, I felt like inviting the authorities to travel by office-trains to work for one month and see where we stand among the other countries.
In the struggle of reporting to work on time, people travel in trains under extreme difficulties. They arrive in offices soaked with sweat, and in crumpled clothes, half-dead. It is very unlikely that such a workforce could drive Sri Lanka towards the prosperous nation we all anticipate in the near future.
Delays that occur due to improper traffic handling is a frequent scenario commuters face. The poor condition of the train coaches is a third-world reality.
Passengers stand and travel in every possible place in the trains such as the foot-board, corridor connections (or gangway connections) and sometimes on top of the carriages, a journey that could cost them their lives.
The scene is like a  coach packed with live-chicken being transported to be slaughtered rather than a coach with human beings on their way to report to work or attend to some chore.
Train travel is the only option left for a majority of people  who commute to   Colombo for work since it is the cheapest mode of travel and also without the hindrance of motor traffic.
The Sri Lanka Railway Dept has recorded an operational loss of Rs.5.163 billion in 2013 and Rs.11.034 billion in 2014 (Central Bank Annual Report – Chapter 3 Page 70) which may be minimal in terms of Government expenditure compared to losses recorded by other Government Corporations. The salary schemes, employee unions and political recruitment have corroded the department over the years. Added to this are bad management and conventional, out-dated methods and a signal system deemed to be Stone Aged compared even to the other developing countries. The Sri Lanka Railway Service seems to get step-motherly treatment from the government.
Here are a few suggestions to improve train travel:
1.   Change the attitude of the employees and authorities. This may sound impossible, but it is a vital key to success.  Educate them on the importance of their service to the country. The government must have the 'will-power' and should swim against the tide of the labour union actions.  Furthermore, the government has to be transparent about their policies to the public.
2.   Public transportation should be made attractive to all levels of  society. It is vital to make it a viable service rather than starting new massive projects.
3.   Build a central car park (which should also accommodate motorcycles) adjoining the main railway stations where people can park their vehicles daily at a minimum monthly payment and proceed with the train journey.
There are unoccupied CGR lands near main railway stations. It could also  generate additional revenue for the department.
4.   Cleanliness is important in stations as well as in train coaches. Outsourcing these cleaning services to a private company would be a good starting point.
5.   Outsourcing the department's auditing and accounting may minimise corruption and arrest financial lapses.
6.   Computerised ticketing system: This was a project to be implemented but it was  restricted to merely a proposal which was published in the CGR website in 2011.
7.   At least two-three passenger compartments can be air conditioned at a higher cost for those who can afford.
8.   Implementation of new 'signal-system'. Most of the time trains delay due to improper time management.
9.   Trains are properties of the government and their duty is to provide transportation for the work-force to go to work on time. Delaying a train causes a substantial loss to the country and the service needs to be accountable to the government. Currently labour unions always go against the government even for simple matters knowing the vulnerability and the difficulty faced by the passengers. What if  they were asked to provide incident reports for the delays in trains? A semi- privatized management would be a good solution and if done in a proper manner  the government may be able to solve most of the issues faced by the  CGR.
10. Always be open to new ideas  (There are many engineering students who have new ideas but unfortunately the authorities show little interest in listening to them).
Gihan Liyanage
Via email
---
I wish I could remember
To My Mother..
I wish I remember being inside your womb, so I can tell you how I might have communicated with you every time when you touched your stomach to see if I was ok.
I wish I remember the moment I was born, so I can understand the pain you went through to bring me to this world.
I wish I remember the first time I ever saw your face, so I can tell you how terrible you might have looked after going through that pain..
I wish I remember that moment, so I can tell you how concerned you were till I cried..
I wish I remember that, so I can tell you how beautiful was your smile seeing me crying, of course that is the only time you ever smiled when I cried..
I wish I remember the first day I ever walked, so I can tell everyone how proud you were,
I wish I remember the first day I went to school, so I can picture the look on your face with all those hopes for my future..
I wish I can remember the first time you hit me to correct my wrongs, so I can understand that you meant no harm..
But I remember how much you did for me to keep me safe from this cruel world,
How you taught me to be a gentleman, how you explained me things I didn't understand and how you expected me to be in this society..
I remember how you brought me up to this level, how much you went through for me to achieve what I have achieved so far..
I remember how much you became happy when I achieved those, and how you helped me go through rough times..
So mom, I will never forget,
To make you happy, to keep you safe, to make you proud..
That I know someday you will never forget…
- Sam M. Antony    
Letters to the Editor

'Letters to the Editor' should be brief and to the point.
Send them to:

'Letters to the Editor
'The Sunday Times,
P.O. Box 1136, Colombo.

or editor@sundaytimes.wnl.lk.
Please note that letters cannot be acknowledged or returned