From scepticism to spiritualism
View(s):

On the occasion of the 100th birth anniversary of Swami Chinmayananda, Swamiji Darshan talks to Kumudini Hettiarachchi of this world-renowned Vedanta teacher's life and the impact of his work in Sri Lanka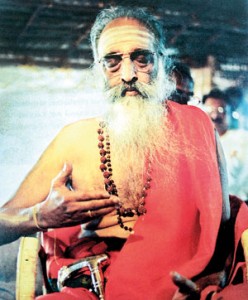 The mighty Ganges with its origins in the icy and lofty heights of the Himalayas was his inspiration.
Like the holy river, which personifies the Goddess Ganga, and winds its way through numerous areas of India and Bangladesh before flowing into the Bay of Bengal, Swami Chinmayananda has impacted on the lives of thousands spread across the world including India, the United States of America and Sri Lanka.
As his devotees make ready to celebrate his 100th birth anniversary today, it is Swamiji Darshan, glancing on and off at the turquoise sea from the second floor of the Chinmaya Mission off Marine Drive at Kollupitiya, who gives us an insight into this world-renowned Vedanta teacher's life and work. 'Vedanta' is one of six orthodox schools of Hindu philosophy, with 'veda' denoting knowledge and 'anta', end.
Before venturing into the spiritual journey of his Guru, Swamiji Darshan focuses the spotlight on Sri Lanka, where the words and deeds of Swami Chinmayananda, considered a saint, teacher and missionary, are spread not only by him but also five other monks based in Ramboda, Kandy, Trincomalee, Jaffna and Kilinochchi. There are around a thousand devotees of Swami Chinmayananda in Sri Lanka.
Swami Chinmayananda's vision was that the scriptures contained not only how to lead a spiritual life but also a materially happy life. "It is not a new cult. The answers lie in the scriptures and what Swami Chinmayananda did was make them more accessible in a language that people understood," says Swamiji Darshan.
Silently and stoically, the influence of Swami Chinmayananda has grown across Sri Lanka through the Chinmaya Mission. There is much sharing of knowledge with "Hindus converted to Hinduism", as many Hindus are clueless about the scriptures, with Swadhyaya Groups being formed as self-study groups among his devotees. This provides value-education covering the whole human being and includes physical, emotional, intellectual and spiritual development.
There is also nation-building from character-building, starting with the young through Yuva Kendra and harnessing their potential to achieve the maximum in whatever field they are in, says Swamiji Darshan, while children are mobilised young to Balvihar and considered not vessels to be filled with knowledge but lamps to be lit with knowledge and values.
The Chinmaya Organisation for Rural Development (CORD), meanwhile, revolves around women's empowerment especially in war-affected areas, providing them strength through vocational training and micro-finance management to be self-sustainable.
Swami Chinmayananda, this man with a vision and a mission, however, was not born a saint. It was on May 8, 1916, that Poothampalli Balakrishnan Menon came into this world in Kerala, India. His mother was a housewife and his father a lawyer. Signs though were obvious that this was no ordinary child, for when a sage visited him when he was quite young, the duo conversed in a strange language.
As he grew up, young Balakrishnan would be bored by the Hindu poojas and rituals held by his family every evening. "He would just focus on the image of Lord Shiva and visualize it in his mind's eye," says Swamiji Darshan.
Balakrishnan as a youth was playful and mischievous but bright. It was while he was studying for his Master of Arts in English Literature at Lucknow University that the young man got involved in the volatile movement to free India from the British Raj.
Wielding the might of the pen under the pseudonym 'Mochi' which meant 'Cobbler', Balakrishnan took up the independence cause, while also writing profoundly about the plight of the masses. When he realized that he had earned the wrath of the colonial masters and the British Police were searching for him, he adopted a unique ruse to avoid arrest. "He hid in the British Armed Services by taking up employment as a Radio Officer," smiles Swamiji Darshan.
It was not for long and the British Police caught up with him and threw him in prison for his 'radical' writings, but when Balakrishnan became severely-ill, to circumvent the scandal of having the death of an activist on their hands, they dumped him by a roadside.
Death, however, was not in store for him and an Anglo-Indian woman stumbled upon him and seeing a resemblance in his nose to that of her dead son's, took pity on him, gave him shelter and nursed him back to health. It was a case of being "saved by his nose", says Swamiji Darshan.
Still Balakrishnan had numerous questions about life and believed that the Sannyasas or swamis in their yellow robes who were aplenty in the Himalayan region were "freeloaders" and parasites who fed on the goodwill of humble people. It was with the strong intent of writing an expose on Sannyasas while at the 'National Herald' in Delhi that he arrived at the ashram of Swami Sivananda in Rishikesh in northern India.
With just one plea from Swami Sivananda that he first observe their lifestyle, Balakrishnan kept on postponing his return to Delhi and according to many documents on him, "unwittingly, at the door of India's finest spiritual teacher, Balakrishnan's journey began to reveal to him his own inner spiritual revolution and evolution. Swami Sivananda's divinity, love and Vedanta teachings overwhelmed the young sceptic………….He began questioning and reflecting upon the purpose of life and the secret of permanent happiness". In the company of saints and through the clarity of their teachings, highly-intellectual Balakrishnan renounced secular life.
February 25, 1949, on the holy day of Mahashivaratri, 33-year-old Balakrishnan was initiated into the order of the sannyasa, with Swami Sivananda blessing him with the name 'Swami Chinmayananda Saraswati' denoting "filled with the bliss of pure consciousness".
There was no turning back and guided by Swami Sivananda, he then served under strict disciplinarian Swami Tapovanam considered the most renowned Vedanta master of the time in Uttarkashi in the Himalayas, where the Ganges originated. As he sat on the banks of the Ganges in contemplation, he pondered on how this river meandered down to the lowly plains benefiting thousands of people.
Later, Swami Chinmayananda would conduct his first Jnana Yagna (a series of spiritual discourses) in December 1951 at a small temple in Pune, Maharashtra, which refers to the student who through scriptural studies performs the ritual of worship (yagna) at the altar of wisdom (jnana).
The rest is history.
"Powerful, dynamic yet logical and witty were his discourses," says Swamiji Darshan, adding that devotees flocked around him, forming the 'Chinmaya Mission' on August 8, 1953 in India.
As the numbers grow, even so many years after Swami Chinmayananda attained Samadhi in August 1993, it is a testament that he has done something right, in showing the way to thousands of others.
Lankans embrace teachings of Swami Chinmayananda
The emissary came first, followed by the Gurudev.
Swami Chinmayananda's message on the ancient Hindu texts, mainly the Bhagavad Gita, and the Upanishads was introduced in the early 1970s to Sri Lankans by Sri Parthasarathy Pradhan.
Then came Swami Chinmayananda in 1979, urging Sri Lankans in his inaugural yagna at the packed Ramakrishna Hall in Wellawatte to "act in a spirit of sacrifice, surrender and work with dedication to a higher and nobler ideal" if wishing to be successful in life.
Describing the spirit of sharing as the 'yagna spirit' in the Bhagavad Gita, he went onto teach that everything around in the universe is the expression of this giving.
Since then, with several more visits from Swami Chinmayananda, the milestones have been many in the past 37 years.