Brief encounter
Royston Ellis revisits the garden created by Bevis Bawa
View(s):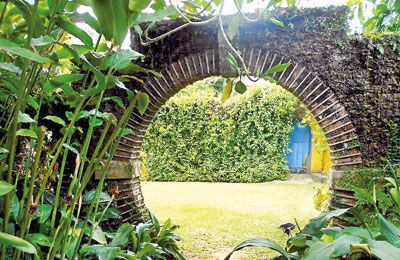 As happens every year since Bevis Bawa died in 1994, the anniversary of his birth, April 26 1907, was celebrated with a lunch party in the garden he created at Brief, hosted by his heir, landscape designer, Dooland De Silva.Old friends of Bevis Bawa attended, together with several (like myself) who never knew him but admire his landscaping work so ably continued by De Silva.
Bevis Bawa was 18 when he was given Brief, then a 200 acre rubber estate, by his mother in the hope that he would cease frittering away his life and become a planter. Instead, Bawa joined the Ceylon Light Infantry and became Equerry to five successive British governors of Ceylon. He sold off most of the estate to reduce it to a manageable size and so he could indulge in his new found passion, landscaping a unique garden.
Brief has become a tourist attraction and visitors are amazed at the tropical lushness combined with a European style of landscaping. There visitors are free to wander around without a guide to enjoy the garden's serenity…and its surprises.  The house where Bawa lived is also intriguing for its informality and for the massive mural by the Australian artist, Donald Friend, who visited for a week in the 1950s and stayed six years.
Although Brief was not opened to the public until the early 1970s when tourism was developing in Bentota, I recently discovered an article about Brief written 61 years ago and published in a magazine called "Ceylon Home and Garden" in July 1955.The magazine's cover, in the pale colour and old fashioned typeface typical of the time, is captioned  "Acalypha and Jasmine Rex round a garden niche at Brief."
The unnamed author of the four-page article thought Brief was like a Spanish bungalow, although he (or she) admitted never having been to Spain. This thought was inspired by "an old metal lamp which somehow reminds me of smugglers and dark, cobbled alleys and sunlit bullfight rings and red blood and swishing red cloaks and dazzling white sand and cheering crowds."
That's a lot of purple prose to describe the verdant gardens and simple architecture of the house which, even today, remains as it was when Bawa was alive. Indeed, as one photograph from the 1955 magazine shows, even some of the furniture, in this case a leather chair and cement topped side table, are in the same place as they were six decades ago.
Another photograph, of Bevis Bawa posing beside the "keyhole" archway he had constructed, reveals details of the masonry not apparent today because of the lushness of the vegetation. But even then, the writer waxed lyrical about how the garden is reminiscent of Kew Gardens in London and that it "generates thoughts of nymphs and satyrs and wood notes wild, so cool, moist and shady it is."
So obviously smitten by Brief, the writer continues extravagantly: "Brief has no beginning, no end; no front, no back, no sides, no entry, no exit, you can start where you wish. It makes no difference to the enchanting atmosphere everywhere…A strange thing about Brief is that once you are out in the garden you are reluctant to go into the house; and vice versa." The visitor today will find nothing has changed.
"Inside the house the mood is quieter…there are contrasts, with the very old placed against the very new and yet maintaining a happy harmony in the general decorative scheme….Nowhere in the house, as outside in the garden, is anything overdone. Everything appears to be just right, placed in this position or that where it would show – and perhaps be used – to the best advantage… Perfection at Brief is not something that smacks of such warning as 'Handle with care' and 'Do not touch.' Rather it is perfection that breathes of elegance and comfortable living, of impeccable taste and refinement."
Dooland De Silva has declined to 'modernise' Brief; the bungalow remains as idiosyncratic as it was when Bawa was alive, giving visitors an insight into the time and personality of the man, a collector of beautiful and quirky things.
The famous Donald Friend mural, faded but still expressing the essence of Brief, wasn't painted at the time the magazine was published, but an insert in the magazine of a postcard-sized, charming sketch map showing the road directions to reach Brief, was drawn by Friend. It depicts a steam train on the railway line from Colombo to Alutgama and the Bentota Rest House (now a hotel whose garden was actually landscaped by Bevis Bawa).
Brief, as a garden, continues to grow as Bawa planned it, under the direction of De Silva. While it remains a landscaped collection of several small gardens each leading to another, whether by path, step, or vista, there are now over 120 different types of trees, and countless plants and bushes that De Silva has added to the five acres that constitute Brief. Its appealing fascination, like the memory of Bevis Bawa himself, endures.
Brief Garden, Kalawila Village, (access from the road to Alutgama from the Welipenna exit of the Southern Expressway). Open daily 8 a.m.-5 p.m.; admission Rs. 1,000.