Appreciations
View(s):

Dr. D. B. Nihalsinghe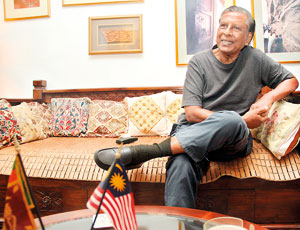 An award winning film director who helped me dream big
His credentials and accomplishments are long: From award winning Director of Films, to pioneer in Sri Lankan television, the first to be appointed Professor in Cinema and Television, and more recently instrumental in creating the first degree course in cinema and television. To me, Dr. D.B. Nihalsinghe was the man who influenced me to take up a career in film and television.
I was out of school when I met him and his family. His father, the late D.B. Dhanapala, was my mother's 'boss' at the Dawasa Group of Newspapers. It was through this association that our two families came to know each other. D.B. Dhanapala, his wife, Rathi Dhanapala (teacher, poet and artist) their two sons, D.B. Nihalsinghe and the well-known photographer the late D.B Suranimala, and their sister Sumitha: they are a kind, gentle and warm family, each one always willing to share every bit of knowledge they have with anyone who is willing to learn.
Like my mother, I was leaning towards a career in communications. I was keen on learning about television production despite the lack of television technology in Sri Lanka and no career opportunities at the time. He knew that one day television would and had to be introduced.Nihalsinghe was a visionary in every way.
Nihalsinghe understood my thirst for this career and suggested that I watch him at work.If I remember right, it was Sath Samudura. He was doing what he loved best – being cameraman. The way he held his camera, with such precision, the artistry in the camera angles and his command to interpret the story through the lens was inspirational. The whole idea of movie making fascinated me through this one man's talent. It was at such a moment that I was convinced to be a part of the moving image. I pay tribute to a man who encouraged me to follow my dream, for which I continue to be eternally grateful. It was Nihalsinghe who convinced my mother to send me overseas to study television production as it was not a subject taught at the time in Sri Lanka. This was the start of my career and I ended up in Berlin, Germany to study film and TV with camera as my focus.
I was happy to have had the opportunity to meet Nihalsinghe very recently at the Sybil Wettasinghe Kuda Hora exhibition, where we chatted about our grandchildren. I not only thank you, Nihal, for my own journey in television which gave me such an enriched life but for what you have contributed to our beloved country's film industry.
May your soul rest in peace.
- Sharadha de Saram
---
Seniya Noordeen
A lady of many facets
Seniya Noordeen is acclaimed for her book, 'Muslim Cookery', which has been treasured by many lovers of moghul cookery, in Sri Lanka, and even more so by those leaving our shores, and needing to know how to cook for their loved ones while abroad, where our tasty dishes are not easily available. However my mother, Seniya Noordeen, though a lady of many talents, was not academically or professionally qualified, to write and publish books. But being a lady of many facets, she persuaded my father to help her write this book, and he ended up helping her publish her book. My dear loving father, a qualified university educated, Director of Education (in the days gone by this meant something!) wrote a book on Mathematics but alas never got round to publishing it, though my mother, went on to produce her fourth edition of 'Muslim Cookery', one of the first of its kind in Sri Lanka!
Being one of the first to publish a book of this nature was no easy task, as this meant she needed to be very sure of the measurements of the ingredients, painstakingly list out the method to be followed in the preparation, and ensure that this was relayed in the easiest but most correct  sequence the reader needs to follow. Both my mother and father hailed from Galle Fort, and my mother was privy to the making of some of the most tasty mouth-watering dishes from the South – she even held cookery classes in both Galle and Colombo, and was eager to disseminate knowledge and teach others, unlike the thinking of some culinary experts during this era. She went on to also celebrate the 25th anniversary of her book with a "Food Exhibition", with dishes from her book, a novel concept indeed.
But more than all this, I remember my mother's bravery in adversity, her strength of character, she was undoubtedly a shoulder to lean on, and a shoulder she was to me…when adversity struck, as it does in the road of life, she was my anchor. Many sought her pragmatic advice and were sure of her discretion and confidentiality. Her unselfish, unconditional love and the motherly protection she provided was something I miss even today. She also never gave up, never drifted, was very focused, and took care of herself and her loved ones.
Religious but multi cultural, and aware of her surroundings, she was a very balanced person and believed in 'co-existence or no existence'.  I think the words used to describe Sarojini Naidu, are very apt for her – she is a lady of deep penetration, easy conception and quick delivery.
Miss you Umma, may the Almighty bless you and grant you paradise. Ameen.
-Riley Rahuman 
---
M.A. Bakeer Markar
Remembering an exemplary politician
I consider it a privilege and honour to write a few lines on the life and times of an exemplary politician with whom I had the pleasure to work with in my public service career. This great personality was none other than Bakeer Markar, M.P. for Beruwala in the Kalutara district, and Cabinet Minister. His journey in politics, extended to about five decades of service to humanity in various capacities.
My first encounter with him was when I assumed duties as Government Agent in the Kalutara district in 1978 soon after my stint as G.A. Ampara district. Bakeer Markar, M.P. for Beruwala then for the third time was elected as the Speaker of the Parliament of Sri Lanka, in the latter part of 1978. He had an an illustrious political career till he bowed out in 1988 passing his legacy to his worthy son Imthias Bakeer Markar to represent the people of Beruwala and the entire country as a Minister of Post and Telecommunication later.
In the course of our public service career we are expected to work with various political figures of different party colours and temperaments as well as officials, members of civil society and the general public. Among the hundreds of such personalities I came across, I can boldly say that Bakeer Markar, was an exception. He was a fatherly figure, with an everlasting smile in his face, full of compassion, a counsellor and genuine advisor on mundane matters and an ardent follower of the teachings of Islam.
In my official capacity, I came to realize that he was one of the most popular politicians in the Kalutara district. The fact that, he was elected as an M.P. on three occasions in a predominantly Sinhala majority electorate shows that he had the well-being of the people and the area at heart rather than political affiliations, race or religion. He contributed immensely to infrastructure development in the area, like roads and bridges, the development of schools and provision of job opportunities to youth. His services covered all sectors of society and to the best of my knowledge, he was above board, when it came to nepotism, favoritism, and corruption.
One admirable trait in his character, was that although an ardent believer and follower of Islam, he was a friend and benefactor of all religions. His services to the Buddhist clergy and the temple were well appreciated by the people of not only the Beruwala electorate but the entire Kalutara District. He had a good grasp of Buddhism and very often quoted from Buddhist Scriptures at his public gatherings.
Mr. Bakeer Markar, bade goodbye to Parliament in 1988 and was appointed Governor of the Southern Province which he richly deserved, considering his decades of service to the people of Sri Lanka. Undoubtedly, he is one of the very rare political figures who should be emulated by the younger generation in their future political deliberations.
- Andrew de Silva
---
Mavis Cynthia Benjamin
A wonderful person
It is so sad that her life ended so early and tragically on the evening of April 5, 2016. She was laid to rest on April 8.  It is hard to accept that she will no longer be with us. She was loved more than words can say.
Her family members and friends all loved and respected her. She was hard working, fun, caring and thoughtful. Her memory will live on in our hearts forever and we will never forget what a wonderful person she was.
She left us and silent tears we have cried, asking ourselves why she had to go so suddenly.
We can shed tears that Mavis is gone and we do,
But, we can also smile because she has lived and touched our lives…
We can close our eyes and pray that she come back
Or we can open our eyes and see all that Mavis has left
Our heart may be empty because we can't see her
Or we can be full of the love and friendship we shared
We can turn our backs on tomorrow and live in yesterday
Or we can be happy for tomorrow because of yesterday
We can remember her and only that she is gone
Or we can cherish her memory and let it live on
We can cry and close our mind,
Be empty and turn our back
Or we can do what she would want:
Smile, open our eyes, love and go on
Mavis, we will miss you in our presence but cherish the comfort of knowing we will see you again in heaven at our appointed time. And we can be thankful, as far as we know, that there is  "no politics" in heaven but even if there is, we can rest assured you will have already dealt with it by the time we get there.
Thank you Mavis, for being such a wonderful wife to Ben, caring mother to Charmaine  and Kenneth, such a great daughter  to my late mother-in-law Matilda, and not only a blessed sister  to Myrtle, Ivan, Earla, Sheila and Dunstan and for being my sister-in-law. I feel so privileged to call her my sister-in-law (more like a sister) and great friend.
So many positive traits come to my mind when thinking of her – engaging, caring/sharing, courageous and entertaining.
I will miss her like crazy now, but I know she's in a better place. May God bless her and keep her in our hearts.
Rest in perfect peace.
- Walter
---
Capt. Emile Jayawardena
They called him Captain
In our home town of Moratuwa
People always called him Captain
He flew Spitfires and Dakotas
In the golden age of aviation
I certainly could never be the pilot he was
I probably would never be as good a human being either
I would only be the Captain's son
I wish I could tell him this, but I can't
He is long gone
That is what is so sad about it
I'm sure those of you who have lost loved ones
With things unsaid, would know what I'm talking about.
- Capt Elmo Jayawardena
---
N. Patrick S. de Silva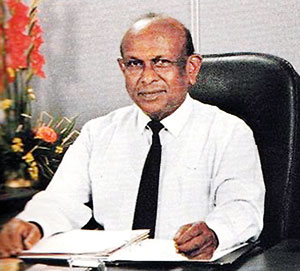 A true gentleman and banker par excellence
A product of Dharmasoka, Ambalangoda, Patrick de Silva started his banking career with the Bank of Ceylon way back on August 2, 1948 at the tender age of 18 years. Although it was the usual practice for new entrants to be posted to a Branch and thereafter the better performers picked to serve in the Foreign Department, he was an exception being posted direct to the Foreign Department of the Bank.
After just one year service in the Exports section, he was selected to serve at the Bank's London Branch where he served for the next four years. His selection for overseas service after such a short period of joining the Bank was a creditable achievement.
Although a major part of his career was in international banking he also served in various capacities gathering very wide knowledge, experience and skills in the domestic banking area as well. At one time he was appointed the Regional Manager for the Uva Province of the Bank of Ceylon with 33 branches of the Bank coming under his purview.
We got to know him when he was back at the Foreign Department, after his return from the London Branch. Although there was a gap of several years between us and he was a superior officer, he was equally friendly with both of us, a relationship we cherished.
He was a Fellow of the Chartered Institute of Bankers and an inaugural member and Past President of the Chartered Institute of Bankers, London, Colombo Centre. He was also a founder member and Past President of the Association of Professional Bankers – Sri Lanka.
In 1972 he was awarded a scholarship by the Institute of International Technical Cooperation of the Government of Italy to undergo training in one of the leading Italian banks – Banca Di Roma. Rome. He had also undergone training in International Banking in London and New York- the biggest financial centres of the world. He obtained a Certificate of Merit for a Course in French at the Foreign Languages Educational Bureau, obtaining Distinctions in all five areas tested. He knew the correct pronunciation of French, Italian and Spanish words and his fluency in English was exquisite. He had a sound knowledge of Latin which helped him to be a scholar in the English Language. He was very particular in the choice of words both in his writing as well as in his speech to ensure that the most appropriate word was used to ensure that the reader or listener got the precise message he wanted to convey. He also possessed a good knowledge of European history. He was a voracious reader and it was his hobby to collect copies of all interesting articles.
His dedication and commitment to work was admirable and he sacrificed a lot for the Bank working extra hours without any compensation. He had a high sense of responsibility and his integrity was undoubted.
He took a keen interest in banking education especially in training of young bankers. He was a very much sought after resource person at seminars and training programmes, considered an expert in International Banking Operations relating to Exports in particular and he was more than happy to provide advice and guidance to any member of the staff or even a customer who came to him for assistance.
Although he could have worked at Bank of Ceylon until he reached 60 years, he took early retirement after 39 years of service to join Sampath Bank at its inception as its Assistant General Manager – International the same designation he held at Bank of Ceylon, at the time of retirement. He played a major role in establishing correspondent relationships with leading international banks in the major financial centres around the world.
He was also appointed the acting General Manager / Chief Executive Officer of Sampath Bank for short periods during a period of transition. Whilst at Sampath Bank he completed 50 years of uninterrupted service in banking, an achievement only a very few Sri Lankans can boast of.
He believed in paying attention to detail in whatever he did. He had a habit of drinking several cups of plain tea during the day while smoking a cigarette. When concentrating on some work it was not uncommon to see more than half a cup tea going cold and a length of ash created by the burning cigarette kept on the groove of the ash tray which eventually dropped on to the table. Although at Sampath Bank as a policy the symbolic glass sheet on the desks of the higher grade officers of banks was taboo, the only exception was the desk of Patrick de Silva which had a glass top which prevented the burning cigarette stubs leaving marks on the wooden desktop.
In 1998 the Chartered Institute of Bankers Colombo Local Centre conferred on him a 'Life Time Award' in recognition of his service to the banking community. He was also conferred 'Honorary Life Membership' by the Association of Professional Bankers – Sri Lanka.
His mannerisms were typical of an Englishman of the days gone by. He was always well-groomed and smartly dressed in spotless white and his shoes were polished like shining glass. He was very punctual and even at the latter stages of his career he was at work by around 7 a.m. although the starting time was 8 or 8.15.
English classical music was his passion and he had a huge collection of classical music. After his retirement he spent lots of time listening to music. His favourite film was 'My Fair Lady' and he never tired of watching it. He also had a collection of books on composers of classical music as well as English literary greats and leading European and American politicians of yesteryear. He loved talking about Shakespeare, Shaw and great composers like Beethovan, Strauss, Tchaikovsky, Schubert, Bach…
In February 2010 he invited his banking colleagues, close relatives and a few neighbours to a presentation "Introduction to Western Classical Music" at his home in Nawala. It was his way of celebrating his 80th birthday which none knew of since he kept his date of birth a closely guarded secret. It was a grand evening with the best of liquor and wine followed by a sumptuous dinner. Most of his close banking friends and colleagues were present.
He did not miss the events organized  by the Association of Professional Bankers – Sri Lanka as well as the Chartered Institute of Bankers London, and other banking functions. He was most sought after for his entertaining after dinner speeches. Shakespeare, Shaw and James William Gilbart – that banker extraordinary, were some of his favourites that he used to quote.
His demise is a great loss to the banking community of Sri Lanka who will not only miss his wealth of knowledge and experience but also his pleasant smile and sense of humour. He was always at hand for anyone who wanted advice and guidance.
He was truly a gentleman banker and a banker par excellence.
May his journey through Sansara be short.
- A. Kathiravelupillai