Toxic trash spells destruction and death
By Anushiya Sathisraja
View(s):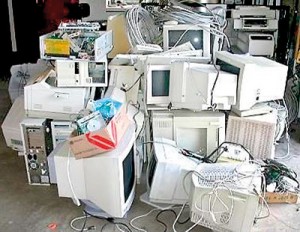 For every short-lived compact fluorescent bulb, (CFL bulb), thrown in the garbage, at least four milligrams of deadly mercury could leach into Sri Lanka's precious soil.
Researchers have found that mercury spells death, and if not, could damage the nervous system, digestive and immune systems, lungs and kidneys.
A shattered CFL bulb releases mercury vapor and few are aware of it.
Similarly, for every old television dumped and replaced with a plasma TV, or an LCD TV, or for every aged PC discarded, households would be adding a whole host of toxic chemicals into our environment poisoning ourselves for decades to come.
Studies have shown that cathode ray tubes in older PCs and TVs contain four pounds of lead. Cathode ray tubes are made up of an electron gun, front panel glass and funnel glass. The glass panel has lead and barium.
Studies have established that lead can damage the central and peripheral nervous systems, kidneys, and impede the brain development of children.
Even newer LCD screens have been found to contain indium and dozens of other chemicals.
Mobile phones contain deadly arsenic, lead, beryllium, and cadmium. These are just four of the many harmful chemicals in them.
The old refrigerator that you discard contains chlorofluorocarbons (CFCs), a greenhouse gas. Direct contact cam harm health, including irregular heartbeat, studies have revealed.
These invisible dangers that Sri Lankans live with, are only a minute portion of the more than 1,000 toxic chemicals that electrical and electronic waste generates.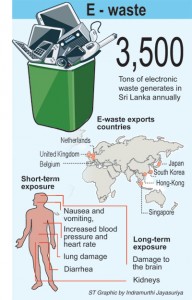 The United Nations University Institute for the Advanced Study of Sustainability estimated in 2014, that Sri Lanka generated 4.2 kilos of e-waste per inhabitant. That is nearly the weight of a 29-inch Samsonite travel case, unpacked.
The UN study also estimated that most of the e-waste in the world was generated in Asia: 16 million tons in 2014.
Sri Lanka generates nearly 3,500 tons of electronic waste annually – everything from computers and CPUs, thousands of CDs and DVDs, televisions, refrigerators , mobile phones and batteries, according to the Central Environmental Authority. This annual volume of e-waste is equal to 17 fully grown blue whales.
Sri Lanka is not able to recycle such a volume of e-waste, nor can the island recover the materials such as copper and gold in the toxic trash.
CEA, Senior Environment Officer, Ms Wilka Ranasinghe said Sri Lanka exports e-waste to Hong-Kong, Japan, Netherlands, Belgium, South Korea, Singapore and the United Kingdom through 19 licensed companies.
E-waste is not easily recycled, not even in developed countries where advanced facilities exist.
Individuals and small enterprises should not dump e-waste in a haphazard way.
"Both local authorities and the public should separate [household] garbage from e-waste. At least degradable and non-degradable items should be separated. E-waste should not be dumped as it may contaminate the groundwater and worsen soil quality," Ms Ranasinghe said. "Some heavy metals from these items remain in the environment for a long time and can get biomagnified heightening the impact on the food chain."
She suggests donating usable electronic items to schools and charities, as well as refilling and recharging ink cartridges and alkaline batteries.
She also urges electronics manufacturers to institute take-back recycling programmes encouraging customers to hand in old mobile phones, laptops, televisions, digital cameras and home and auto electronics when buying new ones.
As a result of the rising piles of e-waste, related health issues are growing, an official of the CEA warned.
Old mobile phones for instance that are handed to children as playthings, could spell danger and parents should take note of the chemicals in them.
There are dangers in plastics.   Brominated flame retardants (BFRs), added to plastics to prevent them from becoming flammable, are considered to be a hormone disrupter, and children exposed to these substances show increased risk to thyroid disease and neural diseases.
Arsenic, found in computer chips and light-emitting diodes, is a skin and lung cancer-causing substance. It causes skin lesions and cardiovascular disease.
Breathing high levels of cadmium can cause lung damage and eventual death. Long-term exposure to low levels of cadmium can cause elevated blood pressure and kidney damage, the CEA warned.
"At present we are limited to school awareness programmes but the message should reach adults too," a CEA official added.
The best way to discard e-waste is by handing them over to a collection centre. A list of licensed collectors is available at www.cea.lk