Rare transit of Mercury across the Sun on Monday (9) evening
View(s):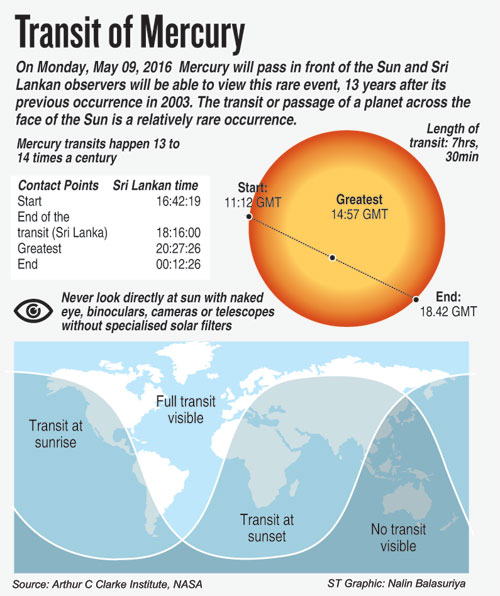 Sri Lankans will be able to catch a glimpse of a rare transit of the Planet Mercury tomorrow (May 9). The phenomenon will see the smallest planet in the solar system glide across the face of the sun.   The transit occurs when Mercury, the sun and Earth are all exactly in line with each other. According to the National Aeronautical and Space Administration (NASA), Mercury passes between Earth and the sun only about 13 times a century, its last trek taking place in 2006. There will be one other transit in 2019, after which nonw will occur until 2039.
The transit will be visible throughout North America, Mexico, Central America, South America, and parts of Europe, Asia, and Africa.
Stargazers in Sri Lanka can watch the transit from 4.45 pm till sunset in the western sky. During the transit, the planet will appear only as a black speck gliding across the face of the sun.
However, Prof. Chandana Jayaratne of the Department of Physics, University of Colombo, cautioned that it was essential to use a powerful telescope covered with a solar filter to safely view the event. People should avoid looking directly at the sun as it can cause serious damage to their eyes, he noted.
Meanwhile, the Sri Lanka Planetarium will be conducting a special workshop for those interested in the event. It will commence at 4 pm tomorrow at the Galle Face Green. If the sky is clear and free of clouds, the planetarium invites members of the public to visit Galle Face Green observe this rare event.