Probe on demolishing doctor's parapet wall in ownership dispute
View(s):

One suspect arrested, identification parade tomorrow to nab others

Police investigations are underway to apprehend 20 suspects in connection with an incident where a parapet wall belonging to a doctor's house in Mulgampola, Kandy was allegedly demolished over a dispute regarding ownership of a roadway leading to the house.

The complainant doctor had lodged an entry that the owner of the adjoining property – a leading gem businessman in Kandy – was disputing ownership of the road leading to his house and that he allegedly sent a group of men to demolish a wall to gain access to his house, despite having a separate access from the main road.

A group of thugs had allegedly demolished the parapet wall last week when the doctor and his wife were away in Colombo and only their son at home.

The doctor's son who had tried to make a complaint had initially been turned down by the police saying they would record such statement after visiting the scene, but two hours later when the police arrived at the scene the wall had been fully demolished.

Police subsequently reported facts to the Kandy Magistrate's court and an order issued to arrest the suspects. So far one suspect has been arrested.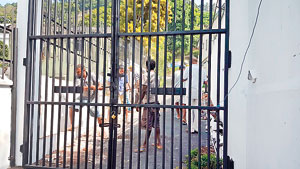 An identification parade is due to be held tomorrow to identify the other suspects.
A complaint has also been lodged with the Inspector General of Police (IGP) and a separate investigation has been launched.
Kandy Police HQI Chief Inspector Nipuna Dehigama said investigations are underway and one suspect has been remanded.