Human – crocodile conflict poses conservation challenge
View(s):

Riverside dwellers of Kelanimulla who are in the habit of taking a dip in the Kelani River or collecting water for their households suspect they are witnessing an increasing number or crocodile attacks.

But wildlife conservation specialists point to human factors that lead to conflicts with crocs in urban settings in the first place.

Six months ago, one man survived an attack by what he suspects was a 16-footer and another man's family also hints at death by croc attack, although the corpse had been found intact.

Aware of the nightmare of a predator that lunges at its prey from beneath murky waters, wildlife conservation officers warn that six crocodiles had been sighted at various locations in the river and people should not dice with death.

Three-wheeler driver E.W.G Janaka, took a late night risk six months ago on the banks of the Kelani river in Kelaniya and suffered severe leg injuries when a crocodile attacked him at about 11pm. He reckons the croc was a 16-footer.

After spending three months at the National Hospital in Colombo to repair his injuries, Janaka has managed to return to work.

The late night dip in the river could have been fatal.

"The attack happened in the backyard of my house which borders the river of a spot where people usually wash themselves,'' he said, adding that he was knocked back and all he saw was the croc's mouth. The animal grabbed his right thigh. He held on to a bamboo pole stuck into the river bed screaming in fear of being eaten alive.

No one, it seemed, had paid attention to his screams, not even his wife, who believed it could be a neighborhood commotion.

The croc could not take him down and eventually let go.

He recalls that he must have struggled for an hour.

His wife Lakmini Udeshika said the fear has not abated since.

"All our neighbours avoid our bathing spot,'' she says. When she needs to gather water from the river, another person keeps watch nearby.

Following another attack, a family in Kelanimulla mourned the loss of the head of the household just before the Sinhala and Tamil New Year. The victim's body was found on the opposite river bank. A head wound had been noticed.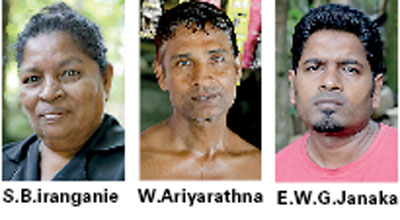 The wife of the deceased, K.R.M Padma Kumari, said her husband K.A.D Lalith Kahandawela, had been dragged into the river shortly after dusk.
"I told him not to go because a crocodile had bitten off a woman's arm a few days earlier, but he said he hated tap water and went to the bathing spot,'' she said.
She suggests crocodile attacks in the river are a recent phenomenon.
Woman who lost her son, H.D Haimawathi, believes there had not been croc attacks during the previous 54 years she had lived in Kelaniya.
She remembered a time when children could enjoy a swim in the river despite the presence of crocodiles, but now, large crocs have been seen confronting boats.
Attacks have made people wary.
A.A Prabath Lakshan,  19, who works in a pappadom factory, said only few people visit the bathing spot at Welivita Arankapala.
He suspects three crocodiles that are well over 12 feet is size are in the area but one is much bigger.
Mr Lakshan said the animals could be seen at 6:00am and during evenings.

The crocodiles swim up river towards Kaduwela in the mornings to feed on waste dumped in the river by butchers, fish vendors and eateries.
A resident of the area, Ms. S.R Bertha Iranganie, too, believes, attacks have not been seen in 30 years. "This is what happens when a river gets polluted.''
She may have been referring to waste being thrown in the river that attracts the crocs. She said sand mining in the river is also responsible for the situation.
A shopkeeper on Vidiyabandara Road, Mr W. Ariyaratna, has noticed that the number of people heading to usual bathing spots has dropped.
He has seen crocodiles warming themselves in the sun near a bathing spot.
Kelanimulla resident U.U.K Champika, claims that croc traps used by Department of Wildlife Conservation officials are not effective. But the Director General of the Department of Wildlife, Dr Sumith Pilapitiya, said croc traps have been laid in the river and are not visible.
Dr Pilapitiya said six crocodiles have been sighted and officials are trying to pick out the largest animal to remove it.
He said despite advise from wildlife officials, there are those who take a risk in the river.  Wildlife Conservation Department Veterinary Officer, Dr Tulmini Pubudika Deeyangoda, said laying of traps has been delayed because of heavy rains but that three baited traps had been set up at three locations in Kelanimulla where attacks have taken place.
We have invaded crocodile territory
Wildlife specialists say human activity is one factor is the conflict with crocodiles in rivers.
Dr. Anslem de Silva, regional chairman, Crocodile Specialist Group, IUCN/SSC for South Asia and Iran, said humans were trespassing on crocodile territory thus provoking attacks.
Crocodiles living in pools, canals and rivers should be left alone if they do not pose a threat.
"Crocodiles also help to maintain a healthy environment, they provide protection to their habitat by selective predation of invasive species, create wet refuge areas during droughts as well as protect wetland ecosystems from pollution caused by humans," he explained.
He said capturing large crocodiles would not be a solution because once the dominant animal is removed another takes its place.
Biodiversity Conservation and Research Circle Chairman, Supun Lahiru Prakash, noted that humans have helped to create the environment that drew crocodiles into the river. Sand miners have widened and deepened the river creating ideal conditions for salt water crocodiles. Food waste dumped in the river by people keeps the crocodiles fed.
He also said that salt water has flowed about 14 kilometers inland through the river due to sand mining and the dry spell over the past few days.
The curator of the Dehiwela Zoo Reptile section, Mr Sumeda Abeysinghe, explained that it was normal for a salt water crocodiles to be aggressive during March, April, and May because it was the mating period. Instinctively, males defend their territories and they chase away rival males.
"Even crocodiles at the zoo are extremely aggressive towards their keepers these days," he said.
He also warned people to avoid river banks in the next few months because nesting crocodiles could be aggressive.
As for saltwater crocodiles, Dr de Silva, said it was larger and more aggressive. They preferred freshwater habitat but could be found in the ocean during migration
He said it was possible that the number of saltwater crocodiles in Sri Lanka has increased. The saltwater crocodile is one of two species found in Sri Lanka, the other being the marsh crocodile.
Meanwhile, Kelaniya Police Officer in-Charge, Mr Janath Gunaratna, said people have been advised to avoid the river and that they should not attempt to capture crocs.
"Even though the crocodile is a man-eater it is a protected animal. We will take action against people who capture, torture or kill a crocodile,'' he said.