Foreign criminals are targeting your ATM; two nabbed, more at large
By Sandun Jayawardana
View(s):
CID launches countrywide hunt; skimming device found in Kandy machine week after Colombo arrests
As a countrywide operation is underway to hunt down the remaining members of a foreign gang involved in stealing credit and debit card information from automated teller machines (ATMs), detectives have advised ATM users, especially those in the Kandy region, to examine the machine before inserting the card.
The warning comes following the detection of a skimming device attached to an ATM of a state bank in Kandy town on Thursday, a week after detectives in Colombo arrested two Chinese nationals who had allegedly placed such devices at several city ATMs.
Criminal Investigations Department officers said the device detected in Kandy was similar to ones recovered from two Chinese nationals arrested last week. The suspects were arrested while they were trying to remove the skimming device they had attached to an ATM of a private bank in Wellawatta. In addition to the skimming device, the suspects had attached a camera on the ATM machine to get the PIN number of card users.
Thursday's detection puts the number of ATM card skimming devices found by authorities in the past two week to seven.
"This is by far the biggest ATM card skimming operation detected in Sri Lanka," a top CID officer told the Sunday Times. He said this was the second occasion where the CID had come up against a gang involved in ATM card skimming. The first was in 2011, when a Romanian couple together with their Sri Lankan accomplices were found to be involved in attaching card skimming devices to ATMs.
The CID believes that the case at hand appears to be far more extensive than the 2011 case, given the number of skimming devices already recovered and the number of suspects involved.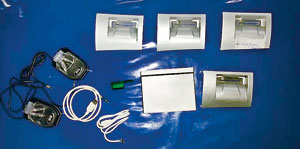 Detectives believe that the gang, believed to be comprising Chinese nationals, had come to Sri Lanka with the sole purpose of stealing money from ATMs.   If authorities had believed that the remaining members of the gang would go underground after the arrest of the two suspects last week, Thursday's detection in Kandy appears to indicate otherwise. "They seem to have simply shifted their operation away from Colombo," the CID official noted.
CID officers said that one major hurdle faced by them — a matter that should raise concerns among bank customers — is that security arrangements for ATMs at some banks are far from satisfactory.
"The Kandy ATM, where the skimming device was recovered on Thursday, had no CCTV camera inside. We have to hunt for footage captured by CCTV systems located in establishments nearby to see if the suspects were in it," the CID officer said.
He added that security was also lax in some of the ATMs targeted by the suspects in Colombo.
The CID began its probe following a complaint made by a private bank manager on April 26. The complainant had stated that someone had been illegally obtaining data of cardholders by attaching an electronic device to the bank's ATMs.
Hard on the heels of this complaint, three private banks handed over to the CID three skimming devices saying they were detected by bank employees at ATMs at Fort, Wellawatta and Kompannaveediya.
Detectives had then analysed CCTV footage from cameras placed at the ATM booths and observed that the electronic devices were being attached by some foreign nationals.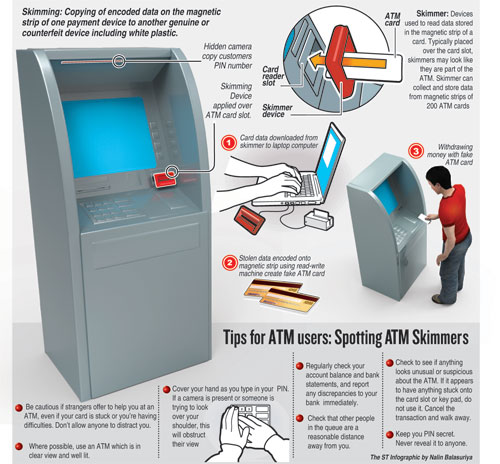 While the detectives were studying the case further, the CID received information regarding two Chinese nationals occupying a hotel room in Colombo. The suspects were promptly put under surveillance. The surveillance teams had observed the suspects visiting several ATMs in Colmobo. They were arrested when they arrived at a Wellawatte ATM to remove the electronic device they had allegedly attached earlier.
A search of the suspects and their hotel room led detectives to recover a range of items. These included anATM card skimming device, 14 electronic cards, four cards with magnetic strips, a laptop, mobile phones, a 16 GB pen drive, Rs, 90,000 in cash and some US Dollars, Hong Kong Dollars and Chinese Yuan. The suspects are now in remand custody.
Jayanath Dias, Chairman of the Payment Card Industry Association of Sri Lanka (PCISL), said ATM card scams had been reported in Sri Lanka in the past and that each bank has its own security system to counteract such attempts.
"Each bank has its own monitoring mechanism in place to detect ATM card scams. These include CCTV cameras and digital security monitoring systems plus internal follow-up measures" Mr. Dias observed.
He also said all ATM card issuing banks and financial institutions were members of PCISL and that they were all part of a 'risk forum' where they are able to alert each other in the event of a security breach. There are risk officers attached to all these institutions, creating an extensive network where risk assessments can be made quickly and information shared. "It was through this forum that the banks which were targeted alerted others regarding the scam. This ensured that banks were made aware of the threat and the CID was also informed."
An extensive CID probe continues to apprehend the remaining suspects believed to be involved in the scam, it is not known whether the suspects had managed to steal any money or how much they have stolen.