Don't get burned by the fire in the sky
By Anushiya Sathisraja
View(s):
Health officials and weather forecasters are advising precautions for the vulnerable including the elderly and children, because soaring temperatures are expected to last a while longer despite intermittent rains last week.
Weather watchers are raising the alert over the actual temperature felt by the human body, or the human discomfort index. Extreme caution is the watchword.
The heat index reached 40 degrees Celsius on Friday. It was one degree below what the Department of Meteorology considers the danger zone. Officials warn the situation will last until Wednesday.
The heat index values will increase by up to 6 degrees Celsius if a person is exposed to direct sunlight. One could suffer heat stroke even without engaging in any activity.
"There is high humidity during the day, and the nights are warm. Over the past few years we have observed a gradual rise in the heat index, with an increase in air temperature. Even traditionally cooler areas like Nuwara Eliya are experiencing warmer weather," explained Sarath Premalal, director (forecasting) at the Department of Meteorology.
Dramatic changes in the weather can trigger health problems, Mr. Premalal said. High humidity can cause heat cramps, while heat exhaustion and heat stroke are probable.
The heat index could be measured by applying the air temperature and the relative humidity. Heat indices are related to medical symptoms and indices exceeding 54 degrees Celsius can lead to dangerous heat disorders.
If the heat index were to range between 27 degrees Celsius and 32 degrees Celsius, it is best to be cautious. Fatigue is possible with prolonged exposure and/ or physical activity.
Extreme caution should be the order of the day if the index hovers between 32 degrees Celsius and 41 degrees Celsius. Heat stroke, heat cramps or heat exhaustion are possible through prolonged exposure.
The danger level is between 41 degrees Celsius and 54 degrees Celsius. Heat cramp and heat exhaustion are likely. Anyone exposed to 54 degrees Celsius and above is in imminent danger of suffering heat stroke.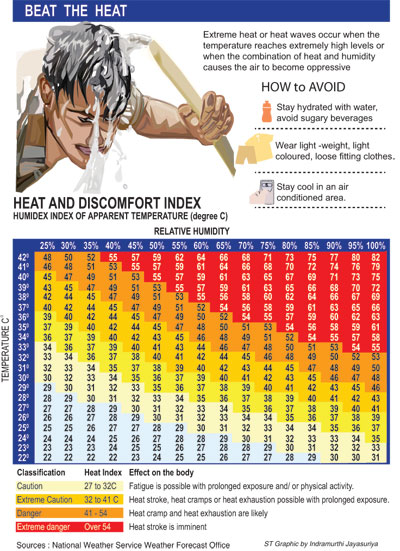 Some relief may be on the way. For now, occasional showers have been predicted for Uva, Eastern, Central, Western, and Sabaragamuwa provinces.
These suffocating conditions are likely to ease with the south-west monsoon in the latter part of this month, weather officials predicted.
The Ministry of Education has recommended precautions for school children including not allowing students outdoors between 11:30 am and 1:30 pm.
Schools are advised to maintain ventilation in classrooms as well as using alternative means of water where supply is not sufficient.
Students are being advised to ditch their ties, wear hats, and use umbrellas, and to drink more water, not sugary beverages.
Meanwhile, the Ministry of Health has requested all provincial and regional directors of health services, medical superintendents and medical officers at hospitals to make ambulances available to schools.
Director of the Jaffna Teaching Hospital, Dr. T. Sathyamoorthy said there have been a large number of admissions over the past two months because of heat stroke, heat rash, and dehydration. Every day 10 to 15 people are admitted. Most at risk include people 65 years and older, and children below two years of age.
Lady Ridgeway Children's Hospital Director, W.K. Wickremasinghe, said many school children have suffered dehydration and heat rash. Since last week, more than 35 children have been treated for dehydration.
"A majority of the victims are schoolchildren aged between five and 12 years who have been exposed to the sun directly,'' he said, adding that there was an increase in the Outpatients Department admissions, mainly children who have fainted especially during sports activities.
Health Ministry Nutrition Director Dr. Shanthi Gunawardene points out that those most susceptible to heatstroke are infants, athletes, the elderly (often with associated heart disease, lung disease, kidney disease, or those who are taking medications that make them vulnerable to dehydration and heat stroke).
The common symptoms and signs of heat stroke are high body temperature, hot red or flushed dry skin with an absence of sweating, rapid pulse, difficulty in breathing, strange behaviour, confusion, agitation, disorientation, convulsions, and coma. If undiagnosed, heatstroke may even cause death.
Health officials advise drinking plenty of fluids, taking frequent breaks in the shade, and wearing light-coloured, lightweight, and loose clothing.
Alcohol, caffeine, and tea are to be avoided to keep from being dehydrated.