Clothes for the dreamers
By Cecily Walker
The mind behind fashion brand 'Pouty Smile' spoke to the Mirror Magazine about the inspiration for their creations
View(s):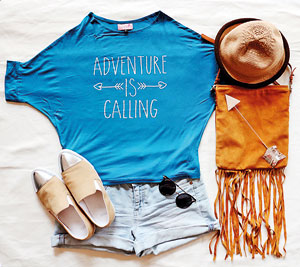 1. How did Pouty Smile come about and who is your target audience?
I have always loved art and playing and experimenting with colors. I knew I had to convert my interest in fashion and colour in to a livelihood. Which lead to the birth of my own printed tshirt line. My love for arts and crafts and knowledge of colours, patterns, balance and composition fueled the setting up of my own line. I wanted to create Clothes for the dreamers, the cheeky fun loving girls who were bold enough to wear statement tshirts. The first collection for Pouty Smile was launched in April 2015 andIt has been quite a pleasant year since.
2. What's the inspiration behind your designs?
Since I was a young girl, I loved dressing my dolls up and drawing. Growing up, colour and design were my constant companions. I had my dolls to experiment on and walls to draw on. (My parents supported me throughout)  Born and raised in a family that was gifted in arts, crafts and dressmakers, my childhood memories have always been splashed with colour. Even before I received my formal education in fashion design I knew that this was my calling.
3. Is it only T-shirts that Pouty Smile design?
Yes. Comfort is essential and Pouty smile is determined to cater to the need.
3. What is your background in the fashion industry?
My background in painting played a big role in what I have achieved today I had and amazing art teacher. My Paintings have been displayed at many Art Exhibitions. I studied fashion at the Academy of Design Colombo and completed my degree in 2011.

4. What makes Pouty Smile different and a unique brand?
"Pouty Smile" is different for many reasons. The name itself carries an identity. The fun silhouettes, comfy fabrics, funky fonts, bright colours and the whimsical prints, add uniqueness to the brand.
5. Where can you buy the pieces?
Our products are available at all Beverly Street and Glitz outlets. Our facebook page goes as www.facebook.com/poutysmile.clothing
Our Instagram name is poutysmile_clothing
6. Future plans?
I am experimenting with different fabric and print techniques and plan to expand to various merchandize. There are quite a few exciting plans for the future.  Most of which will remain as a surprise as the best is yet to come.